A Love Letter To The Brow Gel That Gives Me The Fluffy Arches Of My Dreams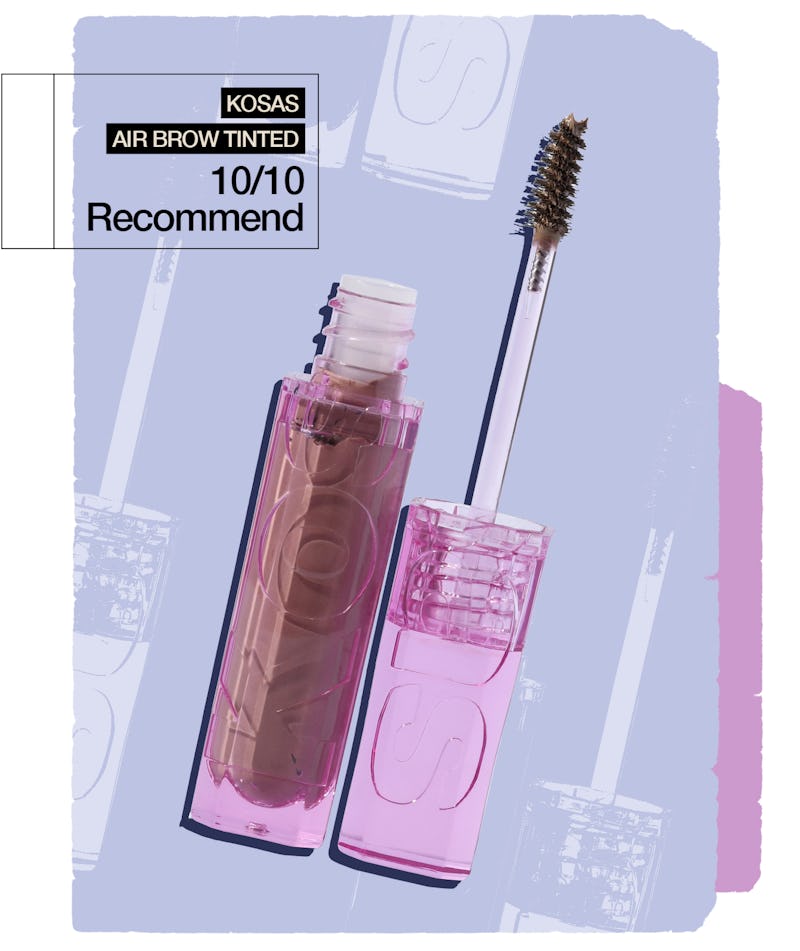 Kosas
Ever since bushy brows had a resurgence in the early 2010s, I've stayed away from tweezers and learned to embrace my naturally thick arches. Actually, my daily goal is to make them even fluffier — and so I've turned to all sorts of brow-boosting products to zsuzh them up for extra volume. My fave out of everything I've tried? The Kosas Air Brow Tinted.
Brow gels are typically my go-to when I'm looking for quick definition. Unlike brow pencils and powders, which take precision and skill, gels are like magic wands that give your arches a one-two punch from the spoolie and product combo. Needless to say, I've tried countless tinted ones in the quest for Brooke Shields-style thickness. But nothing has given me the jaw-dropping drama I've always dreamed of... until I swiped on the new Kosas product. Here's why it's a game-changer for fuller-looking forehead fuzz.
We only include products that have been independently selected by Bustle's editorial team. However, we may receive a portion of sales if you purchase a product through a link in this article.
First Up: The Basics
If you've ever used a Kosas product before, you're probably familiar with the appeal behind the cult-fave line. Ever since the brand entered beauty shelves with uber-pretty lipsticks in 2015, it became a trailblazer in the makeup-that's-good-for-your-skin movement with blushes and other products that deliver pigment along with nourishing ingredients. And it's introduced clean beauty hit after hit — I've fallen in love with everything from the Tinted Face Oil to the Wet Oil Lip Gloss and The Big Clean Mascara, just to name a few. So, TBH, I'm not all that surprised that I audibly gasped when I brushed the newly-launched Tinted Air Brow all over my brow hairs.
You can get the Air Brow Clear for more of a lifting effect, but I'm all about the tint since the added color fills in more sparse spots and makes your arches look more defined. The Tinted Air Brow comes in 10 shades, including gray — a decent selection for a brow gel, which typically comes with five to six colors to choose from. I can use the dark brown and brown-black interchangeably, but I use the black when I want even more of an emphasis — like if I leave my apartment post-sundown and want to make sure everyone notices my brows.
As is the case with all Kosas makeup products, the Air Brow Tinted doesn't just look pretty: It's packed with nourishing ingredients. There's castor oil, an omega-6 fatty acid known for moisturizing your hair; biotinoyl tripeptide-1, a type of peptide that strengthens your strands; and panthenol, aka vitamin B5, which hydrates and delivers shine. So you're not only reaping the benefit of fluffier arches — this gel is working magic on your brows, too.
Why I'm Obsessed
When I'm using a brow gel, I usually apply layer after layer to achieve as much fullness as possible. That's not necessary with this one — each time you whip out the spoolie, it's coated with a healthy amount of product, so even one swipe will show a noticeable difference. The spoolie's tip itself is also a winner in my book: It's like a teeny volumizing brush that actually coats each strand for maximum fluff. I've been applying it every single morning for on-point brows (ya know, for Zoom meetings) and I look forward to that part of my routine where my arches transform from their regular shape to caterpillar-esque fullness in just a few swipes.
The TL;DR
If you're a brow-grooming devotee who always has at least one product for your arches on hand, you'll definitely love the Kosas Air Brow Tinted. Or maybe you're between microblading or laminating appointments and need something to fluff your hairs in the meantime — this'll do the trick. I, for one, am going to do everything I can to ensure I never run out of this gel.