Lily-Rose Depp's Makeup In The Idol Gives A Secret Nod To Euphoria
ICYMI, the two shows exist within the same universe.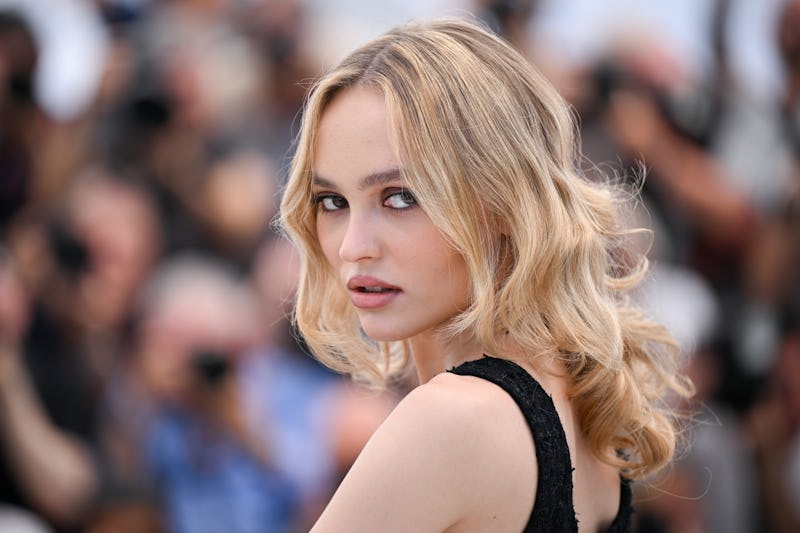 Stephane Cardinale - Corbis/Corbis Entertainment/Getty Images
Before Samuel Levinson's latest project The Idol — which officially aired on June 4 via HBO Max — a cult-watched series by the name of Euphoria (which is, of course, directed by the same filmmaker) ruled Sunday's coveted time slot. And while super-fans of the Zendaya-fronted show patiently await season three, the star-studded newcomer is serving up that raunchy drama fix.
In the world of The Idol, Lily-Rose Depp plays a problematic pop star (with clear inspiration taken from Britney Spears' story) who somehow forms a relationship with a seedy cult leader portrayed by Abel Tesfaye, more recognizably known as The Weeknd. An interesting easter egg, however? Levinson has just recently confirmed that both The Idol and Euphoria exist within the same universe, which essentially means that the pop star Jocelyn could very well be friends with the fiery Maddy Perez. And while there may or may not be a special cameo throughout the debut season (here's to hoping), there are quite a few nods to Euphoria's culture-shifting DNA. Namely, when it comes to Depp's makeup.
Kirsten Coleman, The Idol's makeup department lead, shared with E! News that the show's glam has a "heavy Euphoria influence," featuring lots of "glitter [and] geometric line work." Further, Coleman explains that as opposed to Euphoria, "these are adults, we're not in high school," and the varying makeup looks reflect that certain maturity.
In other words? Lily-Rose's Jocelyn utilizes intricate makeup looks as a sort of mask to veil her true essence while on stage performing, though Coleman notes that "there are these subtle things that happen to Jocelyn and she's slowly changing how she presents herself," which may mean that we experience the character with more pared-down, natural beauty looks, too.
Just like Euphoria, The Idol's makeup lets the audience in on what the show's characters may be dealing with internally, albeit subtly. So yes, hyper-fixating on Jocelyn's eyeliner is completely warranted.