How The "Serious Pain" Britney Spears Experienced Inspired HBO's The Idol
The Weeknd and Lily-Rose Depp revealed the pop icon's influence.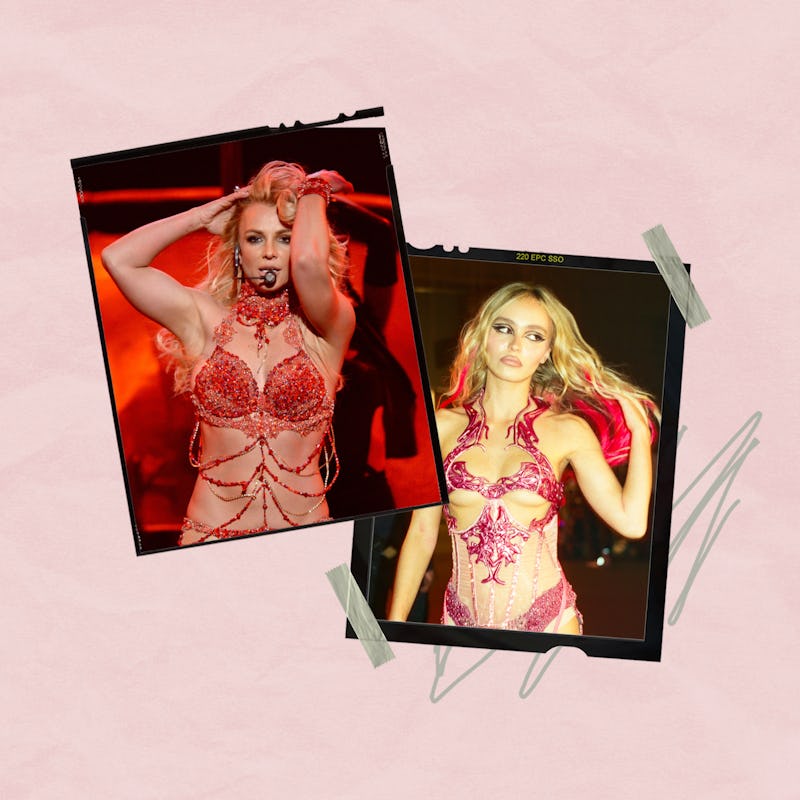 Kevin Winter/Getty Images Entertainment/Getty Images; Eddy Chen/HBO
HBO's The Idol centers on Jocelyn (Lily-Rose Depp), a sexy, blonde singer who's determined to reclaim her pop star throne, following a very public nervous breakdown. If the series description didn't instantly bring Britney Spears to mind, an early teaser for the drama more blatantly featured the real-life musician's 2007 hit, "Gimme More." According to Abel "The Weeknd" Tesfaye, who co-created and stars in The Idol as Tedros, the similarities between Britney and Jocelyn aren't entirely coincidental.
"It's not about Britney at all, but how could we not pull inspiration from Britney, from Madonna, from every pop star that's gone through any kind of serious pain?" he explained to The New York Times ahead of The Idol's June 4 series premiere. "I've always called Lily one of the creators of the show, because I couldn't write Jocelyn until we knew who was going to play her. Once Lily got the role, she and [co-creator Sam Levinson] worked together on creating the character. What I could provide was the music industry around her — management, labels, touring, everything that I know."
Depp, for her part, told E! News on June 1, "There was so much inspiration to be drawn, from somebody like Britney Spears, who I adore — and all of the other incredible pop icons of our time."
During The Idol's 2023 Cannes Film Festival premiere, Levinson confirmed Britney is name-dropped in the first episode, but similarly downplayed direct comparisons to the "Toxic" singer. "We're not trying to tell you a story about any particular pop star," he said. "I think we're just looking more at how the world perceives a pop star and the pressure that it puts on that individual."
The Britney connection might be deeper than he or The Weeknd let on, though. In May 2022, Britney reportedly revealed on Instagram that she met with the "Save Your Tears" singer and Levinson, who also created HBO's Euphoria. "Here's me today meeting the director of [Euphoria] today and [The Weeknd]," she captioned a since-deleted photo, per Entertainment Tonight. The Weeknd, for his part, commented with a red heart emoji, while Britney's husband Sam Asghari wrote, "New character in [Euphoria]?"
Just days after a judge terminated her 13-year conservatorship in November 2021, Britney announced on Instagram that she was appearing in a new film called The Idol. "I just shot a movie titled "THE IDOL,'" the singer captioned a photo of a cat posing next to a glass of wine. "It's guaranteed to have hits and a lot bright pics to put in my beautiful family's faces !!!!! I hope you guys are having a merry ole jolly time cause I sure am !!!!"
Though it's unclear if she was referring to the HBO series, it wouldn't be the first time Britney was The Weeknd's muse. During an August 2021 episode of his Memento Mori Apple Music 1 radio show, the four-time Grammy winner cited her 2003 In the Zone tracks tracks "Everytime" and "Toxic" as inspirations for his Dawn FM album.