Here's Everything We Know About Euphoria Season 3
HBO's update on Season 3's possible premiere date is bleak.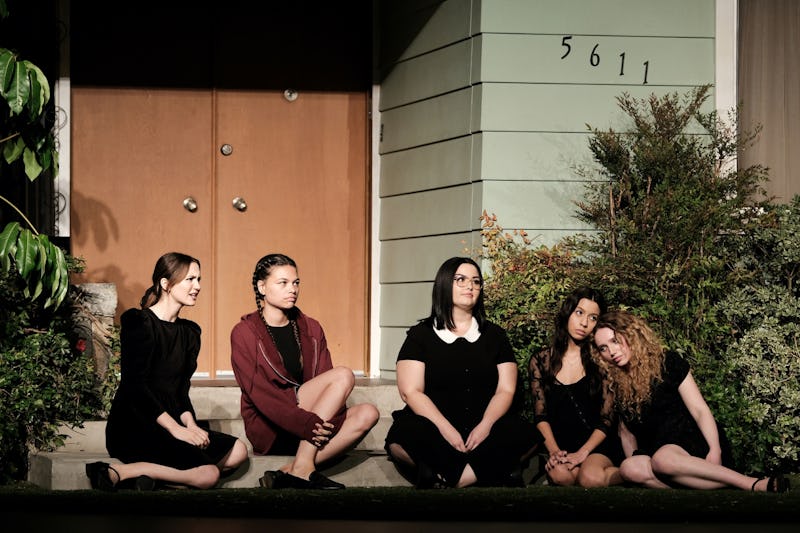 Eddy Chen/HBO
Fans have spent years Euphoria-obsessed — incessantly dissecting the hit HBO show's many plot twists and incorporating the distinctive, vibrant beauty looks into their arsenals. Naturally, the end of the second season instantly left a Euphoria-sized hole in their Sunday nights. Thankfully, weeks ahead of the Season 2 finale, which aired in February 2022, HBO renewed Euphoria for Season 3. There's been a long wait for new episodes, though, and as of spring 2023, the third installment still wasn't completely written, let alone filmed.
When Season 3 does premiere, it has a lot to live up to. "[Creator Sam Levinson], [star] Zendaya, and the entire cast and crew of Euphoria have taken Season 2 to extraordinary heights, challenging narrative convention and form, while maintaining its heart," Francesca Orsi, executive vice president of HBO programming, said in a statement. "We couldn't be more honored to work with this gifted, wildly talented team or more excited to continue our journey with them into Season 3."
The announcement came after a record-breaking Season 2 premiere. According to HBO, it was the most-viewed episode of an HBO series ever on HBO Max — yes, including the highly anticipated SATC reboot, And Just Like That. The Euphoria Season 2 premiere initially drew more than 14 million viewers across platforms — more than double the audience of Season 1, which averaged 6.6 million viewers per episode. The Season 2 premiere was also the No. 1 most buzzy premium cable episode on social media since the Game of Thrones finale in May 2019.
Since production on Season 3 has yet to begin, details are sparse. But here's what we know so far, including the target release date.
Euphoria Season 3 Cast And Plot
It's difficult to imagine Euphoria continuing without its complex and jewel-encrusted slew of East Highland teens, so it's likely that most of them will return for Season 3. Plus, their messes are still on the verge of blowing up in all their faces. Though it sounds like there will be a time jump based on Rue's narration toward the end of the Season 2 finale, Season 3 should include some of the aftermath of the finale.
Zendaya, who previously won an Emmy for playing Rue Bennett, is likely to return next season, perhaps still in recovery since she remained sober for the rest of the school year. Alexa Demie and Sydney Sweeney will also likely reprise their roles as BFFs Maddy Perez and Cassie Howard, and we could see how their friendship fared after Maddy physically confronted Cassie during Lexi's school play. However, if Cassie is a senior and Maddy is as well (we don't really know if she was a junior like Rue), they might not appear in Season 3 as much as fans would like. Since Rue indicated a potential time jump during the finale, Cassie and Maddy could have graduated and moved on by the time Season 3 rolls around.
In August 2022, Zendaya shared some of her Season 3 ideas with The Hollywood Reporter, saying that it would be "exciting to explore the characters out of high school" anyway. "I want to see what Rue looks like in her sobriety journey, how chaotic that might look," she told THR. "But also with all the characters, in the sense where they're trying to figure out what to do with their lives when high school is over and what kind of people they want to be."
Lexi Howard (Maude Apatow) will likely also reprise her role. It's been a slow burn for her character, but this current season ended with Lexi dedicating her play to Fezco (Angus Cloud), who may or may not be alive after that brutal gunshot wound during the police raid. If Fez survives, #Fexi could finally happen.
Hunter Schafer and Storm Reid are also likely to reprise their roles as Jules Vaughn and Gia Bennett, respectively.
Given that many of the show's stars have been embraced by fans, it'll hurt to see any of them go. Of course, with themes as dark as Euphoria's, no one can really tell where a character's fate lies, and some are speculating that a few names may be saying goodbye after this season, and one actor has already announced their departure.
On Aug. 24, Barbie Ferreira announced that she was leaving Euphoria before Season 3 on her Instagram story. "After four years of getting to embody the most special and enigmatic character Kat, I'm having to say a very teary-eyed goodbye," she wrote. "I hope many of you could see yourself in her like I did and that she brought you joy to see her journey into the character she is today. I put all my care and love into her and I hope you guys could feel it. Love you Katherine Hernandez."
As fans noticed, her character Kat's scenes in Season 2 were too few for a fan favorite. Ferreira also apparently didn't attend the season's premiere, which sparked rumors of tensions on set about how happy she was with her character arc. With that in mind, Ferreira's absence from Season 3 isn't that surprising.
Jacob Elordi, who plays the show's antagonist Nate, is a subject of speculation. In an interview about his character, The Kissing Booth actor told Insider he had a "general idea" of what would happen to Nate but added, "Honestly, these scripts were chopping and changing pretty regularly for the longest time." Does that mean Nate's fate is unknown after he called the cops on his dad? Maybe. Plus, Elordi seems to have moved on to more adult (as in non-teenage) roles in projects like Deep Water with Ben Affleck and He Went That Way.
As for Cal Jacobs, considering Nate exposed him as a predator, he might not have a significant role in Season 3. It's possible actor Eric Dane will return to play the unexpected fan favorite next season, even if only to show Cal being locked up.
After being a recurring star in Season 1, Algee Smith's Chris McKay was barely in Season 2. (Did Sam Levinson forget about this character while writing Season 2?) Since McKay and Cassie didn't get back together, his character will likely be written out of the third season, leaving fans wondering how he's doing in the aftermath of his assault in Season 1.
Fans speculated that Season 2 newcomer Elliot, played by "3 Nights" singer Dominic Fike, would meet a tragic fate. But as the finale showed, he's still alive, though those "Elliot's Song" lyrics suggest he's definitely not well now that he and Rue are no longer close. Elliot didn't pass away, as people speculated, and Fike already confirmed he'd return for Season 3, so that makes one solid thing to look forward to.
It's unclear whether Fez's houseguest, Faye (Chloe Cherry), will return, but based on her genius move to break a glass and secretly warn Fez about Custer's motives, she'd be a welcome addition to the Season 3 cast.
After he won his first Emmy on Sept. 4 for his guest role as Rue's Narcotics Anonymous sponsor Ali, Colman Domingo teased what's in store for Season 3. Telling reporters backstage about "some really deep conversations" he had with Sam Levinson recently, the actor recounted some of what the series creator said.
"He's talking about the arcs of all the characters and what he wants to do to expand that, to actually re-examine at times," Domingo said, per Deadline. "It's an organism and he wants it to keep shifting it in many ways and I think he's going to take some really big swings actually with Season 3. ... Just because we had some successes before with this season, he said, 'Let's not rely on that. Let's move forward. I'm going to go deeper with these characters. I'm going to really peel away the layers of them and just get to the human heart.'"
Euphoria Season 3 Trailer And Release Date
The second season of Euphoria premiered about two years after production began in March 2020. Though Production Weekly reported in September 2022 that Season 3 filming was slated to begin the following February, that never happened. Between Levinson's commitment to The Idol, Zendaya's packed schedule, and the WGA writers strike, the delays only continue, though HBO has a target premiere date in mind.
"Euphoria is one of those that we had begun writing in tandem with post-production on Idol but at this point, we don't have countless scripts," Orsi told Deadline in May 2023. "We can't start shooting, so the delivery of that show — ideally in 2025 — will be determined on when we can pick back up with Sam, who at this point is all pencils down and just finishing posts on Idol."
Meanwhile, Zendaya is set to return to the Dune set to film the sequel to the sci-fi blockbuster with Timothée Chalamet, and her casting in MGM's Challengers was announced in February 2022. With back-to-back movies to shoot, it's likely that Euphoria's production time will run much, much longer than expected. (The rumored two-year wait even spawned a series of TikTok videos from upset fans.) Hey, it may be a long wait, but at least we'll have more Zendaya projects and fashion campaigns before then.
The first Season 2 trailer dropped in November 2021, a couple of months before the first episode premiered, so you can expect a similar timeframe for the Season 3 trailer after production wraps. There's no word yet from the execs of HBO on what the time frame will be, but let's all hope it won't actually take another two years before the next season airs.
This post will be updated as more Euphoria Season 3 details become available.
This article was originally published on