Love Island's New Sustainable Fashion Is A Y2K Paradise
From micro mini skirts to low-rise jeans, the dating contestants are set to channel Paris Hilton.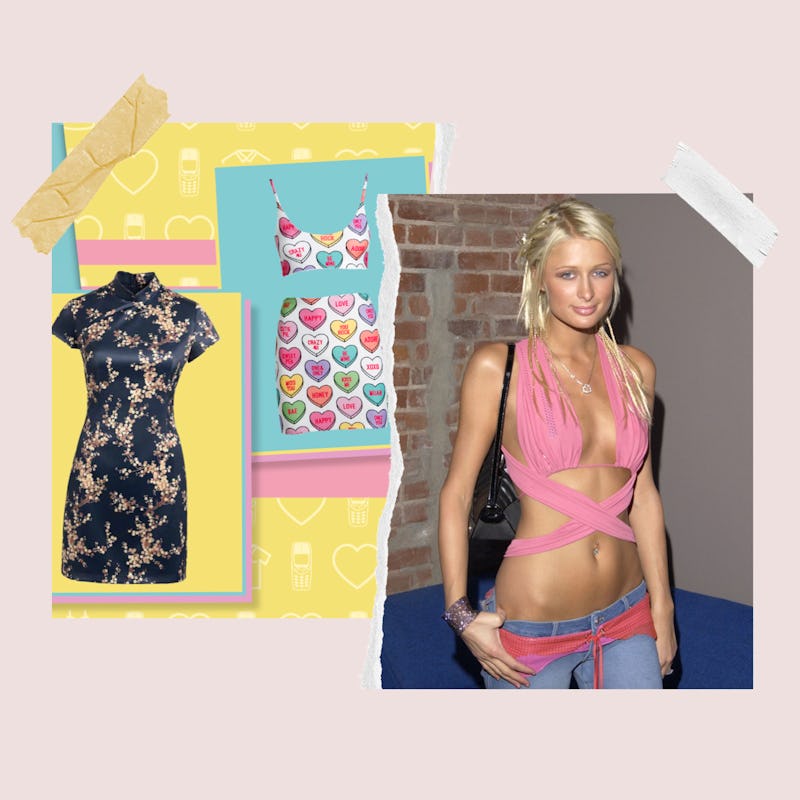 Love Island x eBay UK, Getty Images
ITV's hit dating reality show Love Island never fails to capture our attention. From the muggy behaviour at Casa Amor to the vibey music, there's always something going on. Up until now, hopeful singletons heading to Mallorca's most famous villa have always been handed an allowance to spend on a new wardrobe, with piles of brand-new clothes supplied by fast-fashion show sponsors like I Saw It First and Missguided. But that is all set to change, thanks to a new partnership with eBay UK and celeb stylist Amy Bannerman. Here's everything to know about Love Island 2022's new fashion sponsor and your first look at the pre-loved wardrobe items.
In a bid to embrace greener fashion, Love Island has linked up with eBay UK. Stylist and vintage clothing expert Amy Bannerman — who dresses the likes of Dua Lipa and Jonathan Van Ness — has pulled incredible second-hand pieces for the contestants to wear.
Drawing inspiration from catwalks, celebrities, and social media trends, Bannerman and her team have collated four edits of summer-loving sustainable fashion. And Bustle UK attended the exclusive unveiling of the hotly-anticipated looks.
Blurred Lines
The inspiration behind this collection is blurring the lines between gendered dressing. The men's choices are influenced by a "toned down Harry Styles" and feature lighter fabrics and softer palettes. For the girls, they'll have the opportunity to wear more tailored outfits including cut off men's shirts and suit jackets paired with bralettes. Bannerman told Bustle that she thinks the Blurred Lines collection will be the biggest hit among the contestants.
"This is the trend that incorporates alterations, chopping things off to give them a new life and reimagining the way we wear clothes," the stylist remarks in the press release.
Love Me Forever
Not so much a trend as a way of being sustainable, the Love Me Forever collection focuses on the ability to invest in pieces that you can wear over and over again. "Pieces that will last you a lifetime," as Bannerman rightly puts it.
Classic garments like a sturdy pair of jeans or the perfect white shirt are to choose from here, as well as iconic looks from designer brands like Versace, Alaïa, Herve Ledger, Gucci, and Christopher Kane. Speaking of Kane, Bannerman experienced the ultimate sustainable buy when she came across a velvet dress from the designer for £90, when it retails in stores now for £995. "If that doesn't make you want to shop pre-loved, I don't know what will!"
Y2K
If you haven't been living under a rock, you'll have noticed that the early 2000s are experiencing quite the comeback. Bannerman has certainly noticed and catered this collection around the Y2K stylings of Britney Spears and Paris Hilton. Think micro-minis, backless tops, slip dresses, and low-rise skirts aplenty. As for the guys, they'll be diving into some basketball vests, looser jeans, and trucker caps.
Dopamine Dressing
Simply put, Dopamine Dressing was inspired by "pure and total joy." Focusing on the "explosion of colour and print, neons, Hawaiian florals, print clashing, sequins, high shine and metallics," these outfits will be the perfect addition to villa life and catch the attention of potential love matches.
Bannerman has seen this trend dominate the runway and high street stores already, so it was a must to include in this collab. "I really love how wearing statement clothing can bring to life your personality and encourage self-expression," she says.
How to shop the Love Island x eBay UK collab
There are many ways you can shop the trends and collections, with your ultimate one-stop shop being the Love Island Hub. Set to launch soon, this is where you'll be able to buy your fave pieces from the Blurred Lines, Love Me Forever, Y2K, and Dopamine Dressing collections.
For the time being, you can search your own sustainable bargains via eBay's Brand Outlet hub, which includes 70% off items from designer and high street brands. You can also shop eBay's Imperfect range, which includes clothes, shoes, and accessories from high street brands and designers that are considered new but defective. And if you're after an authentic handbag, eBay's Authenticity Guarantee for Luxury Handbags service has a team of expert authenticators who vet and verify new and pre-owned bags brands such as Louis Vuitton and Gucci.
This article was originally published on