Winter Love Island's Revamped Fashion Is Heavily Inspired By Kravis
The contestants will be wearing pre-loved wardrobe items, but with a little added flavour.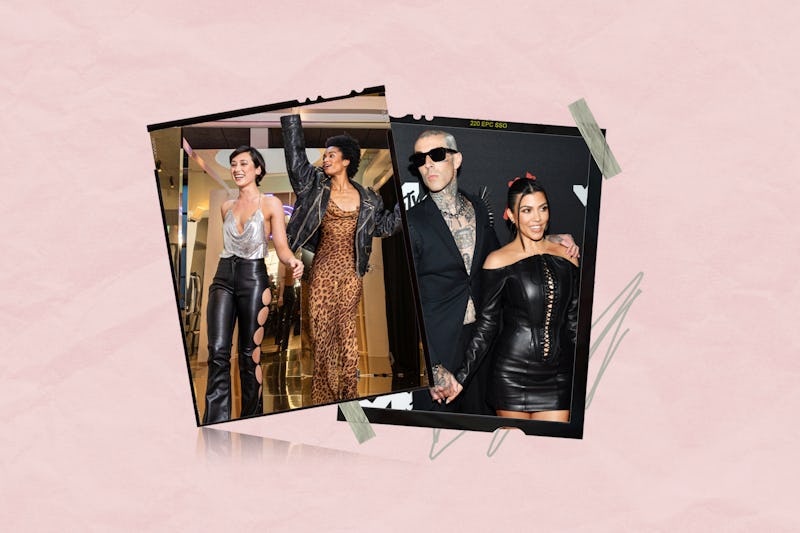 Ebay UK/James North/Getty Images/Noam Galai/Stringer
Following the great success of Love Island's style collab with eBay UK in 2022, stylist and vintage clothing expert Amy Bannerman is back with four new edits for this year's batch of Islanders. For Winter Love Island 2023, Bannerman has focused on the fashion mindset of "reflective dressing," in which she hopes to encourage viewers "reflect on the way they shop and the way they dress." As such, the edits are called Heavy Metal, Tutti Frutti, Business v. Party, and Dressed Up Denim.
On the sustainable fashion focus, eBay UK commented: "Following the impact that the partnership had last series on changing the conversation around fashion, we're delighted to be continuing to shift the dial with this new mindset. If we can inspire fans to buy or sell just one item of pre-loved clothing this year, we're heading in the right direction."
Much like in 2022, Bannerman has compiled a wardrobe of second-hand pieces for the contestants to wear, ranging from bright and colourful items to rock'n'roll leathers. Some items have been given a makeover — dresses have been shortened and graphic prints have been added to designer pieces. Find out more about this year's looks below, and read on for how you can shop the latest Love Island x eBay UK collab.
Heavy Metal
Inspired by the paired styling of Kourtney Kardashian and Travis Barker — Kravis, to fans — this edit takes "the Love Island wardrobe to the dark side," said Bannerman. She aims to bring "back rebellious dressing" with this collection, providing an array of choices like "metallic skirts, leather jackets and vintage Ts." For the stylist, this edit and "trend feeds into both self-expression and showing pre-loved classics that will last a lifetime."
The collection pairs "classic heavy metal with current fashion," with Bannerman noting that designers on the runway are "going OTT with palettes and crystal fringing."
Winter Love Island 2023: Heavy Metal collection Love Island x eBay UK
Tutti Frutti
Dopamine dressing makes a return this year, but with a twist. Bannerman has switched her focus to being "all about the pinks, yellows, oranges and blues integrated in an explosion of neon blazers and bright two-pieces," rather than the Hawaiian florals and print clashing last summer.
Having noticed that more and more people are "dressing to boost their mood" and are "steering away from neutrals," the stylist loves "how this trend really brings someone's personality to life" and that it can be achieved "so simply with just one bold item in an outfit, or top to toe, depending on how brave you feel."
Winter Love Island 2023: Tutti Frutti collection Love Island x eBay UK
Business v. Party
This edit is all about the "merging of partywear with slouchy tailoring" for Bannerman. Taking inspiration from Bella Hadid and Pete Davidson, expect to see "luxe shirts with smarter trousers" and "crystal pieces paired with blazer dresses" when the Islanders get ready for their night out.
The vintage specialist noted the highest searched trends last year, including oversized shirts, cropped blazers, and shirt dresses when putting this collection together.
Winter Love Island 2023: Business V Party collection Love Island x eBay UK
Dressed Up Denim
There's nothing better than rocking some double denim, and what better way to encourage busting out some pre-loved jeans or midi skirts than with "dressed up denim." Bannerman also hopes to encourage people to wear denim that "can be upcycled to give pieces a new lease of life."
The girls will find a treasure trove of "classic co-ords and fitted jumpsuits" in the villa wardrobes, while the boys will see "loose-fitting oversized shirts paired with long-length shorts." As Bannerman rightly concluded, "there are so many ways you can wear denim."
Winter Love Island 2023: Dressed Up Denim collection Love Island x eBay UK
How To Shop The Love Island x eBay UK Collab
There are plenty of ways to shop for similar items on eBay UK. This includes the site's Brand Outlet, which offers 70% off items from brands like HOBBS, Whistles, Oliver Bonas, and River Island.
The Imperfect range of clothes, shoes, and accessories provides an opportunity to buy products from high-street and high-end designers that are considered new but with defects. As for the Authenticity Guarantee for Luxury Handbags, eBay has a team to authenticate and verify new and pre-loved handbags from designers like Louis Vuitton, and Gucci.