Megan Thee Stallion Wears Mugler's Mesh, Butt Cut-Out Jeans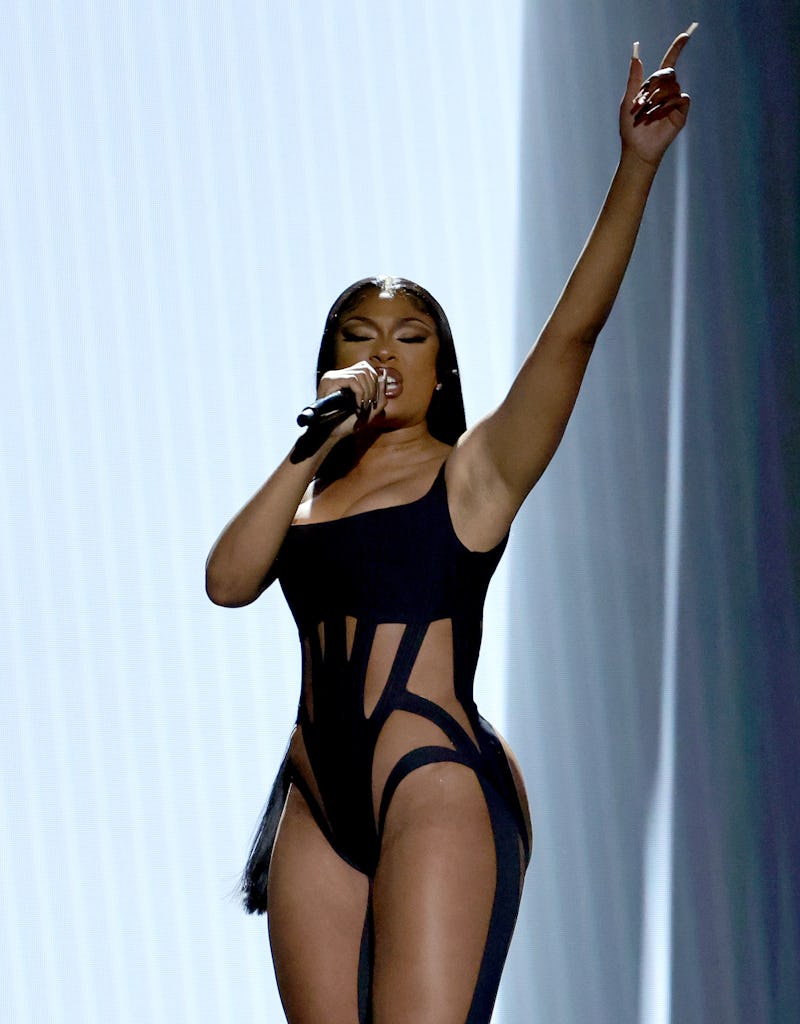 Ethan Miller/Getty Images Entertainment/Getty Images
House of Mugler is known for its daring designs that show off the body-ody-ody. Lately, their lingerie-inspired looks have been sported by nearly every A-list celebrity, from Khloe Kardashian to Megan Fox. So it seems like a natural step that the next celeb to star in a Mugler campaign would be Megan Thee Stallion.
Megan is a longtime fan of the house's hyper-feminine and sexy silhouettes. She wore Mugler to the 2022 Billboard Music Awards red carpet and on stage for her performance — perhaps a hint, in retrospect, that something bigger was on on the way.
What started as the music video for Megan's new bop "Plan B" ended up being more of a teaser for the Spring Summer 2022 Mugler collection. Megan shared the music video on her socials with the caption "Mugler Meg 🖤" and wearing what looks to be a cross between Mugler's trademark cut-out bodysuits and good old-fashioned assless chaps (iconic, truly). Apart from two back pockets and some flesh-toned mesh, Megan's butt is totally bare.
The nine-minute video stars the Hot Girl Coach herself, plus Pose Actress Dominique Jackson, Bella Hadid, Chloë Sevigny, and more — and at the end there's a tribute performance to Thierry Mugler, who passed away in January 2022.
You can watch Mugler Meg's cameo (loving that rebrand for her) as well as the full Mugler Spring Summer 2022 video below.