Hailey Bieber's Plunge Dress & 3 Other Met Gala Looks To Copy
Get their looks in time for your next cocktail party.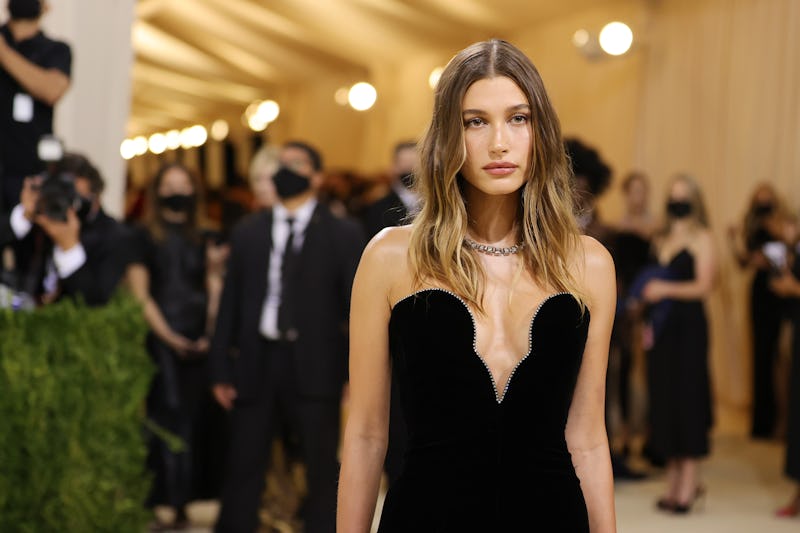 Mike Coppola/Getty Images Entertainment/Getty Images
The Met Gala kicked off this week, having been postponed for a year and a half, with the world seemingly shot out of a fashion cannon for all the evening events. For the exhibit: "In America: A Lexicon of Fashion," celebrities, models, and designers pulled out all the stops with their own representations and interpretations of the theme.
While some embodied Old Hollywood, others opted for a western theme. Others simply chose to wear iconic American designers like Ralph Lauren, Michael Kors, Oscar de la Renta, and more. And some still chose to use their clothing to put forth the believe that American is, in fact, simply an amalgamation of many different cultures.
And, while you might not be walking down the street in a ballgown anytime soon, there are many classic trends that emerged from the style-filled evening that you can incorporate into your everyday wardrobe.
Be it a low-cut gown like Hailey Bieber, a dark metallic gold dress like Keke Palmer, or star-studded embellishments like Kendall Jenner, there's plenty of fashion inspo ahead.
Ahead, find four of the best-dressed celebrities at the 2021 Met Gala, and see how their unforgettable looks can inspire your wardrobe today.
Bustle Shop is Bustle's shoppable guide to editor-approved buys in fashion, beauty, wellness, and lifestyle. We may receive a portion of sales if you purchase a product through a link in this article.
Bustle Shop brings you the editor-approved buys we can't get enough of and think you'll adore, too. Best of all, you can shop all of the products above directly on this page without visiting multiple retailers. Simply click on an item to learn more, choose your size or favorite color (if applicable), and then hit "add to cart." When you're done, you can click over to your cart in the top right corner of your screen to purchase all your stellar selects at once. How easy is that?
Questions about shipping, returns, or your order in general? Click here for more information.
Explore more of Bustle Shop (and our fashion, beauty, and lifestyle must-haves) here.