Olehenriksen's Banana Bright Mineral Sunscreen Is An SPF With Benefits
It's the latest addition to the fan-favorite Banana Bright line.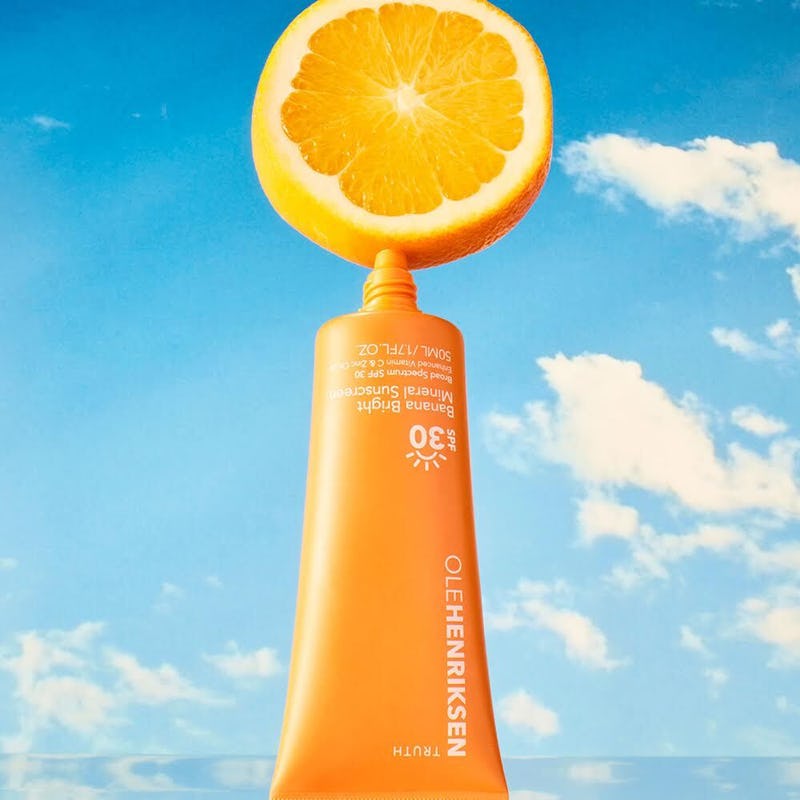 Olehenriksen
We may receive a portion of sales if you purchase a product through a link in this article.
Its officially springtime — which means that breezy cottagecore fits, effortlessly dewy skin, and longer, sunshine-filled days are finally back in again.
Here to kick off the spring 2023 season with a fresh new skin care launch, Olehenriksen has just dropped a new sunscreen with SPF 30, complexion-brightening vitamin C, and banana powder-inspired pigments that add boost of radiance to your skin.
Enter: The Olehenriksen Banana Bright Mineral Sunscreen. Fit for all skin types and tones, the formula has been created to address dark spots, fine lines and wrinkles, as well as dullness. In other words? It not only protects your skin from harsh UV rays via zinc oxide, but it also works to heal damage you may already have.
As for my experience with the buzzy launch? Well, the soft orange-tinted formula has a natural, yet super subtle citrusy aroma that makes me actually want to apply sunscreen daily. And even more importantly, there is zero white cast on my face. Not only does my skin look a bit more dewy and radiant after application — but it also pairs well with my fave skin tint, acting as the perfect makeup primer that just so happens to harbor some serious skin-loving benefits.
In case you're not up to speed, the cult-favorite skin care brand is widely known for its Banana Bright range — and with products already in beauty lovers' hands like brightening serums, primers, eye creams, and beyond — countless Olehenriksen stans have been all but *begging* for an SPF with the same enlivening qualities.
In need of a new go-to sunscreen for the warmer months ahead? You can officially shop the drop now.