Your No-B.S. Guide To Physical & Chemical Sunscreens
Derms weigh in on the great debate.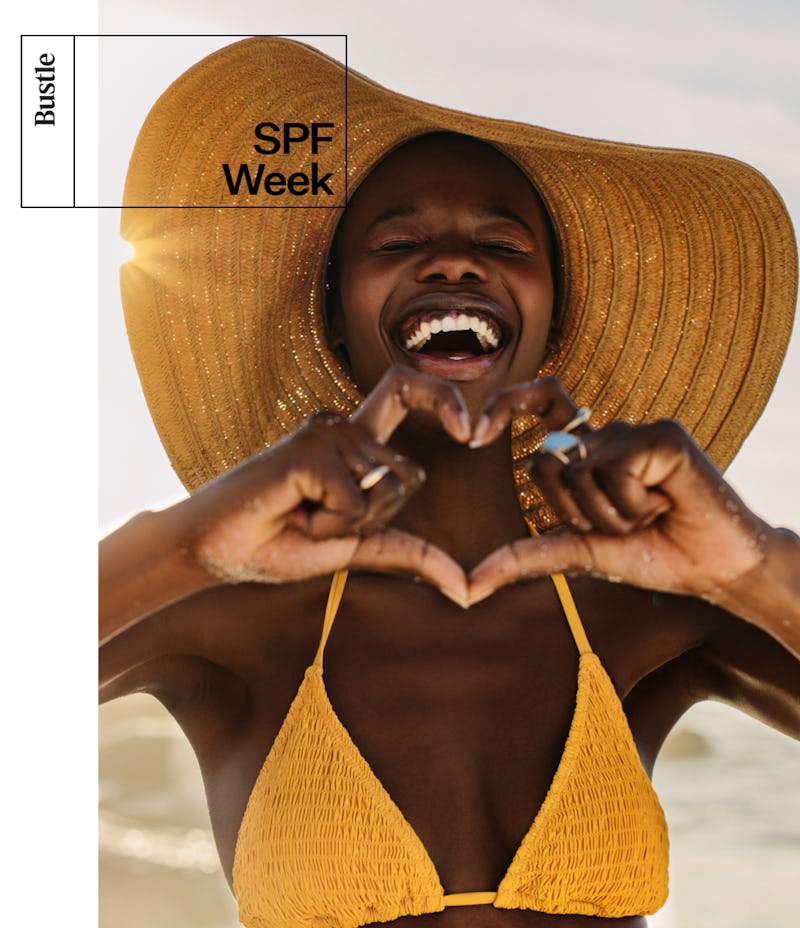 Shutterstock
Sunscreen is going through a major glow-up. From sunscreen-serum hybrids to SPF that doubles as makeup, these new formulas actually make you *want* to reapply. In Bustle's Suncare Week, we're doing a deep dive on the latest innovations in sun-care, from textures to technology.
When it comes to choosing a sunscreen, there are quite a few factors to consider: SPF levels, whether or not it'll clog your pores or leave a grayish cast, the convenience of spray formulations over the full coverage of lotions, just to name a few. And then, there's the most particularly daunting variable to weigh: the differences between physical (aka mineral) and chemical sunscreen.
With summer in full swing, there's no better time to get a firm understanding of your options in order to determine which one is right for you — and which type will give you maximum protection from the sun. (However, it's important to remember that you should be wearing sunscreen all year round — yes, even indoors.) To make it easier, Bustle reached out to two experts — Dr. Reena Jogi, M.D., board-certified dermatologist and SkinCeuticals partner physician, and Dr. Joshua Zeichner, M.D., FAAD, board-certified dermatologist in New York City — to help break down all the essential info about chemical and physical sunscreens, from the different ingredients in each one to the skin types they're best suited for.
What Are Physical Sunscreens?
Physical sunscreens contain active mineral ingredients like titanium dioxide and zinc oxide, which work to physically block the sun's rays, Jogi tells Bustle. (This is why mineral sunscreens are also sometimes known as physical.) "They work by both reflecting light off the skin and absorbing UV light to prevent it from penetrating into the skin," adds Zeichner.
Sun protection starts immediately, says Jogi, whereas chemical sunscreens must soak in for 20 minutes before they're protective against UV rays. Additionally, mineral sunscreens have a longer shelf life than chemical ones, she says. Her pick? SkinCeuticals Physical UV Defense SPF 50.
Zeichner touts mineral sunscreens' ability to work for people with "extremely sensitive" skin. Plus, a lot of newer formulas don't leave a white cast. "Traditionally, mineral sunscreens were difficult to rub in... however, the latest generation of mineral sunscreens uses new technology that makes them much more cosmetically elegant." He adds that many physical sunscreens on the market come in tinted versions with the addition of iron oxide pigments. "Not only does this give cosmetic coverage, but iron oxide pigments are thought to provide protection against visible light exposure." He points to Bliss Block Star Invisble Daily Sunscreen SPF 30 as a solid option.
What Are Chemical Sunscreens?
Chemical sunscreens protect skin from the sun's rays by absorbing them through a chemical reaction caused by the organic compounds in the formula, explains Jogi. Said organic compounds include oxybenzone, octinoxate, ecamsule, octisalate and avobenzone.
The benefits of chemical sunscreens? "They're aesthetically pleasing and can be formulated to achieve ultra-high SPF levels with light textures," says Zeichner. Plus, they're generally more water-resistant and longer-lasting than mineral sunscreens, adds Jogi. (That means if you hate frequently reapplying sunscreen, consider the chemical variety.) She likes SkinCeuticals Daily Brightening UV Defense Sunscreen SPF 30 for its hydrating powers, whereas Zeichner recommends Rodan and Fields Redefine Triple Repair Lotion SPF 30 for its anti-aging benefits.
Should I Use Chemical Or Physical Sunscreen?
While both chemical and mineral sunscreens can be safe and effective, Zeichner says it boils down to personal preference and skin type. Those with sensitive skin — or skin conditions like rosacea — should avoid chemical sunscreens as they can be irritating, explains Jogi. "Chemical sunscreens may also clog pores, so a physical sunscreen may be a better choice for those with acne-prone or oily skin," she adds. Avid exercisers or those frequently on-the-go might gravitate towards chemical sunscreens, as they're lighter and more sweat- and water-resistant.
The Bottom Line On Physical And Chemical Sunscreen
"The most important thing when it comes to sunscreen is wearing it," Jogi says. "I recommend that patients use whatever sunscreen feels best for them as they're more likely to use it." Just make sure the sunscreen offers SPF 30 or higher — and offers broad spectrum protection against UVA and UVB rays. Ultimately, Zeichner adds that the best sunscreen is the one that you're actually using.
Experts:
Dr. Reena Jogi, board-certified dermatologist and SkinCeuticals partner physician
Dr. Joshua Zeichner, board-certified dermatologist