The Best Pajamas With A Built-In Bra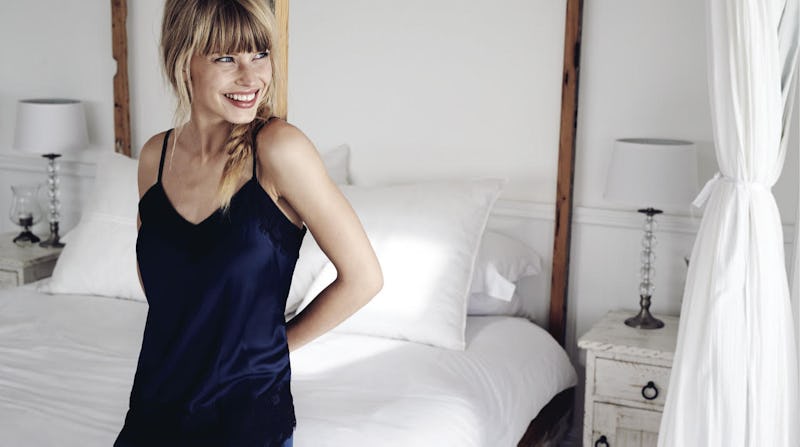 Shutterstock
We may receive a portion of sales if you purchase a product through a link in this article.
It is a bit of a needle in a haystack finding the best pajamas with built-in bras. More often than not, it's easier to rotate in some camis with shelf bras or to simply sleep in a bra rather than trying to find an actual pajama set or cute nightgown with support. Fortunately, I found several versatile pajama sets that offer a nice range of structure, from a sleep chemise with a thin shelf bra to a lounge-worthy T-shirt and shorts set with a hidden bra included.
Which Level Of Support Is Right For Me?
In terms of support, a shelf bra will offer the least amount of support, but it's also the most likely to be comfortable since you only have a thin layer of fabric and an elastic band to adjust. Some padded sets can be almost as comfortable as a shelf bra if their pads are lightweight and flexible (like a low-impact sports bra), but you'll also find sets with stiffer molded cups that offer more shaping. The most supportive option is the underwire, but most people don't find them very comfortable for sleep — so they'll usually be found on nightgowns designed for special occasions when you want to feel extra fancy.
Whatever level of chest support you're after, there's a sleepwear solution for you below. There are matching sets, including buttery soft camisoles and T-shirt pairs. Unfortunately, it's nearly impossible to find good flannel or silk pajama sets with chest support, so you won't find those here — but, if you want cute separates for a range of climates, you can also find cooling camisoles and thermal tees with shelf bras listed. These 11 sleep-worthy options have different types of built-in bras that are all comfy, cozy, and supportive.
Shop The Best Pajamas With A Built-In Bra
In a hurry? These are the best pajamas with a built-in bra:
This article was originally published on