4 Pastel Eyeliner Looks That Will Convince You To Try Colorful Makeup
Refresh your eye makeup routine.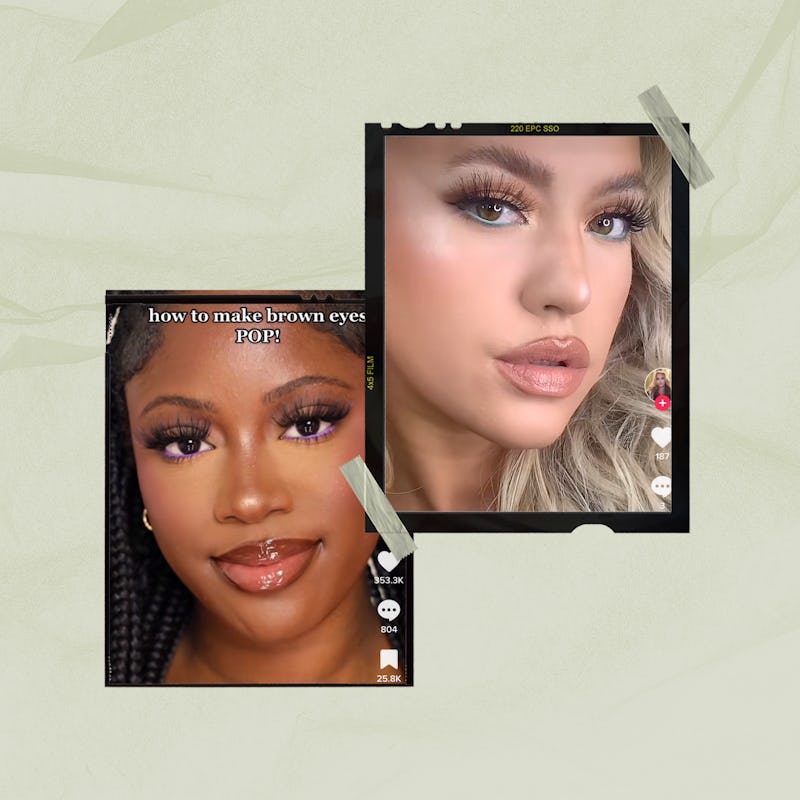 TikTok: @jasadetunji/@misswhitmua
From an ultra-bright white waterline (in part thanks to Alix Earle's influence), to the white dot eye trend that took TikTok by storm just a few months back — it's clear that stark white hues of eyeliner have been having their main character moment in the world of beauty. Though with springtime just a few weeks away, some new unexpected shades are taking over and leaving eyes looking all things vibrant and refreshed.
I'm not talking about neutral shades of off-white, either: Because BeautyTok has been *obsessed* with colorful pastel eyeliner as of late.
Some creators have made the case for popping the pastel version of their eye shade in their waterline (i.e. light green eyeliner for green eyes, baby blue for blue eyes, etc) — though IMO, any pastel shade has the ability to subtly soften the makeup look you are going for. Whereas in comparison to the former it-girl of eyeliners, a stark white shade can often read a bit intense on many, and especially on those with deeper skin tones where the color might appear unnatural.
Craving a bit of a refresh for your tried and true eye makeup routine? Here are the pastel eyeliner looks that are taking over the For You pages of beauty lovers.
4 Stunning Pastel Eyeliner Looks
Balletcore Pink
Perhaps one of the more popular pastel hues, light pink seems to complement just about every single eye color.
Baby Blue
For those with baby blue eyes, try a pastel eyeliner to match for a stunning monochromatic moment.
Light Green
Green may not be the first eyeliner shade you reach for when filling in your waterline, but TikTok is making a *very* strong case for the zen hue (especially for those with eyes that have green in them).
Doll-Like Lavender
Especially for brown and green eyes, lavender gives that springy pop of color.