This Spring Jewelry Trend Has Elementary School Vibes (In The Best Way)
Channel your inner child with these bright and fun pieces.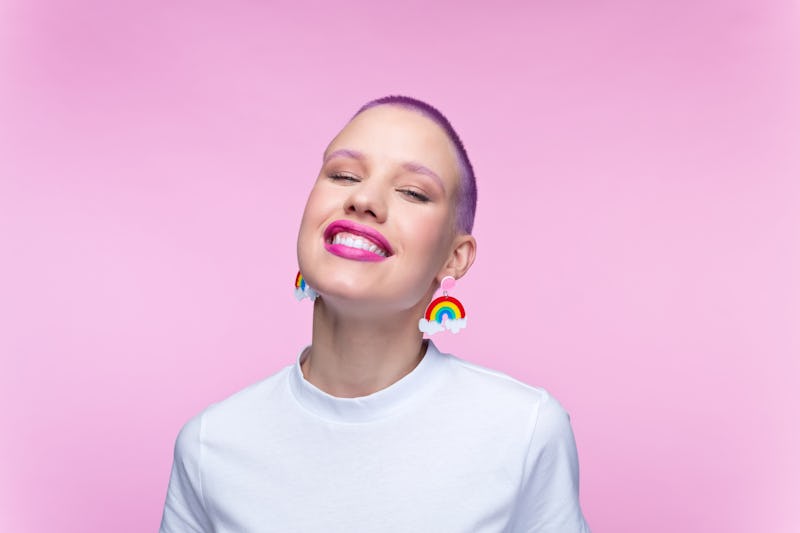 izusek/E+/Getty Images
When I was a kid, I wanted everything to be rainbow and sparkly. In addition to my collection of hair bows and Silly Bandz (remember those?), I had tons of rainbow jewelry. Think necklaces, bracelets, earrings, and anklets. If it was rainbow, then it was in my jewelry box.
Honestly, not much as changed almost two decades later. But now, more people are reviving this trend as spring approaches and for good reason: It's cute and fun! The Spring 2022 Anna Sui and Coach ready-to-wear runway shows featured brightly colored accessories, while the #rainbowjewelry hashtag has garnered over two million views on TikTok where influencers are showing off their multi-hued jewels.
There's something about good ole' ROYGBIV that'll bring a smile to your face no matter your age. Plus, if you're indecisive and can't choose just one color to wear, with a rainbow you get to wear them all. As the legend Hannah Montana once said, you get the best of both worlds (or, in this case, all of 'em).
While I probably just aged myself, the rainbow jewelry trend is proving to be surprisingly timeless with all of the candy-colored accessories that are available this season. So without further ado, scroll on to see some of the best rainbow jewelry pieces to bring out your playful side.
Bustle Shop is Bustle's shoppable guide to editor-approved buys in fashion, beauty, wellness, and lifestyle. We may receive a portion of sales if you purchase a product through a link in this article.
Bustle Shop brings you the editor-approved buys we can't get enough of and think you'll adore, too. Best of all, you can shop all of the products above directly on this page without visiting multiple retailers. Simply click on an item to learn more, choose your size or favorite color (if applicable), and then hit "add to cart." When you're done, you can click over to your cart in the top right corner of your screen to purchase all your stellar selects at once. How easy is that?
Questions about shipping, returns, or your order in general? Click here for more information.
Explore more of Bustle Shop (and our fashion, beauty, and lifestyle must-haves) here.