An Honest Review Of Rhode's New Glazing Milk Facial Essence
My newfound glow is *chef's kiss.*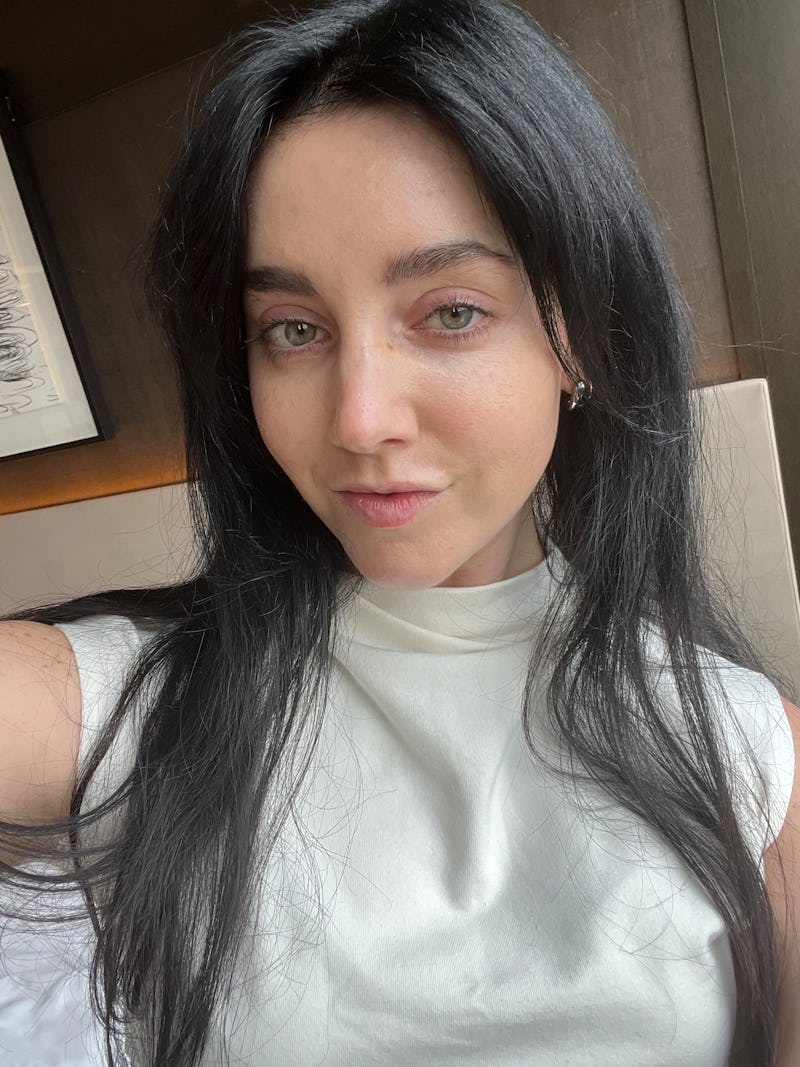 We may receive a portion of sales if you purchase a product through a link in this article.
Hailey Bieber is not one to gatekeep. She's regularly sharing beauty tutorials on her YouTube channel and GRWM vids on her TikTok. She's even launched her own skin care line, Rhode, so that everyone else can use the same complexion-plumping essentials as she does for her famed glazed donut glow. Now, exactly one year since her brand came onto the market, she's dropping a creamy elixir that delivers her skin's signature dewy radiance in a mere splash: the Rhode Glazing Milk.
After giving Rhode stans a (limited edition) new flavor of its buzzy Peptide Lip Treatment — Passionfruit Jelly — Glazing Milk is officially set to be the brand's first permanent product introduction since it launched in June 2022 (it'll be available on June 15). It's something that Bieber has clearly been excited about: If you follow the supermodel on Insta, you've recently seen her rocking a "Got Milk?" tee over a bikini while on a beach vacay — a shirt that undoubtedly teases at Rhode's newest addition to its lineup. (In her slideshow, she's also seen slathering something onto her dewy face.)
True to everything else by Rhode, the Glazing Milk is meant to be gentle and nourishing. You know, because you can't achieve a glazed donut glow by using anything harsh — it's all about giving TLC to your complexion... which is an ethos that proves Bieber is savvy about skin care. I obviously had to try out the newness — read on for everything to know about the launch, along with my honest review.
Fast Facts
Price: $29
Best for: Extra moisture, restoring the skin barrier, brightening
Your rating: 5/5
Brand: Rhode
What we like: It delivers both instant and long-term results; it's super lightweight
Rhode Glazing Milk
The Glazing Milk is a creamy, skin-plumping fluid that works to replenish the complexion with an instant surge of moisture, all thanks to a potent blend of ceramides and other skin barrier-fortifying staples that are all packed into the milky elixir.
Compared to the brand's Peptide Glazing Fluid, the Glazing Milk operates as more of a booster, while the former is a hydrating serum that you can use in multiple ways. Think of it as the ultimate prep step that you apply before skin care and makeup to nourish your complexion into a plump, bouncy canvas.
The Ingredients
The all-star of Glazing Milk's formula? A trio of ceramides, aka natural fatty molecules that make up your skin barrier and help keep your complexion nourished and healthy. Beyond that, it contains beta-glucan polysaccharides, which come from mushrooms and have been clinically proven to moisturize, smooth, and protect the skin. Then there's a blend of magnesium aspartate, zinc, and copper gluconate, three ingredients that also boost the all-important skin barrier. In other words: It contains quite the roster of soothing actives, so if you deal with sensitive or irritated skin, it could be just what you need.
My Skin
I've recently stopped taking Spironolactone for acne, so I've had to be a lot more careful about what I put on my skin. After peeling back on exfoliants, I've learned that my complexion thrives when I feed it gentle, skin barrier-replenishing formulas — which is why I was really excited to incorporate the Glazing Milk into my routine.
How To Use
The Glazing Milk is meant to be applied after cleansing and before your serum. Just shake two to three drops of the elixir into your hands and gently pat it into your skin before continuing on with the rest of your routine.
First Impression
The Glazing Milk truly feels like a milk. It's thicker than a typical essence, but lighter than an average serum — I was surprised at how unique its texture was. While it's definitely creamy and nutrient-dense, it's really lightweight. The second I patted it all over my face, my skin slurped it right up. My face instantly felt quenched, and I also noticed that my complexion looked a touch brighter — as if I had just used the Paris filter IRL.
The Results
I've been using the product for almost two weeks now, and my skin is more even and plump. Typically, I apply one of my serums immediately post-cleansing — without toning — but the addition of this milky essence has made a significant improvement in my skin's hydration levels and overall radiance. So while it gives me the instant satisfaction of a glow right after applying it, the glow-up I've experienced with regular use is truly chef's kiss.
I had been dealing with some redness and acne flareups before I started using the Glazing Milk, but this uber-soothing formula has saved my angry skin. It's the only thing I changed in my regimen, and I was kind of surprised that a mere essence could make such a difference. I'm a fan.
The Verdict
The Glazing Milk, much like Rhode's Peptide Glazing Fluid, serves as a fast-track to Bieber-level radiance — i.e. making your complexion look like it's literally been glazed like a donut. But IMHO there's something extra special about the milk. Think about it: Water may be the essence of moisture (I'm quoting Zoolander here), but milk is true nourishment — and my skin's newfound glow is proof. So... I'll be keeping this baby in my beauty regimen from here on out.
Studies referenced:
Borkow, G. (2014). Using Copper to Improve the Well-Being of the Skin. Current Chemical Biology, 8(2), 89-102. https://doi.org/10.2174/2212796809666150227223857
Du, B. (2014). Skin health promotion effects of natural beta-glucan derived from cereals and microorganisms: a review. Phytother Res. 2014 Feb;28(2):159-66. doi: 10.1002/ptr.4963. Epub 2013 Mar 11. PMID: 23494974.
Gupta, M. (2013). Zinc Therapy in Dermatology: A Review. Dermatology Research and Practice, 2014. https://doi.org/10.1155/2014/709152