9 Cool Tattoo Fonts To Consider For Your Next Ink
Ideas to help you brainstorm.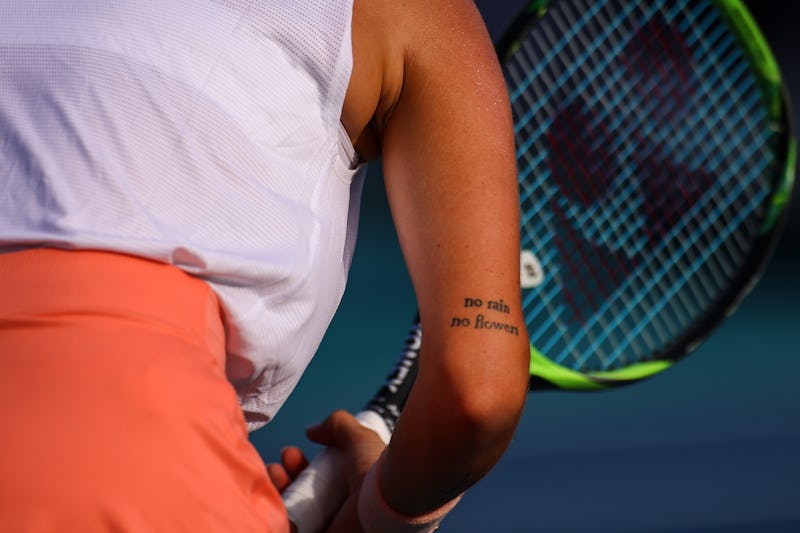 Mark Brown/Getty Images Sport/Getty Images
The fun part about tattoos is that the limits do not exist. And if you're thinking about a word or phrase, there's an overwhelming amount of tattoo fonts to consider and you want the lettering to be just right.
More and more people are considering getting a word or phrase tattoo, and the reasons why are pretty simple. "Font tattoos are so popular because they're an aesthetic," Fleur Noire Resident Artist Jaz Paulino tells Bustle. "It's a fun way to permanently mark a positive reminder, or favorite quote, or commemorate someone special."
"They're timeless," adds INKED artist Deanna Maffeo. "If done by the right artist, [it] can look good forever."
A tattoo font can be fine or bold, colorful or classic black, minimal or graphic — you can literally do whatever you want with it. As for pain tolerance or what to expect, Paulino says that it all depends on the size you want it to be and how much ink is going to be deposited.
Paulino lists handwritten, script, and typewriter fonts as some of the most popular client requests. Need more inspiration to get started? Scroll down for nine tattoo font ideas you can consider for your next ink appointment.