Aesthetic Tattoos Are The Latest Body Art Trend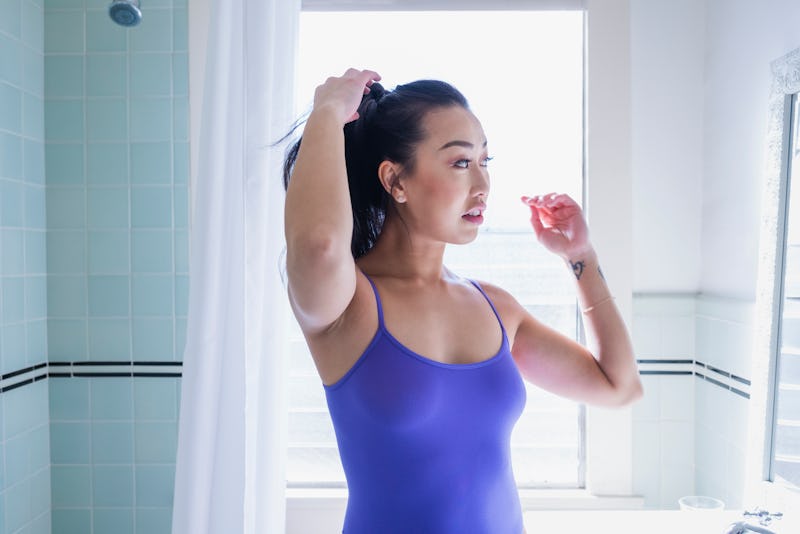 Getty Images/ Tony Anderson
At this point, it almost feels like everyone knows someone with an aesthetic tattoo on their arm. (Or their thigh. Or their side.) But what exactly constitutes an aesthetic tattoo? And why do they suddenly seem so cool?
"Like any sort of fashion, tattoo trends are constantly evolving," says Deanna Maffeo, a resident artist at Inked NYC. "Aesthetic tattoos are just the latest trend in an always-changing art." When someone asks for one, Maffeo says they're usually looking for something minimalist, often on the smaller side, and without too much detail — so it's basically simple linework.
The simplicity is one of the main reasons why this type of tat is so popular right now. The designs don't take up much space, Maffeo says, which means they're easy to get and even easier to hide. For folks who were on the fence about the bigger, bolder tattoos — like patchwork ink, for example — aesthetic tattoos might seem more appealing. There's also the fact a ton of celebrities have been getting them, adds Maffeo, making them even trendier. Just look at Selena Gomez's music note or Hailey Bieber's chevron lines.
If you're on the market for a simple piece of body art, Maffeo suggests looking on Instagram and Pinterest for ideas. To help get you started, keep scrolling for fun examples of aesthetic tattoo ideas before setting up your appointment at the salon.
Source:
Deanna Maffeo, resident tattoo artist at Inked NYC