The 6 Best Sunglasses For Light-Sensitive Eyes, According To An Optometrist
Find the comfiest pair for you.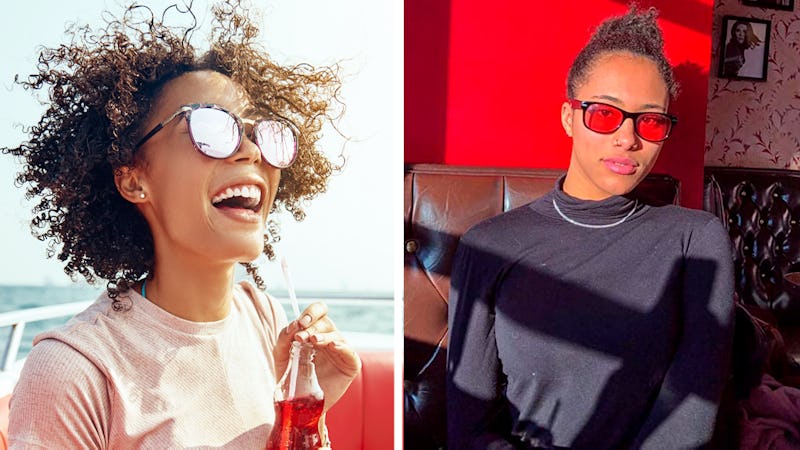 Shutterstock/Ground Picture/Amazon
We may receive a portion of sales if you purchase a product through a link in this article.
If you experience light sensitivity, you know that it can make something as simple as going for a walk unpleasant — and it can even trigger migraines in people who experience light sensitivity (also known as photophobia). The best sunglasses for light-sensitive eyes feature 100% UV protection and a high lens category that allows a certain amount of visible light transmission (VLT). You may also want to keep an eye out for extras like polarized or transition lenses, or even specialty glasses that are calibrated for wearing indoors (which can help if you're ultra-photophobic or prone to migraines), to protect your eyes and keep them damage-free. To offer more insights, I've consulted with an optometrist to help pick out the optimal shades for you.
The Expert
Besty S. Jacob, O.D., is a Florida-based optometrist at True Eye Experts with a decade of experience. He attended Nova Southeastern University for his doctorate, after completing a double bachelor's degree in biology and vision science.
What To Consider When Shopping For Sunglasses For Light-Sensitive Eyes
UV Protection
According to optometrist Dr. Besty S. Jacob, it's important to choose lenses that offer 100% UV protection, also called UV400. That way, you know you're getting full coverage against both UVA and UVB rays.
Lens Categories
You'll find that sunglasses fall into numbered categories, which can greatly impact sensitive eyes. Here's a quick breakdown of the different categories:
Category 0: Blocks 0 to 20% of light; sunglasses in this category are typically more style-forward glasses that allow almost all, if not all, light through.
Category 1: Blocks 20 to 57% of light; these shades have a slight lens tint and are okay for wear when the sunlight is of very low intensity.
Category 2: Blocks 57 to 82% of light; available with medium lens tints, a category 2 shade can be worn in average light.
Category 3: Blocks 82 to 92% of light; these sunglasses have very good light-blocking abilities and do a great job blocking intense sunlight and even glare.
Category 4: Blocks 92 to 97% of light; if you're looking for the most light-blocking sunglasses, lenses in this range allow the least amount of light through.
"If you have light-sensitive eyes, category 3 lenses may be a good choice for most outdoor activities," explains Dr. Jacob. "Category 4 lenses may be too dark for everyday use, but they could be useful for certain activities in very bright conditions." Just keep in mind that category 4 lenses are not recommended for driving at any time.
Shop The Best Sunglasses For Light-Sensitive Eyes
In a hurry? These are the best sunglasses for light-sensitive eyes on Amazon:
Although not every product listed here indicates its lens categories, I thoroughly researched to ensure that all pairs hit the sweet spot for light transmission (or lack thereof). From serious wraparounds with category 4 lenses to extra dark pairs of fashionable shades, scroll down for the best sunglasses for light-sensitive eyes.
1. Some Industrial-Strength Sunglasses For When Substance Beats Style
Pros:
Less than $40
Designed for those with light sensitivity
Suitable to wear in bright sunlight
Wraparound design
Flexible
Comfortable fit
Cons:
May not be dark enough for those with extreme sensitivity, according to reviewers
These extra-dark sunglasses have category 4 lenses designed for wear in "extreme sunshine" and are so dark, in fact, they're not to be worn for road use. And, according to Dr. Jacob, "I usually suggest wrap-style frames to clients with light sensitivity, as these provide additional protection against peripheral light." The lenses are made from shatter-resistant polycarbonate, and you also get a carrying pouch for extra protection when they're stored away. Plus, the TR-90 frame is ultra-flexible for durable wear, the spring hinges offer lightweight hold for a comfortable fit, and you get complete UV protection.
One reviewer wrote: "I play softball in direct sunlight. The ball can completely disappear when batting facing the sun. These glasses remove that problem! Additionally I sometimes suffer from light sensitivity. These sunglasses help me so much when I feel the headache coming on! I love these 10/10!!!"
Category: 4 | Polarized: No | UV Protection: 100% | Colors: 1
2. Expert Pick: These Large, Stylish Frames That Block 99.9% Of Glare
Pros:
Polarized lenses
Block 99.9% of glare
Feature gray lenses that are designed for use in bright sunlight
Lightweight
Comfortable fit
Scratch-resistant
Cons:
Dr. Jacob recommends Maui Jim sunglasses, like these Starfish frames, because their polarized lenses are made with PolarizedPlus2 Technology, which blocks up to 99.9% of glare and 100% of harmful UV rays. The lenses are also a neutral gray color, which is great for light-sensitive eyes because it reduces a high amount of light and makes it easier to be out in bright, direct sunlight. The large, stylish frames are lightweight and designed with embedded nose pads to fit comfortably. And in terms of durability, the lenses are scratch-resistant on the front and back, so they're sure to last.
One reviewer wrote: "This is my third pair of Maui Jim's and I have loved each pair. They are super light weight and are always comfortable. They also last. I still have my other two pairs, but I wanted to update my style a bit since one pair is 6 years old and the other is 10 years old. The polarization is amazing and they are all I recommend!"
Category: Not specified | Polarized: Yes | UV Protection: 100% | Colors: 5
3. Some Budget-Friendly Polarized Shades That Look High-End
Pros:
Over 7,200 reviews and an overall 4.4-star rating
Less than $20
Polarized lenses
Nonslip nose pads
Cons:
Frames are delicate, according to reviewers
Perhaps some dark, budget-friendly sunglasses are more your speed. In that case, these UV400 SOJOS sunglasses tick all the boxes: dark category 3 lenses that you can drive in, polarized multilayer TAC lenses that are impact-resistant yet lightweight, and nonslip silicone nose pads that keep your pair in the upright and locked position. You can adjust the fit via the two screw hinges on each temple, too. Choose from six wearable colors.
One reviewer wrote: "This is my second sunglasses I've ordered. I love them. I ordered the pink before. I get so many compliments with both the pink and blue glasses. They not only look beautiful, but they really do provide great sun protection, are light weight and doesn't dirty easily."
Category: 3, according to the seller | Polarized: Yes | UV Protection: 100% | Colors and styles: 6
4. These Iconic Aviator Sunglasses That Block 85% Of Visible Light
Pros:
Over 19,000 reviews and an overall 4.6-star rating
Available in 40 colors
Includes lens width options
Scratch-resistant lenses
Nonslip nose pads
Cons:
Equipped with category 3 non-polarized lenses, these extra-dark aviator sunglasses block out 85% of visible light and 100% of UV rays. The scratch-resistant glass lenses offer crystal-clear visibility and are set in a luxe metal frame with soft nonslip nose pads and low-profile clear cushioning on the arms for comfort. RayBan's green G-15 lenses (featured here) are specifically calibrated to admit only 15% of light through and even block blue light from devices; however, other RayBan lens colors are not. With that in mind, you may also want to consider this lens in the iconic Wayfarer style. You can also choose from four different lens widths for a pair that really fits your face shape.
One reviewer wrote: "Just completed a cataract operation and needed quality sunglasses to keep my new sight in glaring sun. The glasses are high quality, sturdy, optically distortion free and offer U/V protection. Black frames and dark lenses give exactly the 'look' I want. Admits enough light for some indoor use."
Category: 3 | Polarized: No | UV Protection: 100% | Colors: 40
5. Some Polarized Category 4 Sunglasses With Shields For Outdoor Sports
Pros:
Polarized lenses
Photochromatic lenses
Anti-fog coating
Removable side guards
Ideal for outdoor sports
Cons:
These extra-dark sunglasses were built to weather the extreme, with considerations that sensitive eyes might appreciate at all altitudes. They have photochromatic lenses that provide a clear picture in a variety of light conditions, and the categories range from 2 to 4 to let in 5% to 20% of visible light. The lenses are also polarized to reduce glare further, and they offer complete UV protection and have an anti-fog coating. The Julbo Explorers feature removable side guards to protect your peripheral vision (or leave them off entirely for a less athletic look), and you can move the temples in every direction — a feature that was meant to accommodate a helmet on extreme sports but also lends to custom comfort. Plus, there's a non-polarized option in the listing for more color options.
One reviewer wrote: "I've had many, many glasses for mountaineering, climbing and skiing. These are unequivocally the BEST I've ever had. We spent 19 days climbing Denali in Alaska this summer, and my eyes were incredibly comfortable the entire time. I have the photochromic lens (which I think is a must for multi-day trips) and these glasses adjusted so well to the ambient light that I often forgot I was wearing them at all. Never fogged up. Definitely one of the best pieces of gear on the trip. If I lose or break these, I'll rush out to buy an identical replacement. Love 'em."
Category: 2 — 4 | Polarized: Yes | UV Protection: 100% | Colors and styles: 3
6. These Dark Designer Shades That Marry Style & Utility
Pros:
Fashionable frame
Lightweight
Include a case and cleaning cloth
Cons:
If you're after a pair of the darkest fashionable sunglasses you can find, the Michael Kors Adrianna III couples smokey lenses with an oversize round cat-eye frame that's crafted in Italy to keep your eyes shielded in style. The sleek composite frame and UV400 lenses are lightweight enough to wear all day but still feel luxurious, according to a reviewer: "They feel very premium and have a decent bit of heft to them. They aren't too heavy that it bugs me but they don't feel cheap or flimsy at all." Plus, they come with a case and soft cleaning cloth.
One reviewer wrote: "Love style, comfort and dark lens since my eyes are sensitive to bright sun."
Category: Not specified | Polarized: No | UV Protection: 100% | Colors: 1
Also Nice: A Pair Of Migraine Glasses For Wearing Indoors That Are Worth The Splurge
Pros:
Reduces strain from fluorescent and blue light
Lightweight
Ideal for wearing indoors
Cons:
If even indoor light sets off alarm bells, a pair of FL-41 lenses could measurably improve your quality of life. These lenses feature a raspberry tint calibrated to reduce strain from fluorescent lighting and block out light from screens — they'll shield against 80% of blue light that triggers sensitivity. This pair of indoor glasses for light sensitivity by TheraSpecs is built from weightless polycarbonate so not even the pressure of wearing them will contribute to sensitivity. Despite their semitranslucent lenses, they also offer UV400 protection.
One reviewer wrote: "I'm absolutely in love with these glasses. The first week of my semester at college, I felt absolutely sick to my stomach and dizzy beyond measure. I went home, closed my eyes, and just laid down because my head hurt so much. My friend told me about these tinted glasses, I purchased them a month ago, and my headaches, nausea, dizziness, and everything else have gone completely away. I wear them to school, while I'm on the computer, and pretty much anywhere indoors."
Category: FL-41 | Polarized: No | UV Protection: 100% | Colors and styles: 2
Also Consider: A Pair Of Blackout Sleep Sunglasses That Let 1% Of Light Through
Pros:
Screens out 99% of visible light
Ideal for sleep
Comfortable fit
Cons:
Light may seep around the edges, according to reviewers
As an alternative to sleep masks, these blackout sunglasses seriously screen out a full 99% of visible light. They were designed with sleep in mind, so the lightweight frame is soft and comfortable and doesn't grip tightly while still feeling secure.
One reviewer wrote: "I have used these glasses for several months now and they work great. They are perfect for in-flight naps as they really do block out the light. [...] They are light and comfortable, without all the annoying straps from a sleep mask -- and look stylish too."
Category: n/a | Polarized: No | UV Protection: n/a | Colors and styles: 1
FAQs
Are Polarized Lenses Better For Light-Sensitive Eyes?
While standard lenses reduce the overall intensity of visible light, polarized lenses take it one step further. Dr. Jacob reports that they can protect against glare and enhance vision in bright sunlight. They can also boost color and contrast, thereby making it easier for you to see.
Are Transition Lenses Good For Light-Sensitive Eyes?
Photochromic sunglasses (which you might know as transition lenses) might be comfortable for you — but even the best pairs can take up to a minute to adjust, and they may not get dark enough for light-sensitive eyes so be sure to check the lens category when shopping.
How We Picked
In order to offer you the very best products, we interviewed an optometrist, did independent research, and combed through user reviews for every recommendation. We also incorporated individual shopping considerations such as lens, style, and budget to help you find an option that works best for your needs.
More Ways To Block Light If You Have Sensitive Eyes
Looking for more ways to shield your eyes from light? Check out these roundups of budget-friendly blackout curtains, comfortable sleep masks, and blue-light-blocking glasses.
Expert:
Dr. Besty S. Jacob, O.D., primary care optometrist with True Eye Experts
This article was originally published on