The Unlikely Inspiration Behind Anne Boleyn's Commanding Costumes
From the Prada headband to a painted pea, costume designer Lynsey Moore tells all.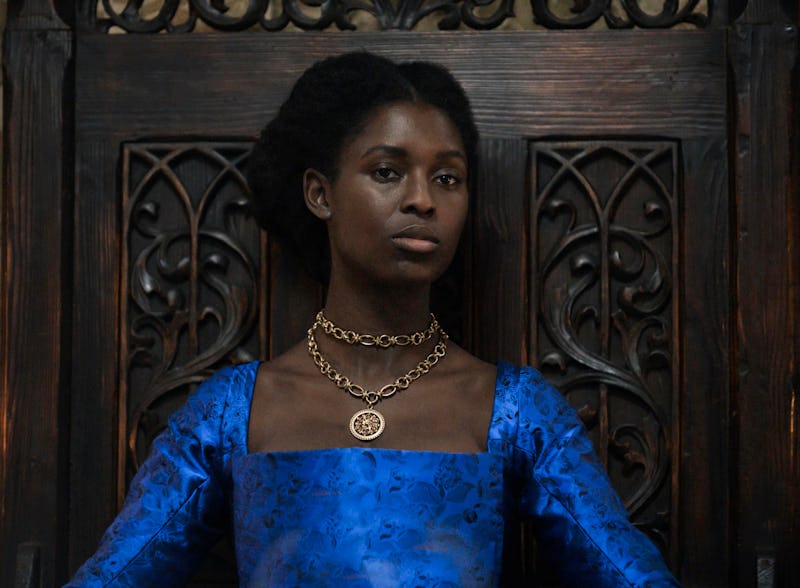 Fable / The Falen Falcon Ltd
"This version of Anne Boleyn is strong," explains costume designer Lynsey Moore. "She wants to be seen and heard." It is a simple and precise way to explain Channel 5's Anne Boleyn, really. Starring Jodie Turner-Smith, the three-part drama explores the final months of the eponymous queen's life, told from her perspective, with women at the forefront of the production. Challenging the norms of period dramas before it, Moore's role was crucial: turning the well-known Tudor tropes of frills, furs, and corsets on their head without being too alienating. "I knew Jodie's performance would command attention, so I wanted the outfits to do the same," she tells me.
As a contemporary costume designer with series like I May Destroy You and Chewing Gum under her belt, taking on a period drama in the middle of a pandemic could have been a terrifying feat, but Moore took it in her stride. "When I met Lynsey [Miller, the director] she was on a similar page to me, and she wanted to create something a bit different," she says. "This is a fresh perspective, from a different angle, and design-wise a chance for us to present something new for a contemporary audience. But obviously, this is a time period. A lot of research went into it, but also, because we decided that it was going to be contemporary, it's not shackled too much by historical accuracy."
Here, costume designer Lynsey Moore walks us through the hidden meanings behind the Anne Boleyn costumes and tells us how she helped reinvent the Tudor queen.
Anne Boleyn begins on June 1 on Channel 5 at 9 p.m.