Kylie & Kourtney Are Officially Launching A Makeup Collab & Here's Everything To Expect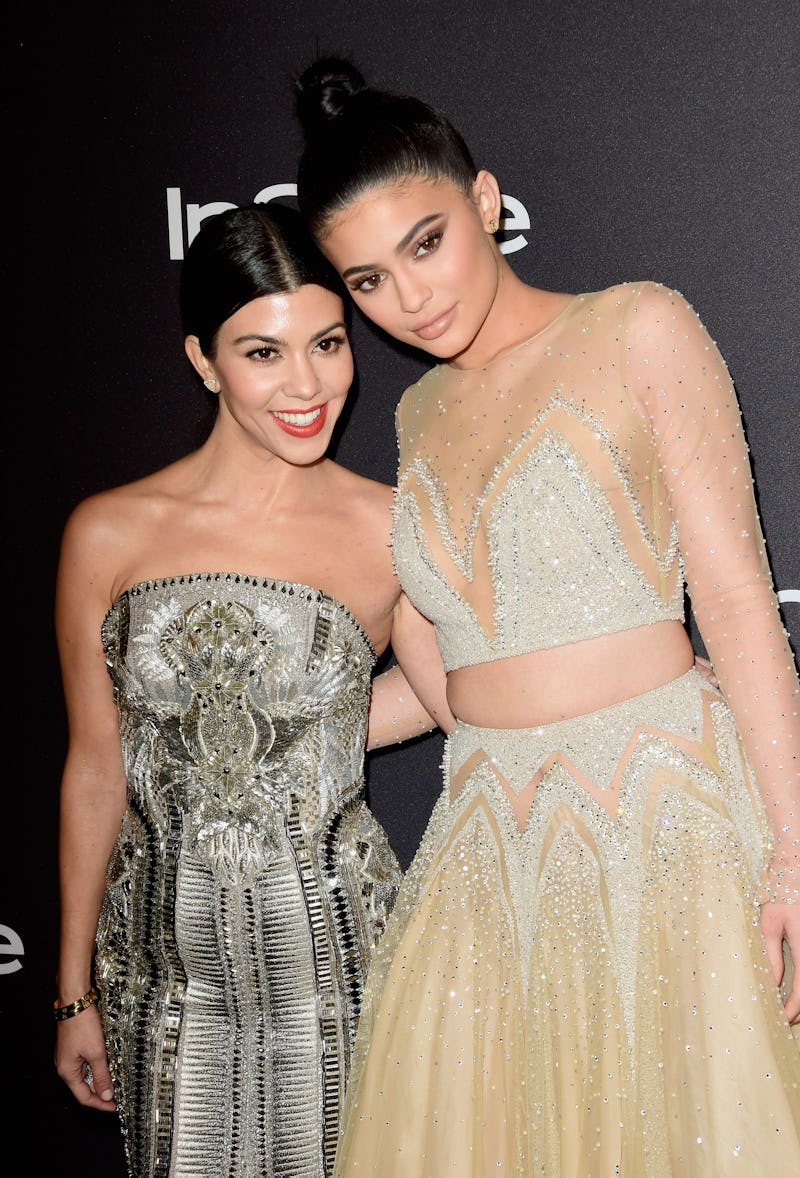 Frazer Harrison/Getty Images Entertainment/Getty Images
It isn't really a huge secret that Kylie Jenner would be teaming up with her eldest sister Kourtney Kardashian. Kardashian has been teasing a beauty collab of some sort on her personal Insta, sharing images of fonts and packaging in a series of obvious teases. Kylie Cosmetics confirmed the Kourt makeup collection on Instagram over the weekend, revealing some further details in the process.
The internet has been long been waiting for this collection to be official and has been sharing its theories about what it is for a minute or so. Kardashian even filed legal paperwork earlier this year that suggested she would be launching her own makeup brand, as well.
The first official tease is a super sexy image of a liquid lipstick or lip gloss, posted on the Kylie Cosmetics feed. It's a coral-colored lippie with a silver cap and the name "KOURT" spelled out in caps along the length of the tube. The backdrop is a bronzed body in a high-cut white undies. It suggests that the Kylie Cosmetics x Kourt collection could arrive in time for the summer sun 'n' fun.
But regarding the lippie — is it a matte? A gloss? A creme lipstick? It could be any of those things. The capsule is coming soon, per a post on Kardashian's personal Insta.
Jenner also posted some images of the co-branded packaging —and presumably palettes — on her Insta story, which also showed off her glittery and silvery Coachella manicure. Makeup news Instagram feed Hotfire makeup shared screengrabs of the Kourt collection in this post.
The packaging appears to be all pastels — pale pink, mint green, and baby blue, with Kourt's name stamped in the same sort of silvery glitter as Kylie's nail polish. The colors remind us of Kim Kardshian's KKW Beauty Valentine's Day perfumes, which were packaged in candy heart bottles.
Jenner also revealed two other lipsticks. One is a rich red. The other is a pinky neutral. Are the palettes for the eyes? Cheeks? Contour? Bronzers? Is the range limited edition or permanent addition?
The possibilities are endless and Jenner has elected only to share the briefest of hints.
This was Kourt's previous tease of the kollab.
As many Kylie Cosmetics devotees are well aware, this isn't the first time Kourtney has factored into the brand. The currently out-of-production Kourt K Lip Kit dropped back in 2016. It was a dark, rich, and totally vampy purple matte. It is not currently available. But Jenner did bring back the OG True Brown K shade. Perhaps she will resurrect the much-missed Kourt K as part of this range? Or maybe it will be brought back in general. We'll have to wait and see.
Jenner has also featured other sisters in the range on several occasions. The first Koko Kollection included multiple matte lippies and a gloss.
Kim Kardashian West premiered KKW Beauty via the Kylie Cosmetics platform with four nude creme liquid lipsticks. Perhaps Kourt is doing the same thing — using Kylie Cosmetics as a the launchpad for her own products and brand. The formula certainly worked for both Kim and Kylie. While their fame is more substantial than Kourt's, it was still a mutually beneficial and symbiotic relationship that raked in receipts.
Jenner also named a Metal Matte lippie "Reign," which is the moniker of Kourt's youngest son. Her daughter is named Penelope and there is a Penelope Lip Kit.
She also created makeup collections for her nieces during the Christmas 2016 season. Those sets were never produced for sale.
There are Lip Kits named after grandma Mary Jo and mom Kris Jenner. So far, Kendall Jenner is the sole sister that has yet to collaborate with Kylie Cosmetics. That could be on the horizon, though!
But let's not detract from the Kourt K kollab, though.
Fans are so ready for Kourt K. And yes, they are asking for a reprise of the plum Lip Kit.
Aren't we all? Stay tuned to the Kylie Cosmetics socials for further intel.