The Best Vacationcore Outfits From White Lotus Season 2
They're back in a BIG way.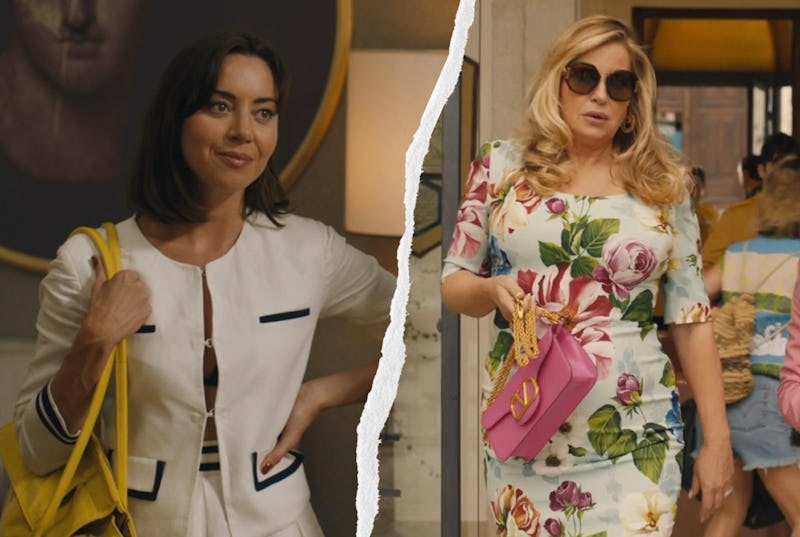 HBO
If season two of HBO's White Lotus left you with anything — apart from a dying curiosity of the drama within the hospitality industry — it's a strong urge to shop for a tropical vacation you probably don't even have planned. The show does an excellent job of creating an aesthetic that unfolds with each character's development.
White Lotus costume designer Alex Bovaird, who has also worked on films like Nope and The Perks of Being a Wallflower explained how she developed each characters' signature styles in an interview Vogue. She focused on the character's individual storylines to find pieces that speak to them and translate to the story.
In season one, viewers quickly learn that the guests are rich and out of touch — very much embodying the wealth and privilege that is associated with luxury hospitality. But more than that, the show has undertones of race, class, and gender issues that are also communicated through sartorial statements (like Connie Briton's $75,000 bracelets from season one).
With a relocation to a gorgeous coastal town in Sicily, this season is sure to see lots of vacationcore/Eurocore/Italycore — essentially, the aesthetic of sipping an Aperol spritz by the Mediterranean while draped in layers of linen. In the meantime, take a look through the best looks of episode one.