Your Guide To Styling The Wolf Haircut
Meet the shag-mullet hybrid.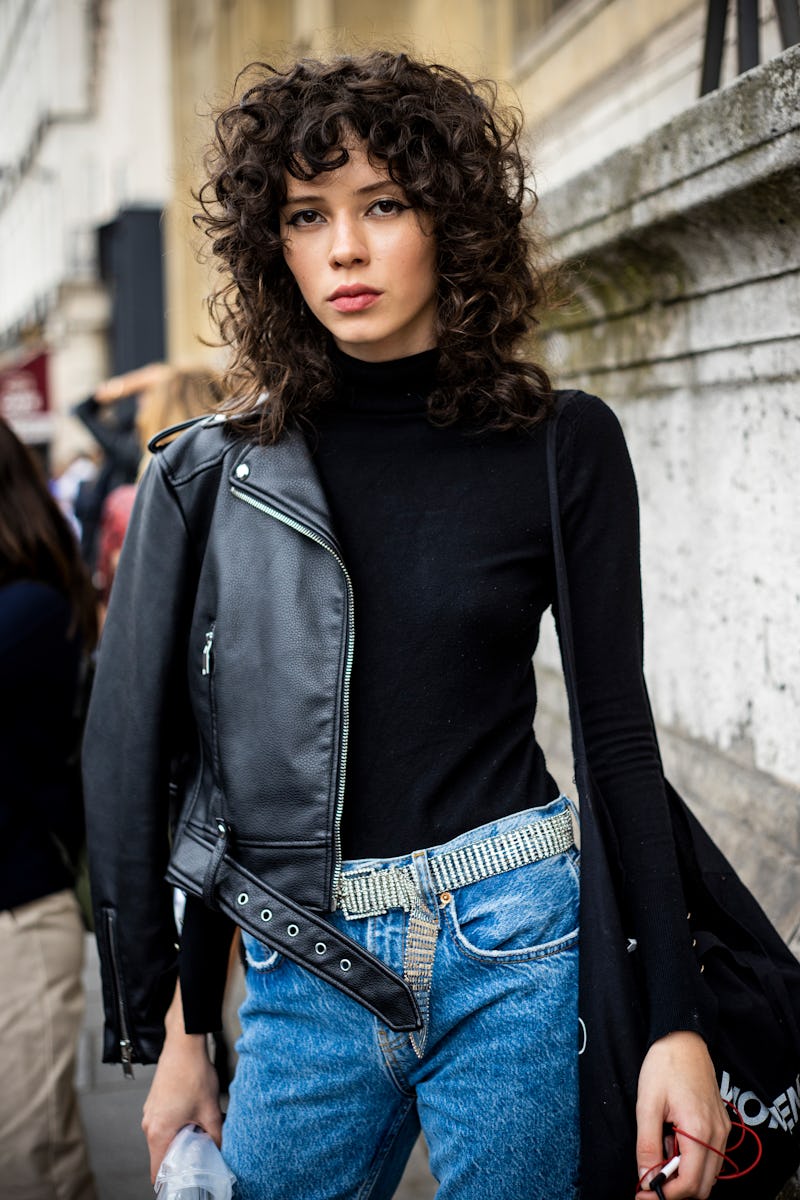 Claudio Lavenia/Getty Images Entertainment/Getty Images
The part-shag, part-mullet trend that started in 2021 continues to reign supreme in the new year with the wolf cut, a hybrid hairstyle that's been all over TikTok for months. If you browse the app, you'll see that the hashtag #wolfcut currently has a staggering 920 million views — all videos of users sharing tips for styling the hairdo, chatting about how much they love it, and even giving themselves the chop at home (seriously). While it's not exactly clear where the name came from, "wolf" likely points to the wild, untamed nature of the cut. And it's that laissez-faire, perfectly-undone vibe that experts believe makes it so popular.
"The wolf cut is trending for a reason — it's an instant transformation if you want that cool-girl look," says Anabel Santos, a stylist at Sally Hershberger Salon in New York City. According to celebrity hairstylist Sally Hershberger herself, it's truly a combo of two other looks: "It's the sexy, edgy mashup between the mullet and the shag," she tells Bustle. "The base of the style is a mullet, but the cut is wilder, with lots of length, layers, and texture." If you've been looking to make a bold hair change, Los Angeles-based hairstylist Malaika Frazier is a fan of the style, noting it combines two older favorites with a modern flair. "It's familiar-looking enough that you aren't scared of it, but edgy enough that it makes you feel on trend and in the know," she tells Bustle. The special perk of the cut? Experts say that the look works on all hair types and textures.
Those on TikTok who DIY the wolf cut create the layers by pulling all of the hair into a ponytail that sits at the very front of their heads. They then snip off the bottom a couple of inches or so, depending on how short they (think) they want to go. The back one-third of the hair is let down and sectioned off, and then the ponytail-cut step is repeated — and then once more with just the front third.
While the end result (sometimes) looks miraculously chic, you could also head to the salon and leave it to the pros. For what it's worth, Frazier isn't a big fan of at-home cuts. "I feel to get the best results, you should always go to a professional," she says. "The best thing is figuring out which products aid you in maintaining the cut once it's done." Your stylist can help you nail the perfect hair care regimen to keep your cut fresh — and, BTW, another great thing about the wolf cut is that once you've made the chop, it's easy to maintain, much like the shag. If you want the signature roughed-up and slightly voluminous look all over TikTok, though, there is some day-to-day styling you'll have to work through. "I would recommend a texturizing paste or spray to add volume and give [it] a piece-y yet soft feel," says Hershberger.
If you're more into a low maintenance, wash-and-go 'do, Santos notes the wolf cut's many layers also allow for tamer styling. A prime example to follow? Billie Eilish and her buzzy platinum hair transformation from last spring. For a more demure take on the shag, Santos recommends simply using a touch of texturizing product and leaving the rest of the volumizing to the strands themselves. Frazier agrees, adding that the look is all about the volume, no matter your hair's texture or curl pattern.
Basically, the wolf shag is a versatile and flattering cut no matter how you choose to style it. Scroll on for a few ideas to take to your stylist — or with you, fearlessly, to the bathroom mirror.
We only include products that have been independently selected by Bustle's editorial team. However, we may receive a portion of sales if you purchase a product through a link in this article.
With Bangs
Got bangs? No problem. "I love styling the cut with the bangs showing, framing your face, and [with] some side pieces swept behind the ear," says Frazier, adding that this allows the style's dimension to really shine through. This version of a wolf haircut leans into the messy, unkempt attitude that everyone knows and loves. Turn to a texturizing spray for more volume and hold.
Big & Textured
Embrace your hair's texture with the wolf cut: The layers and volume give your curls the opportunity to mix and mingle and hang in all the right places for an edgy look. The trick to nailing it when styling? Keep those coils looking hydrated and effortless by applying a moisturizing curl cream.
Short & Choppy
This sleek, short version of a wolf haircut with its shaggy side bangs is equal parts cool and chic. If you want to emphasize the layers, use a flatiron to create bends in your hair.
Long & Wavy
A lengthy wolf cut allows you to have fun with lots of easy layers. Defined, piece-y waves make for a cool-girl-at-the-beach moment. To embrace the perfectly messy vibes, turn to a volumizing foam or salt spray.
This article was originally published on