11 Weird Signs You Have Acid Reflux
Heartburn and headache, oh my!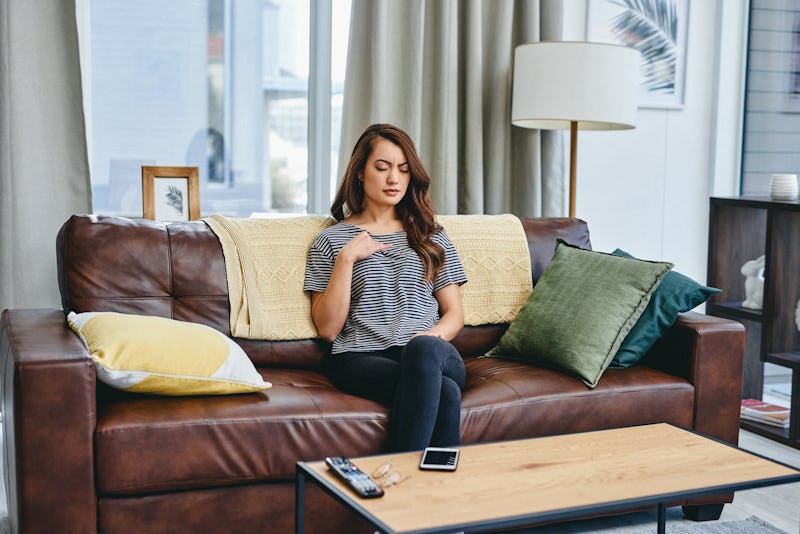 Charday Penn/E+/Getty Images
If you suffer from heartburn, you know how acid reflux can be no fun, but gastroesophageal reflux disease (GERD), also known as acid reflux, can also cause a number of symptoms. You might not even realize it, but you could be exhibiting some weird signs you have acid reflux. Acid reflux is common, but its symptoms aren't always as obvious, which makes it easy to mistake it for another health issue.
Over 1 million people a year get diagnosed with acid reflux, but lifestyle changes can often help with the issue. "Lifestyle factors are to blame for most cases of acid reflux," Dr. Brunilda Nazario, M.D., board-certified internist, endocrinologist and associate medical director at WebMD, tells Bustle. "When heartburn happens [...] smoking, alcohol, or foods cause a valve-like stomach muscle to loosen, allowing stomach acid to backwash into the esophagus. This exposes sensitive tissue in the chest to stomach acids, causing painful symptoms."
Left untreated, acid reflux can cause bigger issues such as an increased risk of esophagus cancer, according to the American Cancer Society — though they note that if you have GERD, it doesn't guarantee that you will develop this type of cancer. Still, it's important to keep your GERD at bay.
Here are 11 weird signs that you might have acid reflux.
Acid reflux can be a painful problem to deal with that can result in long-term issues if not taken care of. Even though these symptoms are usually indicative of acid reflux or heartburn, you should always consult your doctor to see if these problems might be telling of other health difficulties you might be facing. And if you are experiencing acid reflux, know that there are easy ways to handle or cure it. Because with everything else you have to deal with, you don't want to add gas to the list.
Additional reporting by Syeda Saad.
Experts:
Dr. Rachel Carlton Abrams, M.D.
Dr. Shawn Tsuda M.D.
Studies Cited:
Struch, F., Schwahn, C., Wallaschofski, H., Grabe, H. J., Völzke, H., Lerch, M. M., Meisel, P., & Kocher, T. (2008). Self-reported halitosis and gastro-esophageal reflux disease in the general population. Journal of general internal medicine, 23(3), 260–266. https://doi.org/10.1007/s11606-007-0486-8
Gaude G. S. (2009). Pulmonary manifestations of gastroesophageal reflux disease. Annals of thoracic medicine, 4(3), 115–123. https://doi.org/10.4103/1817-1737.53347
This article was originally published on