I Tried 5 At-Home Hormone Testing Kits & Here's What I Learnt
Don't put all your eggs in one basket, says Katie Jones.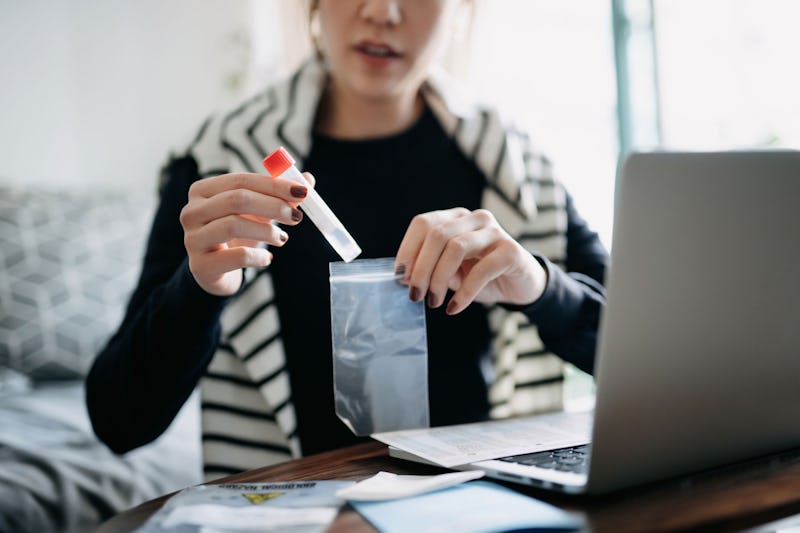 d3sign/Getty
As anyone who lives with (or knows someone with) polycystic ovary syndrome (PCOS) is aware, getting a fuller, more cohesive understanding of hormone health is not easy. Everything is in constant flux and getting answers is near impossible. Now that I'm 30 years old and hoping to start a family, I decided this was the time to tackle what had been an insurmountable task. But how to go about it? And where to begin? I won't lie, a marketing email about at-home hormone testing grabbed me straight away. A couple of quick calls later, I was ready to test five different kits.
At-home hormone testing promises to put more control in your hands. The service is private, but not wholly unaffordable, but it definitely isn't cheap. While the results can be helpful in cases where you may be chasing a diagnosis, or for checking in on your hormone health, but be warned that it isn't all served up on a silver platter. There were times when I was pushed to tears out of sheer frustration. So, here's some gentle housekeeping.
The first thing you need to know about at-home hormone testing is that they all vary a huge amount: what you sample, how you do it, and when you take it. The way they deliver results are very different too. It is also crucial to remember that these tests are only ever snapshots into your health. They cannot diagnose, they cannot give you too many answers – and they don't pretend to either. They don't guarantee access to secondary care (that has to come from your GP, or by going private). But most do explain the results thoroughly and each one encourages you to discuss your hormonal health with your doctor.
Finally, you need to know your menstrual cycle intimately. Some tests require a sample from very specific days of your cycle, which can be tricky to figure out if you haven't tracked it consistently before or you miss your window. Though not exhaustive, here is a quick breakdown of the five at-home hormone tests I did and what I learnt from each.
What I Learnt
For me, each test has yielded a different result. On that basis alone, it's clear that at-home hormone testing kits are not the silver bullet. The question is: would I recommend doing an at-home test?
Well, yes. The power of having raw health data cannot be discredited, because if you are not like me, and do not have a diagnosis, imagine what these results could mean for you. It could be a very real lifeline to get towards secondary, or even tertiary care, which is vital for conditions like PCOS to be managed properly.
Diagnosis is the first step to symptom management. And with it taking upwards of two years, perhaps even longer now with post-lockdown waiting times, for a positive PCOS diagnosis. It could be a huge step forward to accessing care that you not only deserve, but are entitled to.
In this instance, Mira and Hertility have been especially helpful. With the combined data they provided I was able to access further testing and appointments that, prior to taking them, my GP had been reluctant to explore. It's been enlightening, to say the least.
But - I'd be remiss if I didn't point out that in some instances, I wouldn't recommend them. After a couple of months pricking my fingers and pissing into pots, it might sound like someone's having a bit of a laugh at my expense. And, I mean that quite literally. I was fortunate to try these for free. Sadly these private tests, which to be used to their "full potential" require repeat testing, are expensive. And, with some clocking in at almost £200, it could be seen as slightly exploitative. Especially when interfaces opt for health scores and costly solutions within the same stroke.
For me, taking these tests has meant I can plan for pregnancy a little better and with more understanding of what my hormones mean, what they do, and how they affect my PCOS. However, I have learnt that they can only make up one piece of the puzzle – alongside GP appointments, cycle tracking, and routine gyno check ups, when it comes to taking full control of my fertility and hormonal health.
My advice? Don't put all your eggs in one basket. Proceed with cautious optimism and – for the love of God – don't Google ANYTHING.