7 Bicep Curl Variations That'll Spice Up Arm Day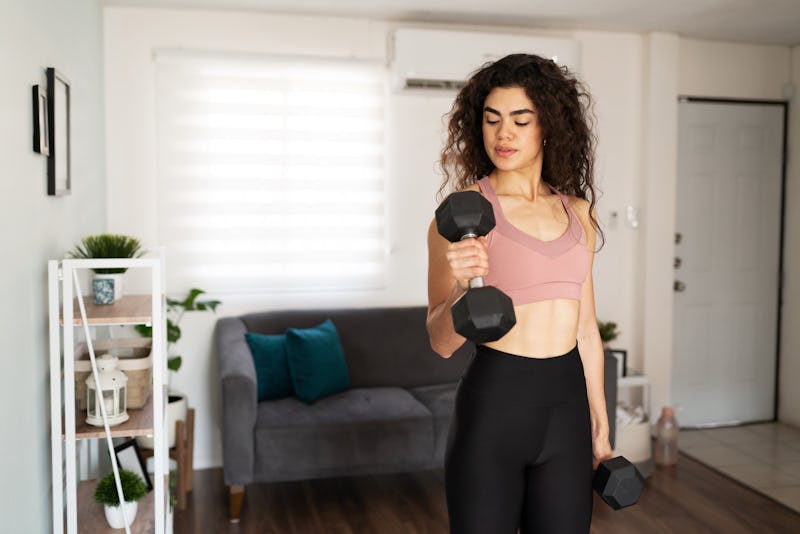 Shutterstock
If your arm day consists of bicep curls on bicep curls, it might be time to switch things up and throw some bicep curl variations into the mix. Doing slightly different takes on the staple exercise not only spices up your routine, but also help you target different muscles for a more well-rounded workout.
In general, any type of bicep curl will make your arms stronger, says Rachel MacPherson, CPT, a certified personal trainer with Garage Gym Reviews, which is why any and all curls are worth adding to your fitness regimen. Stronger arm muscles make it easier to lift heavy items, twist and turn things, push and pull, and they can even spare your back and shoulders from injury by preventing over-compensation, she tells Bustle.
Working through a range of bicep curl variations will give all the muscles in your arms some love, including the ones you might miss if you just do standard bicep curls — aka the kind where you hold a dumbbell with an underhand grip, keep your elbows at your sides, and bring the weight up towards your chest. "It's a good practice to change variations to encourage muscle stimulation and gain the benefits of novelty," MacPherson says.
Learning different exercises will also make your workout more interesting, which is always a welcome perk. To add some new moves to your routine, give these seven bicep curl variations a try.
Studies referenced:
Atalay, E. (2017). Effect of Upper-Extremity Strengthening Exercises on the Lumbar Strength, Disability and Pain of Patients with Chronic Low Back Pain: A Randomized Controlled Study. J Sports Sci Med. PMID: 29238262; PMCID: PMC5721192.
Marcolin, G. (2018). Differences in electromyographic activity of biceps brachii and brachioradialis while performing three variants of curl. PeerJ. doi: 10.7717/peerj.5165.
Sources:
Rachel MacPherson, CPT, certified personal trainer with Garage Gym Reviews
Rob Wagener, NASM-certified personal trainer
Ryan Kennedy, NASM-certified trainer, fitness director at The Park
Dr. Dave Candy, DPT, doctor of physical therapy, owner of More 4 Life,