9 TRX Exercises For Beginners, Straight From Trainers
You'll get the hang of it.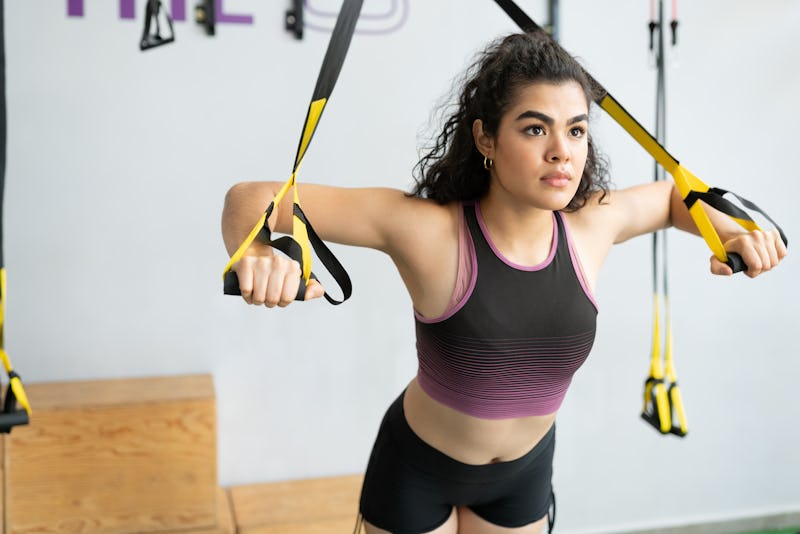 Shutterstock
While TRX bands may look intimidating as they dangle in the corner of the gym, they're actually no harder to use than more common pieces of equipment, like dumbbells or kettlebells. In fact, if you're new to strength training, you might even want to start with TRX bands before using weights since they help support your body as you move.
TRX, which stands for Total Resistance Exercises, is a type of suspension training tool that uses your body weight to create resistance, says physical therapist Alyssa Kuhn, DPT. Depending on how you position yourself with the bands, you can target pretty much any muscle in your body. Similar to resistance bands, you can use TRX bands to do a variety of exercises, from rows and bicep curls to lunges and squats, so they're great for full-body functional training.
You might spot the thick, nylon TRX straps hanging from a hook at your gym or in a workout studio, but you can also use TRX bands at home, Kuhn says. The at-home version has an anchor point that shuts inside the top of a door, so you can use them practically anywhere.
If you're trying TRX bands for the first time, make sure the strap is securely attached to the anchor point since you'll be putting all of your weight on it. For safety, it's also a good idea to lock the door to ensure it stays shut, Kuhn says. From there, it's all about getting comfortable with your form, so consider starting off with simple moves. Keep scrolling for a list of all the best TRX exercises for beginners that'll help you get the hang of the fitness tool.
Studies referenced:
Fong, SS. (2015). Core Muscle Activity during TRX Suspension Exercises with and without Kinesiology Taping in Adults with Chronic Low Back Pain: Implications for Rehabilitation. Evid Based Complement Alternat Med. doi: 10.1155/2015/910168. Epub 2015 Jun 21.
Gaedtke. (2015). Morat T. TRX Suspension Training: A New Functional Training Approach for Older Adults - Development, Training Control and Feasibility. Int J Exerc Sci. PMID: 27182415; PMCID: PMC4833470.
Sources:
Dr. Alyssa Kuhn, doctor of physical therapy, owner of Keep Adventure Alive
TJ Mentus, ACE-certified personal trainer with Garage Gym Reviews
Katelyn Barrons, NASM-certified personal trainer, health coach