20 Deeply Personal Questions To Ask Your Partner
"Do you ever keep secrets from me?"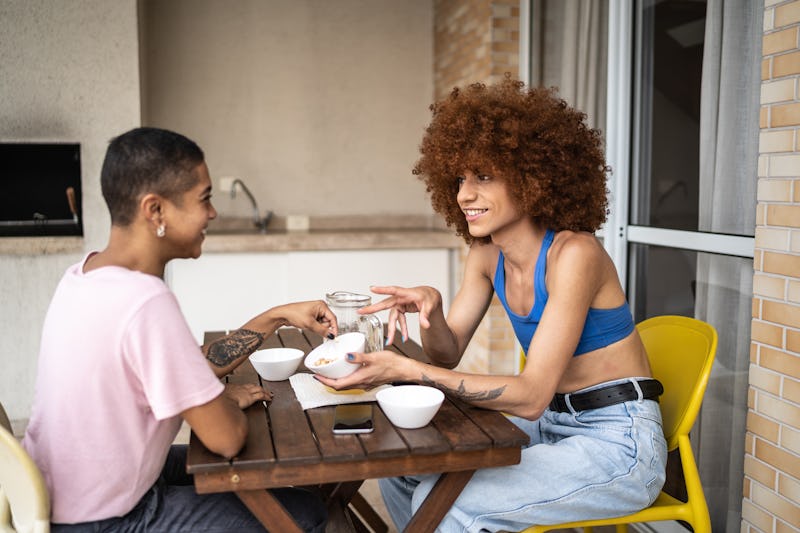 FG Trade/E+/Getty Images
Whether you've been together for one month or one year, there will likely come a time when you want to take your relationship to the next level. And there's no better way to do so than by asking your partner questions — especially ones of the deep and personal variety.
It might feel uncomfortable to have a meaningful heart-to-heart. But according to Julie Williamson, LPC, a licensed professional counselor, asking questions is a good way to figure out if you're actually compatible, beyond any "honeymoon phase" feelings of love. It's totally a given, but if you want to develop a deep connection with someone, you'll need to know a lot more about them than their likes, dislikes, and hobbies.
It's also good to find out early on if your partner is able to have these types of conversations, in general. If they're down to speak about difficult topics — all while listening and empathizing with you — a deeper level of trust will start to grow. And that, Williamson says, is what will send your relationship to the next level.
So, want to learn more about your significant other and feel more connected, and you can start building a future together? Then have a chat that includes these types of questions, listed below.
Experts:
Julie Williamson, licensed professional counselor
Erica Turner, MS, LPC, NCC, licensed therapist
Dr. Sabrina Romanoff, PsyD, clinical psychologist
Donna T. Novak, PsyD, licensed psychologist
Kristin Marie Bennion, licensed mental health therapist and certified sex therapist
Samantha Daniels, dating expert
Karen Salmansohn, relationship expert
Kendra A. O'Hora, Ph.D., LCMFT, licensed clinical marriage and family therapist
Lisa Olivera, LMFT, licensed marriage and family therapist
This article was originally published on