These 14 Signs Can Reveal If You Have Chemistry With A Partner Early On
Before you get in too deep.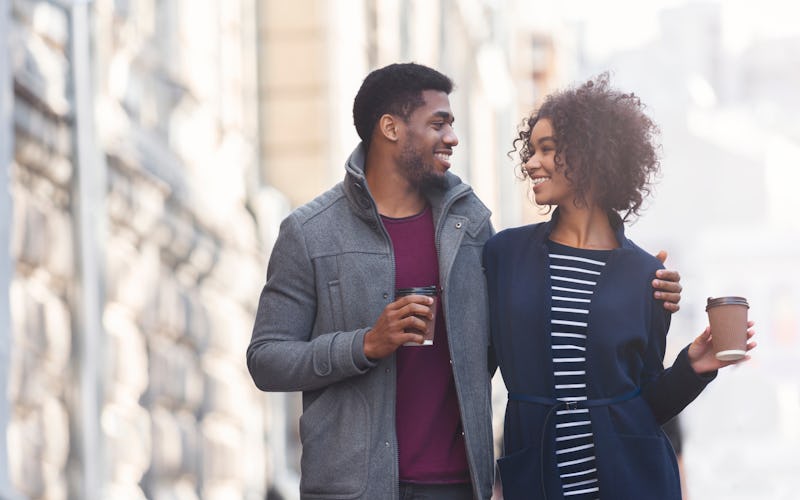 Shutterstock
When it comes to dating, one of the first things people tend to look for early on is chemistry. It's that special thing that draws you to someone and creates a natural flow between you. Many times, you can easily tell if you have chemistry with someone on a first date or not. But according to experts, there are also subtle signs of chemistry that are worth paying attention to.
"Generally people tend to know early on if they share chemistry with someone," psychologist and relationship expert, Dr. Cortney Warren, Ph.D., tells Bustle. "But it's also very easy to allow initial judgements to keep us from getting to know people."
According to Warren, many tend to believe that chemistry is just about that physical pull and attraction towards someone. If you're looking for something casual, having that type of chemistry from the start is important.
But if you're looking for something more serious and long-term, you can have chemistry with someone in other ways. "Focusing on things like shared interests, values, and beliefs will help determine long-term compatibility," Warren says.
Even your initial connection with someone wasn't very strong, over time, you may find out that you have more chemistry than you thought. Here are some easy-to-miss signs you have good chemistry with someone early on, according to experts.
Sometimes chemistry with someone can be intense and obvious. But it doesn't have to be. If you notice any of these subtle signs with someone early on, there's definite chemistry there.
Sources
Dr. Cortney Warren, Ph.D., psychologist and relationship expert
Susan Trombetti, matchmaker and CEO of Exclusive Matchmaking
Dr. Annie Hsueh, Ph.D., a licensed clinical psychologist
Diana Venckunaite, certified life and relationship coach
Dr. Anna Hiatt Nicholaides, Psy.D., a licensed clinical psychologist
Holly Schiff, PsyD., licensed clinical psychologist
Chloe Ballatore, relationship and communication coach
Dr. Sanam Hafeez Ph.D., neuropsychologist
Sharon Gilchrest O'Neill, licensed marriage and family therapist and author
This article was originally published on