11 Exercises For Dowager's Hump That'll Help Your Neck Posture
Fix your neck once and for all.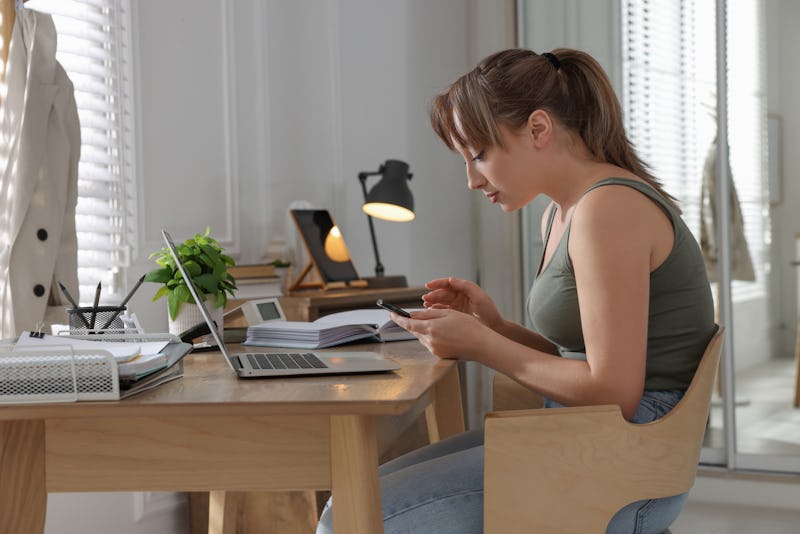 Shutterstock
Ever feel like you can't quite fix your posture even when you try to sit up straight? If it seems like you always have a slight bump at the base of your neck, it might be due to something called dowager's hump. Also called hyperkyphosis, a dowager's hump — which gets its name from older ladies with poor posture — is basically an excessive curvature in your upper back, says Kristina Kehoe, DPT, RYT, a physical therapist with Simpli Whole.
The condition is common among younger people who sit a lot for work and is said to impact up to 40% of folks after 40 due to natural aging. Don't stress if this is something you deal with, though — there are plenty of exercises that can help. Here's everything you need to know about dowager's hump.
What Causes A Dowager's Hump?
If you type all day or spend a lot of time looking down at your phone, you could start to develop tech neck or forward head posture. When you constantly look down, the muscles in your neck and back start to weaken to the point they no longer offer spinal support, Kehoe explains, and that's when a dowager's hump can form.
According to the Cleveland Clinic, osteoporosis may also be to blame. The loss of bone mineral density can cause compression fractures in your spine and an increased forward curve. As your head drops down, your spine starts to compensate when it lifts it back up to see forward, which creates the shape of a hump.
There may also be a build-up of fat cells in the area that makes the hump even more noticeable, says Dr. Matt Tanneberg, DC, CSCS, a chiropractor and owner of Body Check Chiropractic & Sports Rehabilitation. "Our body responds to the abnormal curvature that develops in the upper back by trying to give it more cushion as a defense mechanism," he tells Bustle. So if you constantly have poor posture, your body will start to send fat cells to the base of the neck to protect the excessive curve in your spine.
Signs & Symptoms
Beyond the hunch in your back, dowager's hump may also lead to ongoing pain in your back, neck, and shoulders. You may also appear shorter due to poor posture, and potentially feel more muscle fatigue as your body tries to compensate for the incorrect alignment.
How To Fix Dowager's Hump
The best way to improve a dowager's hump is by making it a habit to sit up straight throughout the day, Kehoe says. But doing exercises that target your back and shoulders is important, too, as that can strengthen weak muscles and return your neck to its former upright glory. Choose a few moves, do them daily, and you could see some improvement in as little as two to four weeks, notes Dr. Camilla Moore, DC, a chiropractor and founder of Wellness Cabinet.
Here, experts share 11 of the best exercises for dowager's hump to get you started.
Studies referenced:
Cutler, WB. (1993). Prevalence of kyphosis in a healthy sample of pre- and postmenopausal women. Am J Phys Med Rehabil. doi: 10.1097/00002060-199308000-00009.
Greendale, G. (2002.) Yoga for Women With Hyperkyphosis: Results of a Pilot Study. Am J Public Health. https://www.ncbi.nlm.nih.gov/pmc/articles/PMC1447294/.
Katzman, WB. (2010). Age-related hyperkyphosis: its causes, consequences, and management. J Orthop Sports Phys Ther. doi: 10.2519/jospt.2010.3099.
Koelé, MC. (2020). The Clinical Relevance of Hyperkyphosis: A Narrative Review. Front Endocrinol (Lausanne). doi: 10.3389/fendo.2020.00005.
Weale, R. (2012.) The Dowager's hump: an early start? Gerontology. doi: 10.1159/000329828.
Sources:
Kristina Kehoe, DPT, RYT, physical therapist, registered yoga teacher, board-certified clinical specialist in women's health physical therapy with Simpli Whole
Dr. Matt Tanneberg, DC, CSCS, chiropractor, owner of Body Check Chiropractic & Sports Rehabilitation
Dr. Camilla Moore, DC, chiropractor, founder of Wellness Cabinet
Ethan Cleary, PT, DPT, doctor of physical therapy at Orthopedic & Sports Physical Therapy
Dr. Suzanna Wong, DC, chiropractor, co-owner of Twin Waves Wellness Center
Jazmin Morris, PT, DPT, OCS ,, regional director of physical therapy at SportsMed Physical Therapy
This article was originally published on