How To Give Your Partner A Massage Like A Professional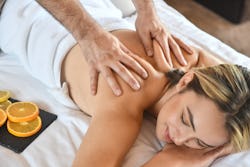 AleksandarGeorgiev/E+/Getty Images
Massages are a great way to release stress, work out kinks in your body, and relax. But according to the American Massage Therapy Association, most people get professional massages for health and pain management — after all, massages with a professional masseuse can help with injury recovery and migraines. Still, 43% of customers get them for relaxation and stress management. Wouldn't it be great if your partner could give them, too? (And vice versa, obviously.) According to experts, knowing how to give your partner a great massage can do wonders for your relationship.
"Massage is a great way to build intimacy and trust in a relationship as well as build a stronger bond," says Geraldine Abergas, a massage therapist and educator. "It's shown to increase levels of oxytocin, which is known as the 'hormone of love.' Touch also signifies [to a partner], 'You are safe, I am here, you are not alone.' ... Touch is a way to communicate more honestly, as our words can often be influenced or limited."
In fact, Sari Cooper, a certified sex therapist and director of the Center for Love and Sex, uses massages as central parts of her practice. "I encourage partners to carve out a weekly time for intimacy dates to expand their sexual script through erotic massage," she says. And while not every massage has to be erotic, Cooper is a big believer in massage as a way to "trigger sexual and erotic responses … [especially] if more attention is paid to exploring a wider array of touch and locations."
In hopes of upping the oxytocin, the experts below share time-tested strategies to give professional-grade messages.
Sources
Sari Cooper, a certified sex therapist and director of the Center for Love and Sex
Geraldine Abergas, a massage therapist and educator
Carmel Jones, sex and relationship expert
Erica Wiederlight, sexual empowerment coach
This article was originally published on