How To Handle Difficult Political Conversations At Thanksgiving
How to respond when your uncle refuses to change the subject, and more.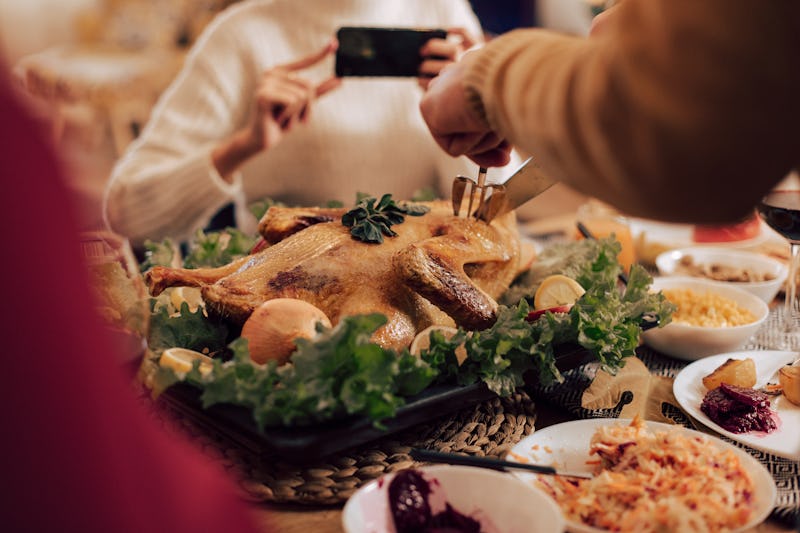 RgStudio/E+/Getty Images
For many, the holidays are all about being grateful and getting quality time with their family (even if that quality time is through a screen). But for others, the holidays mean awkward dinner conversations and remembering that you have literally nothing in common with your cousins. Thanksgiving is one of those particularly fraught holidays talking about politics at the dinner table can be a minefield. You might want to avoid the conversation altogether, and that's OK.
"I believe that there was a time when families were able to have healthy, productive debates about politics, but I haven't seen that since 2016," relationship therapist Aimee Hartstein, L.C.S.W., tells Bustle. "It does seem like we are so divided that there's truly very little point in having a holiday political discussion. All that can come of it right now is anger, hurt, and bad feelings."
You might feel that you want to have the difficult conversations and really engage. If that's the case, it's important to go in knowing the limits of the conversation. "As a general rule, always remind yourself that you cannot control others, you can only control yourself," says Danielle Forshee, Psy.D., a licensed clinical social worker. "Therefore, when others begin to talk about things that are offensive or uncomfortable, your reactions are what you can control, but you cannot control them from talking about something or having a specific opinion."
If you're planning to wade in — or just want to prepare for the inevitable — here are some tips on what to say if the dinner table conversation takes a tricky turn.
Experts:
Aimee Hartstein, L.C.S.W., relationship therapist
Danielle Forshee, Psy.D., licensed clinical social worker
Joshua Klapow, Ph.D., clinical psychologist, host of The Web Radio Show
LeslieBeth (LB) Wish, L.C.S.W., clinical psychotherapist
This article was originally published on