Your New Best Friend Is A DM Slide Away
Everything is online now. Why not our social lives, too?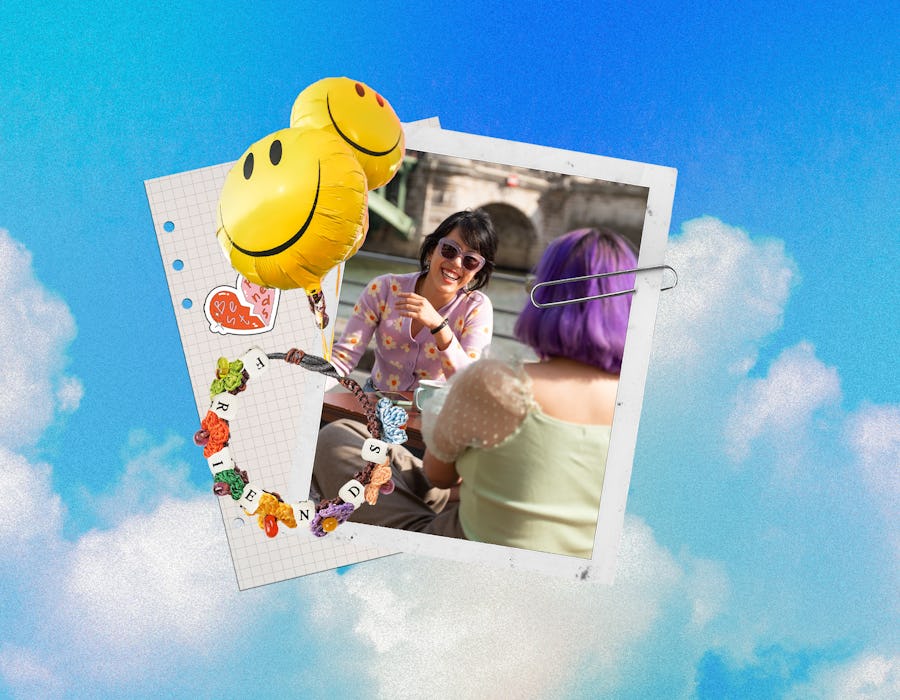 When Kelsey Fehlberg became obsessed with BTS in 2021, she started a Twitter account to connect with other K-pop fans. It worked: She and 12 other superfans now have a highly active WhatsApp chat. Since then, a group of them went to a concert together, and when we spoke, she was en route to Los Angeles to meet one woman from the group before flying to Denver to visit another. Their connection may have initially been about swooning over Jimin, but it's deepened over time. "It is the biggest, most unexpected gift," she says.
If you feel dissatisfied with your friendships, don't blame yourself: Blame pop culture. Carrie, Samantha, Miranda, and Charlotte met up for weekly brunch in addition to shopping, running errands, and getting drinks together. Monica and Rachel's apartment was home base for the entire Friends crew. Leslie Knope — somewhat problematically — befriended all of her employees. This is compelling television, but it's not how modern friendship looks. Buying into the idea that regular, in-person interactions are a prerequisite for meaningful connection is contributing to what the U.S. Surgeon General Vivek Murthy calls an "epidemic of loneliness." Actually, I think most of us are more social than we realize.
Most of us aren't conditioned to view digital interactions as a legit bond — which is a shame, because 4 in 10 Americans have online-only friendships, according to a 2021 study on the state of American friendship by the Survey Center on American Life. We aren't allowing ourselves to consider our online friendships "valid" or "real" even though they are bringing us a lot of joy, fulfillment, and connection.
Of course, digital friendships exist beyond fandoms. Sometimes you just, you know, vibe with someone. Sarah Gorman, 32, made a group of friends while playing Among Us during the pandemic. Yes, that's correct: The online multiplayer murder mystery game connected her to new friends. "One of my Twitter mutuals posted about playing Among Us during lockdown, and I asked to join," the Los Angeles-based product designer says. Scheduling game time led to a lot of texting. "Now I have like 10 new friends from it, including two whose wedding I'm attending in the fall," she says. "One of them moved to LA, and now we're IRL friends, too."
If you had a 50% chance of potentially making a new friend online, wouldn't you send that DM?
Both Fehlberg and Gorman's experiences are powerful examples of how you can forge strong friendships in seemingly unexpected ways. And while they took their new besties offline and into real life, that's not always necessary. If you start messaging people who you enjoy following on social media, you can open yourself up to acquaintances and connections. I know, easier said than done.
But consider this: Only half of Americans are satisfied with how many friends they have. If you had a 50% chance of potentially making a new friend online, wouldn't you send that DM? I would.
One day, you might be scrolling through Twitter and see a Reductress headline that makes you laugh out loud, so you immediately follow the writer on Twitter. You become mutuals and, over time, start DMing each other, first to compliment how funny the other is and then about astrology and shopping. You talk about your shared love of 30 Rock, swap vegetarian recipes, and make Oscars predictions. You both get laid off and spend a lot of time lamenting not having a writing project to work on. A few months later, you launch a "pop culture and feelings" newsletter and run it weekly for two years.
This is how I met Victoria Edel, one of my closest friends and writing partners. What's more surprising than how randomly we connected is the fact that we've never met in real life: She lives in New York, and I'm in Illinois. Some day we will meet, but it doesn't lessen the depth of our friendship.
Victoria and I have a lot of shared interests and similar senses of humor. When we were at the very beginning stages of friendship, I'd stumble across memes and immediately say, "Oh, Victoria will love this." We sent them to each other for months, and it strengthened our bond. There are topics that I know only Victoria will fully appreciate, like baseball, whatever Saoirse Ronan is up to, and snacks; sometimes I specifically want her take on the celeb breakup du jour. Mutually valuing each other's opinions is friendship, full stop.
Who gets to dictate what "closeness" actually means? Hint: It's you.
Our entire world is online now. Why would our social lives be any different? Most of my IRL friends do not have the patience to listen to me unpack every detail about the British monarchy, so I subscribe to Amanda Matta's private community of royal watchers on Instagram. I might be sitting at home on my phone, but we're all making the same jokes about Kate's bright green dress (it begged to be memed). Finding community around a shared passion makes life less isolating. These small moments of impromptu joy are fun in a way that scheduling dinner with a friend just isn't.
If you're blessed to have a tight-knit group of IRL friends, incredible. If you have one long-distance bestie and a handful of nearby acquaintances, that's also rad. And if your friendships exist purely online, then you already know how special it is to go through so many ups and downs throughout life with people who are just a message away. Besides, who gets to dictate what "closeness" actually means? Hint: It's you.
It can feel daunting to reach out to strangers or near-strangers and say, "Hey, I like what you are doing and by association… you." But the DM slide is a powerful tool, and only associating it with flirting is doing yourself a disservice. After reading author Anne T. Donahue's book of essays Nobody Cares, I sent her a DM on Twitter to tell her how much I loved it. I felt a little sheepish, but there's one thing people love more than anything in the world: compliments. She was not weirded out, and we became mutuals and now share thoughts and hype up each other's writing. As Anne tells me, "The world is small and magical."
Go ahead, slide into the DMs of someone you want to cultivate a stronger relationship with. Not only is the world small and magical, but it's yours for the taking.