5 Tips For Emotionally Detaching After A Bad Breakup
When listening to "Good 4 U" on repeat isn't cutting it.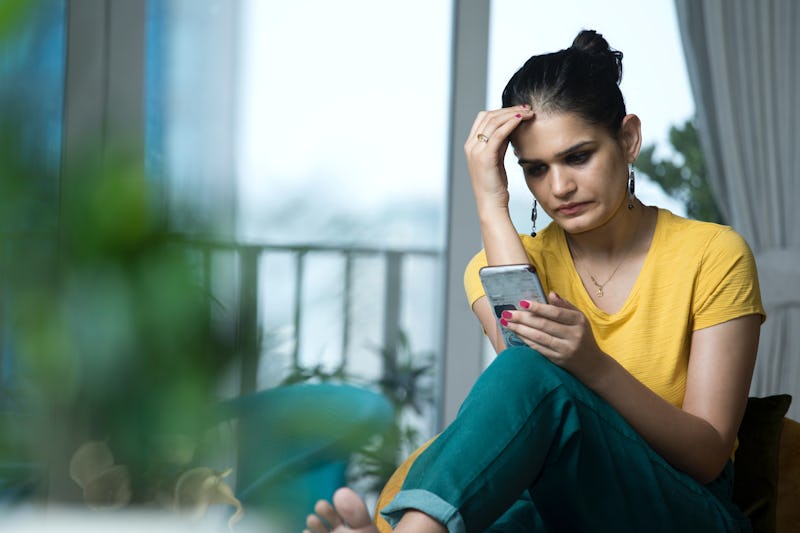 triloks/E+/Getty Images
You and your ex broke up months ago, and despite listening to Olivia Rodrigo's Sour on repeat since then, you can't help but wonder if they got that promotion they'd been working for and how their mom is doing. Seeing them on social media — especially doing things you used to do together — still stirs up more feelings than you care to admit. At some point, you may wonder if you'll ever stop loving someone who was such a big part of your life. According to experts, it's very possible to stop caring about your ex after a breakup. However, don't expect it to happen right away.
"Just because someone has left you or rejected you does not mean your loving feelings for them turn off," Dr. Gail Saltz, M.D., associate professor of psychiatry at the New York-Presbyterian Hospital Weill-Cornell School of Medicine and host of the How Can I Help? podcast, tells Bustle. "You may be angry, hurt, distraught, and still love them. We are able to hold multiple feelings in our hearts at the same time. If you already developed loving feelings for them, it may take time to grieve them and have your love dissipate, or you may in some ways continue to love them for a very long time, even if they broke your heart."
Although there's nothing wrong with caring about your ex post-breakup, it can become a problem if it's holding you back. If you want to move forward but feel like you can't, Saltz says it's definitely possible to stop loving someone. "People fall out of love all the time, even when they don't want to," she says.
If you're still feeling hung up over your ex and you'd like to move on, here are some things you can do.
Sources
Dr. Gail Saltz, M.D., associate professor of psychiatry at the New York-Presbyterian Hospital Weill-Cornell School of Medicine, host of the How Can I Help? podcast
Leah Carey, intimacy coach
Adam Goodman, J.D., licensed marriage and family therapist
Katie Ziskind, licensed marriage and family therapist