7 Daily Habits Experts Say Can Help You Get Over A Breakup Faster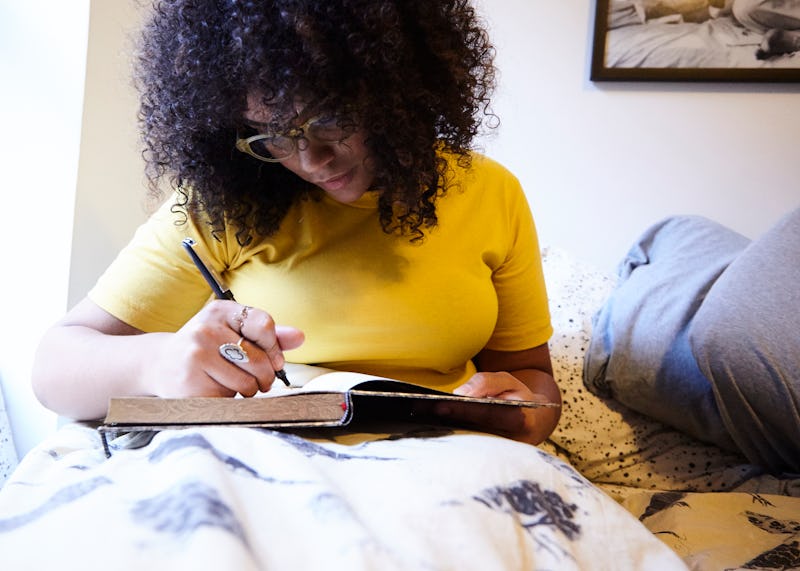 Hannah Burton/Bustle
Breakups are just one of those things that are universally terrible: they can be messy, painful, and of course, heartbreaking. Unfortunately, because every relationship, and thus every breakup, is unique, there's no one individual piece of advice that can help you get over a breakup instantly — and it's particularly hard to move on if you were blindsided by the breakup or if you had a whole future planned with your now-ex partner.
"I believe it's the loss of the dream that you built around the relationship that makes breakups so hard to get over," Lindy Lewis, a Banking from Breakup Coach & Expert who helps women become more powerful, confident, and happier versions of themselves following their breakup, tells Bustle. "Therefore, when the relationship ends, the dream dies and you mourn the loss of the dream. We invest so much emotion into the dream that it's so hard to let go."
Breakups are difficult and painful, and it's totally OK to take some time to just wallow and mourn the relationship. But at some point, you have to begin the healing process — which, naturally, can seem like a daunting task. Instead of letting yourself get overwhelmed by the thought of all the progress you have yet to make, though, you can start incorporating small changes into your daily routine that, over time, will make a huge difference.
"When you fail to create new routines and daily habits you remain tied to your past," Lewis says. "You become weighted down by your breakup. It consumes you. It keeps you stuck and frustrated. Some of the daily habits I embraced [after my breakup] were meditation, keeping a gratitude journal, doing breathing exercises, diffusing essential oils, reading, affirmations, visualizations, setting daily goals, and brain-training exercises."
Here are seven other little things you can do each day post-breakup to help kickstart the healing process so you feel ready to open your heart to an even bigger and better (and hopefully lasting) love someday.