Beginner's Guide To Rabbit Vibrators
This SATC-famous toy is here for a good and long time.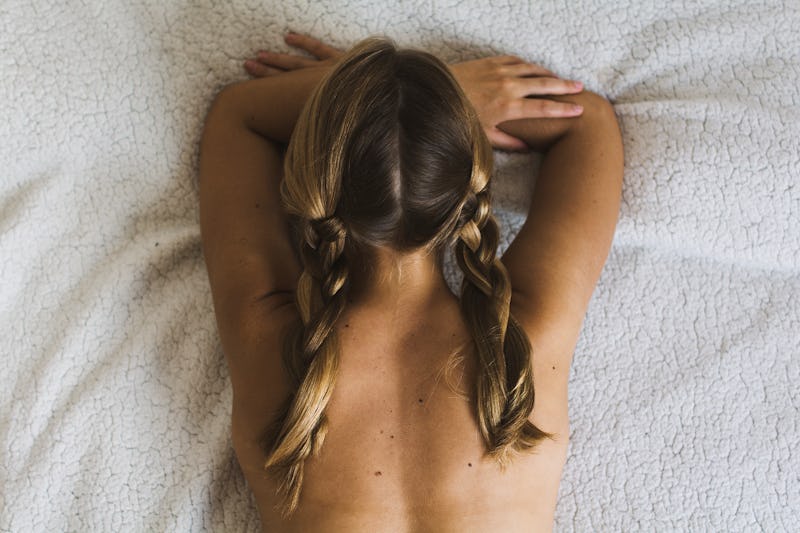 Johanna Rambla / EyeEm/EyeEm/Getty Images
Whether you're a sex toy collector or an avid Sex and the City fan, you may already be familiar with rabbit vibrators. These dual-stimulating sex toys feature an external stimulator (usually for clitoral stimulation) and an internal stimulator for vaginal) penetration. Wondering where the toy got its cute and fuzzy name? Certified sexologist and Sweet Vibes in-house sexpert Tyomi Morgan tells Bustle that the toy's insertable shaft is phallic-shaped, whereas the external part is shaped like – you guessed it – bunny ears. Both of these parts have their own motors that operate at different speeds and patterns for double the pleasure.
Why might someone want to try a rabbit vibrator? For starters, they can increase a person's chance of having an orgasm. "Most vulva owners cannot achieve orgasm through penetration alone; they need a mixture of things," Lovehoney sex toy expert Ashley Cobb tells Bustle. She notes that rabbit vibes are great for simultaneously stimulating multiple erogenous zones, which can help the user achieve blended orgasms. Morgan adds that these toys can simply serve as a fun addition to any toy box for folks who prefer variety in the bedroom, too. Big O or not, playing with rabbit vibes can be enjoyable no matter your goal.
How To Pick Your First Rabbit Vibrator
Like most sex toys, rabbit vibrators come in various shapes, sizes, and materials. Cobb notes that the most body-safe toy materials consist of glass, stainless steel, and medical-grade silicone. They can also be made from rubber, latex, plastic, or jelly, but both experts recommend going with the former healthier options that are non-porous and easier to clean.
Rabbit vibrators can offer different functions as well. "Some rabbits have external stimulators that are more bulbous and less representative of the traditional bunny ears, and the internal stimulator can also be made with an extra curve for G-spot stimulation," Morgan says. Cobb adds that some rabbits thrust whereas others rotate. Depending on the type of pleasure you'd like to experience, there are plenty of options to choose from.
When picking your first rabbit vibrator, Cobb suggests considering the following questions: Are the materials body-safe? Is the toy waterproof? How many speeds or vibration patterns does it offer? Did you read the reviews? Before buying a toy, she suggests doing your research and seeing what past customers say to find out whether or not it's worth your time and money.
Need some beginner toy suggestions? Start off with The Perfect Match, which is waterproof, rechargeable, and made of super flexible, body-safe silicone. For folks who prefer G-spot stimulation, try the rechargeable, curved Happy Rabbit that features 12 powerful vibration modes.
Ways To Use Rabbit Vibrators
During solo sex, rabbit vibrators can be enjoyed by themselves or in combination with other toys for extra sensation. For example, Morgan explains that the head of the clitoris can be stimulated using a bullet or clit sucker, then the rabbit can stimulate the internal clitoris and vaginal erogenous zones. "In partnered sex, the [toy] can be used by penis owners who want a break in penetrating with their penis and still keep the stimulation and pleasure flowing," she says.
When using a rabbit vibe, Cobb also recommends experimenting with positions. "Straddle a pillow or surface and practice different movements with your hips to see if you can come into contact with spots that feel good," she says. Morgan says using it while standing, squatting against a wall, or on your knees instead of lying on your back can feel good, too. No matter how you choose to play with this toy, make sure you have fun with it!
Rabbit Vibrator Safety Tips & Aftercare
If you're new to rabbit vibes, take some time to learn about the toy before trying it on yourself or your partner. "Start on the [lowest] setting, then work your way up to the more intense vibrations, so you don't feel as intimidated by the speeds and vibrations," Morgan says. She also suggests flipping through all the settings and reading the product's safety manual to get a solid idea of how each individual toy works.
Once it's playtime, make sure your toy is fully charged or has new batteries. Friendly reminder: Never use non-waterproof motorized toys in the shower or bathtub. Always lube up your toys, though. Using a high-quality water-based lubricant can help to reduce friction and enhance pleasure for the user.
When it comes to aftercare, hydration, reflection, hygiene, and proper storage are key. If you played with the toy solo, journal about how the experience went. If you used it with a partner, chat about what you did and didn't like and if you'd like to use it together another time. Then, Morgan recommends cleaning and storing the toy as soon as possible. "Putting the rabbit on the charger once it's dry will ensure the toy will be ready for play when you're ready to give it a go again."
Experts:
Tyomi Morgan, Certified sexologist and Sweet Vibes in-house sexpert
Ashley Cobb, Lovehoney sex toy expert