8 Tips For Taking Your Tinder Game To The Next Level While You're Traveling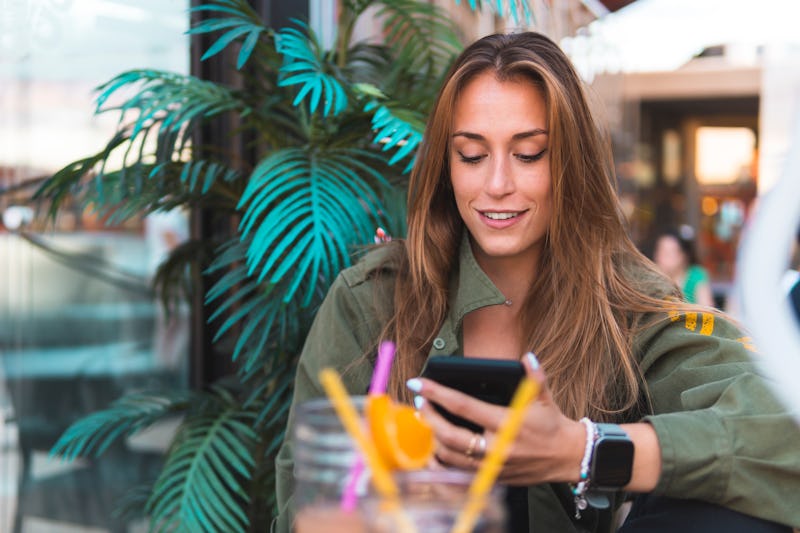 Westend61/Westend61/Getty Images
If you're single and looking to mingle, using Tinder while traveling can be a serious godsend. No matter where you go, dating apps give you the power to connect with locals, whether it's for a one-night-stand, a whirlwind romance, or just a platonic tour of the city. Dating apps can even help to make traveling solo less intimidating. By chatting with someone who lives there and getting some recommendations or itinerary ideas from them, you could avoid sticking to a strictly tourist-y schedule.
Swiping in a new locale can be a fresh lens for seeing what's out there, too, and meeting people you might've never considered dating in your home town. As Dr. Jess Carbino, former sociologist for Tinder and Bumble, tells Bustle, "The rigidity of criteria for a romantic partner varies widely by person and relationship type desired." If you're someone who has a mental checklist of criteria for the people you date, and you're questioning some items on that list, dating while traveling gives you an opportunity to figure out what you really want in a partner without putting too much pressure on it.
Plus, with more folks working remotely than ever before, Carbino says people are more open to dating and even partnering up with someone who lives in a different country. "This change in mindset allows for once unlikely long-distance relationships to become more viable," she says. In other words, what was once destined to be just a summer fling in Italy might have potential to develop into something long-term.
So before you take your next trip, here are eight tips for using Tinder (or any app) to your advantage while you're traveling, according to dating experts.
So no matter how you plan to use them, take advantage of Tinder and other dating apps while traveling — because you never know who you might meet, or where it might lead you (just remember to always stay safe!).
Sources
Dr. Jess Carbino, former sociologist for Tinder
Scott Valdez, matchmaker and founder of ViDA
David Yarus, relationship expert and founder of JSwipe
Rori Sassoon, matchmaker and dating expert for UnFiltered
This article was originally published on