24 Opening Lines For Tinder That'll Keep The Conversation Moving
"Do you brush your teeth before or after breakfast? There's only one right answer."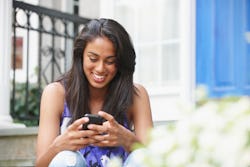 LWA/Dann Tardif/DigitalVision/Getty Images
Whilst swiping away in search of love (or lust), it can be tough to think of opening lines for Tinder that are all at once fun, interesting, and effective. Because let's be real, when it comes time to send that very first message, the mind tends to go blank.
Should you be funny? Serious? Use a cheesy one-liner? When in doubt, take a cue from the person's profile, photos, and Spotify, a spokesperson for Tinder tells Bustle, as it will help you decide which type of opening line might catch their eye.
Of course, you could always base the opening line on something you have in common, too, which is another good reason to read (and re-read) their profile. "If you make a connection based on a shared interest," the Tinder spokesperson says, "the conversation will easily flow."
That said, don't lose sleep over crafting the perfect Tinder message, or feel as if you have to change yourself. The right person will find any opening line totally charming. And if not, they'll soon forget all about it because you'll either move on — or you'll be too busy planning a first date.
If you need a little extra inspiration, though, take a look at some of these sample opening lines for Tinder, all of which will help break the ice.
This article was originally published on