15 Non-Awkward Ways To Break The Ice On A First Date
Because good conversation starters are like the secret sauce of getting to a second date.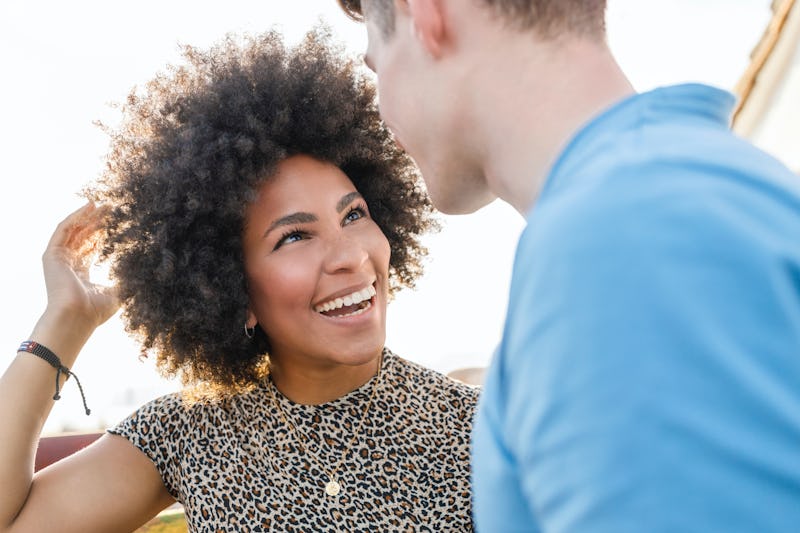 Westend61/Westend61/Getty Images
In this day and age, when you tell a friend you're going out on a first date, there's a good chance it's with someone you met online. Although you and this person have likely messaged back-and-forth — and maybe even had a FaceTime sesh or two — nothing is guaranteed. You'll still need to see if that same chemistry you had online is there in person. Even if you feel like you already know someone, you're technically meeting them for the first time. So how do you break the ice on a first date with someone you've never met in person before?
Dating and relationship coach, Varsha Mathur, tells Bustle to start with a light topic. "Be interested in them and ask questions about the light-hearted stuff, such as how they got into the city or where they found parking," Mathur says. "Asking questions that require black and white answers are a great way to start deeper conversations."
If it's an online date, make sure you take another look at their profile. "To ease the stress, it's good to take a screenshot of your date's profile and review it before you meet," Julie Spira, online dating expert and digital matchmaker, tells Bustle. "Believe it or not, some singles show up on dates, suffer a temporary loss in memory, and don't remember their date's name or what they look like."
While this can be totally embarrassing, it can also signal to your date that you're either a serial dater or one who doesn't care much about the date you're on. Reminding yourself about the specifics of the person you're meeting — and what attracted you to them in the first place — will help naturally spark some conversation starters and ice breakers.
If you're stumped on what to talk about on a first date — but don't want the conversation to seem forced either — here are some icebreakers you can use.
As you can see, you have several options when it comes to icebreakers to use on a first date with someone you've never met before. "Icebreakers are great to have in your back pocket to keep first-date conversation flowing, but they're also a wonderful way to get to know the person better," Hall says. "Just remember to match your questions with your own interests, and you'll have nothing to worry about."
Plus, the above will probably inspire you to think of even more first-date icebreakers, and the more, the merrier.
Sources
Varsha Mathur, dating and relationship coach
Julie Spira, online dating expert and digital matchmaker
David Bennett, counselor and relationship expert with Double Trust Dating
J.L. Kirkwood, certified relationship coach and author
Thomas Edwards, dating expert and founder of The Professional Wingman
Carmelia Ray, online dating expert and dating coach
Antonia Hall, psychologist and relationship expert
Kevin Darné, dating expert and author
Susan Trombetti, matchmaker and CEO of Exclusive Matchmaking
Kate Maclean, resident dating expert for Plenty of Fish
This article was originally published on