16 Therapist-Approved Texts To Help A Friend Feel Better
#9: "If I were you and had experienced that, I'd be feeling exactly the same way."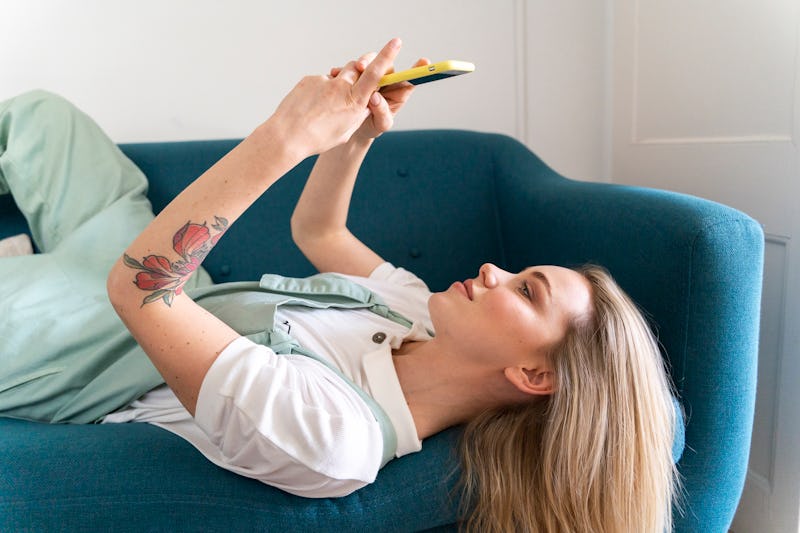 Westend61/Westend61/Getty Images
When your phone buzzes so many times that you think you're getting a phone call, only to realize it's a string of text messages from your bestie, you know it's something serious. Just like how expressing your feelings over text can be difficult, figuring out how to make someone feel better over text can be a challenge. Without the tone and subtle emotional cues that an IRL conversation provides, a lot can get lost in translation over text. While a thumbs down reaction to a sad text message is definitely not enough, a massive chunk of sympathetic jargon might be too much.
According to clinical psychologist Caroline Fleck, Ph.D, the key to knowing how to comfort someone over text and being a responsible recipient of textual feels is validation. "With validation, you're looking to communicate that you're there for the other person, you get that their emotions are valid or understandable, and you care," Fleck tells Bustle. "Attending to these elements is what ultimately translates as support." Even if their situation hasn't changed, feeling supported can make them feel better.
Alternatively, trying to highlight a positive aspect of a situation, rushing to remedy it, or making a comparison to belittle it can be really damaging, clinical therapist Caroline Given, L.C.S.W., tells Bustle. "Any language that is invalidating or isolating is a no go," Given says, adding that pushing someone to problem-solve before they are ready to, or before they are ready for that kind of support, can actually make the situation worse.
Here are some therapist-approved messages that you can model your responses on the next time a friend leans on you for support via text.
Making a friend feel better over text is no easy task. But truth be told, you likely know what your friend needs best, even if it takes a little bit of thinking. What matters most is that you are there for them and being thoughtful in their times of need or when they are feeling low.
Experts:
Caroline Fleck, Ph.D, clinical psychologist
Caroline Given, LCSW., clinical therapist
Carrie Potter, LMHCA, therapist with a focus on anxiety
Rev. Connie L. Habash, MA, LMFT, licensed marriage and family therapist
Heidi McBain, LMFT, licensed therapist
Dr. Marisa Franco, Ph.D., friendship expert and psychologist
This article was originally published on