16 Texts To Send When You Need To Cheer Someone Up
Be your BFF's mood booster.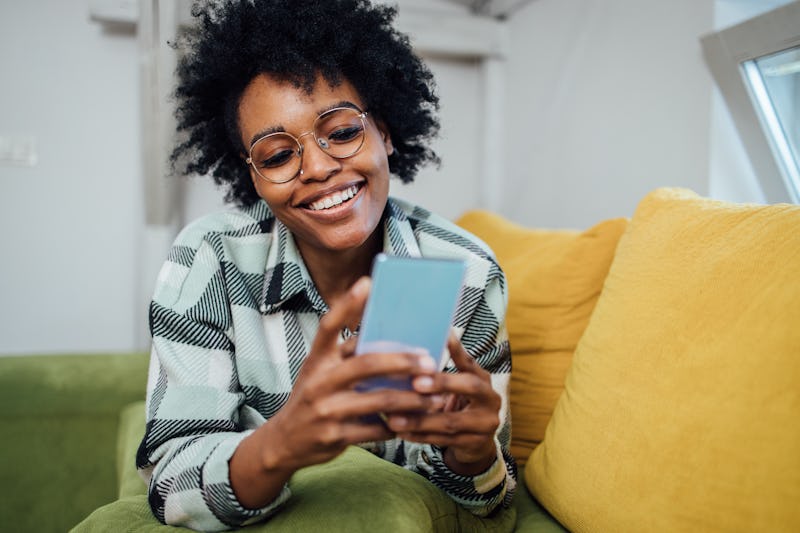 MixMedia/E+/Getty Images
Ever need to think of things to say to cheer someone up over text when they're having a bad day, but can't quite figure out what to say? Because... same. When you know a friend is frustrated or upset, it can be tough to land on the right words. And yet, as long as you're reaching out with something, you're already off to a good start in terms of helping them feel better.
"A text will remind the person that you are thinking about them, that they are cared about, and that you're there if they need you," Dr. Tari Mack, a clinical psychologist, tells Bustle. Whether you send along a message that's funny, supportive, or filled with inspiration — or maybe all of the above — it will serve as a much-needed bright spot in their day.
That said, you won't want to dismiss how this person is feeling by being too nonchalant via text, especially if they're having a genuinely tough time. So, anything beyond a run-of-the-mill bad day warrants a phone call or visit in person so you don't risk brushing them off or invalidating their feelings.
With that in mind, here's how to cheer someone up over text when they're down in the dumps, having a bad day at work, or simply feeling "blah" — below are 16 expert-approved examples.
Experts:
Dr. Tari Mack, clinical psychologist
Dr. Sabrina Romanoff, clinical psychologist
Alex Ly, AMFT, registered associate marriage and family therapist
Dr. Marisa Franco, Ph.D., psychologist and friendship expert
Liz Higgins, LMFT-S, licensed marriage and family therapist and founder of Millenial Life Counseling
This article was originally published on