5 Manifestation Journal Prompts
Write your way to your destiny.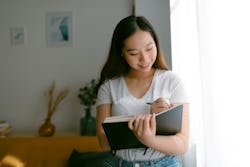 Israel Sebastian/Moment/Getty Images
Chances are you've heard that having the life you want is possible with the help of manifestation. In fact, Tenae Stewart, professional witch and spiritual coach, tells Bustle that manifestation is the process of making your dreams a reality. While there are many things you can do to manifest your goals — like meditate with crystals, do candle magic, or repeat affirmations to yourself each morning — one way that's pretty popular on social media is to start a manifestation journal. If you're new to journaling, experts share some manifestation journal prompts you can use to get started.
According to Stewart, manifestation is all about "bringing your vision of the future, including the things, experiences, and people you wish to surround yourself with, into reality." Journaling is a great way to practice manifestation because it takes those dreams and visions around in your head and puts them directly onto paper. This can make those ideas feel more real and concrete, especially if you're someone who struggles with the visualization aspect of manifesting.
Kimberly Snyder, meditation teacher and author of You Are More Than You Think You Are, adds that journaling is a great way to create more clarity around your intentions. "Clarity is an important energy that boosts your ability to manifest powerfully," Snyder tells Bustle. "It's important to identify potential fears that are driving your motivations and clear them, as fear always stagnates our goals."
If you're looking to start a manifestation journal, here are some expert-suggested prompts to get you started.
Sources
Tenae Stewart, professional witch and spiritual coach
Kimberly Snyder, meditation teacher and author of You Are More Than You Think You Are
Natolie Warren, transformation life coach
Smita D Jain, personal empowerment life coach