Massy Arias Is Leading A Mental Health Revolution Through Fitness
"Fitness is more than just the workout itself. It's your way to cope and your way to connect to your body."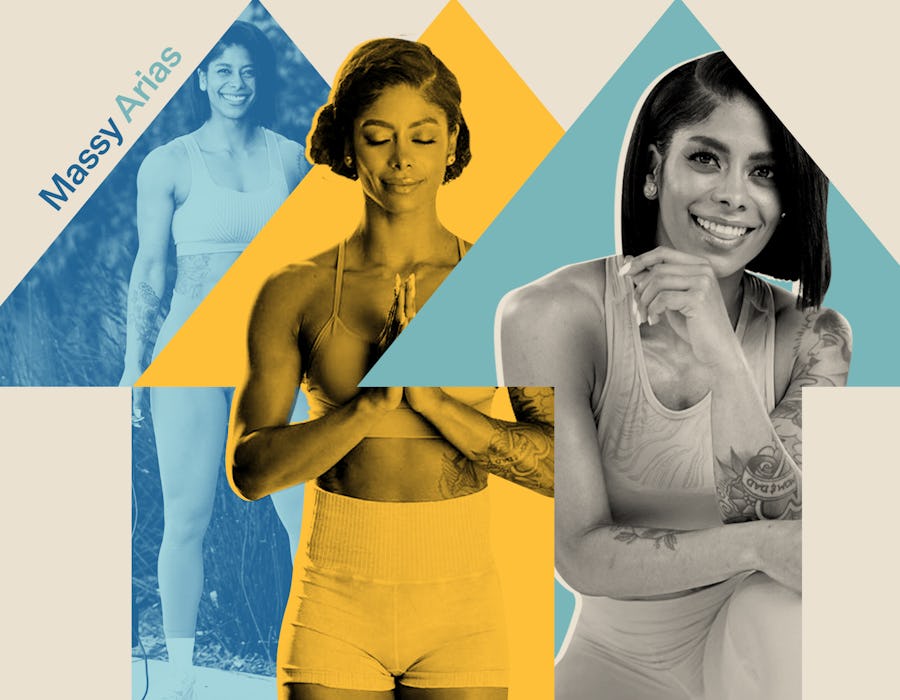 The Almond Board of California/Massy Arias
In "The Level Up," changemakers in the fitness and wellness industries tell us how they're making an impact in their communities, from pushing for inclusivity to promoting body acceptance and so much more. Here, Massy Arias discusses how her mental health struggles pushed her to find healing through fitness.
Fitness has transformed Massy Arias' entire life. After moving to the United States from the Dominican Republic at 13 years old — and leaving behind everything she knew — the experience of being a teenager in a new environment led to mental health struggles. Once she began to experience suicidal thoughts, Arias knew something had to change, and she credits exercise with helping her through a dark depression.
It took some trial and error to discover the healing powers of fitness, though. "I was stuck in a room with my dad, not knowing what to do — we don't speak about mental health in my community," Arias tells Bustle. She tried different treatments alone, from cognitive therapy to hypnosis. "Exercise was the one tool I used to feel better and change my habits," she says.
Ten years ago, Arias joined Instagram and began sharing her fitness journey to help others going through similar mental health issues. Now, with nearly 3 million followers on the platform, Arias has created a community that uplifts women and shows that working out transcends the physical benefits: It's also a powerful tool to unlock mental health breakthroughs. With her MA Warrior Community — her mind-body wellness program — and campaign with the Almond Board of California, the trailblazing personal trainer aims to teach more people about how fitness can change your mindset.
Here, Arias tells Bustle about how she's hoping to change the face of the fitness world.
Why do you feel a responsibility to share your journey of battling depression with others?
The one thing people are looking [for the most within my community] is the mindset that they're going to get. We show you how to approach fitness in a holistic way — to get healthy, be a better mover, and change your perspective.
"That's my plan: for people to move, feel good, find their purpose, and feel confident."
If it wasn't for the struggles and the failure, I would not be here in this position. I was hit with COVID at the end of last year, and it was a huge setback. So, I need to continue to motivate people to understand 'hey, you're not going to give up.' If something is not going right, I want to show people that it's possible to continue to grow and to get back up even stronger.
What is your advice to people going through struggles similar to those you went through?
We're experiencing a lot of body dysmorphia in the industry now. I have very narrow hips. But there's nothing I can do about the structure of my hips. It's not like I'm going to have wider hips through exercise. I want people to be able to look at themselves and understand, first and foremost, this is your genetic makeup, this is how you were made — I'm continuing to reinforce the realization of what is real, what is normal, and what is natural.
When you feel good about yourself, when you honor yourself, you're going to attract the right energy towards you.
What's the goal of your MA Warrior Community?
With my MA Warrior Community, we're teaching people how to move well and sustainably change their lifestyle. When our app launches in the spring, it'll have everything from physical therapy (to reduce the risk of injury) to circuit training, Pilates, yoga, boxing — everything in one. There are mental health components. There's nutrition. It comes with a digital journal.
So it's going to be a 180 approach to health and wellness, and making it accessible and affordable for the masses. That's always been my dream, and I believe we're going to accomplish it this year. We've served over 300,000 people over two years, and it's been amazing.
What do you hope to change in the fitness world at large?
I hope to change people's perspective as to how movement helps them. It's really important to integrate all components — nutrition, movement, and mental health. Even with nutrition, there are a lot of misconceptions out there. So if we actually can make fitness approachable and educate people as to how they can achieve their goals, then we're going to have a healthier country. That's my plan: for people to move, feel good, find their purpose, and feel confident.
This interview has been edited and condensed for clarity.