Here's Why Experts Are Torn About The Ethics Of OnlyFans
In fact, it might not even qualify as porn.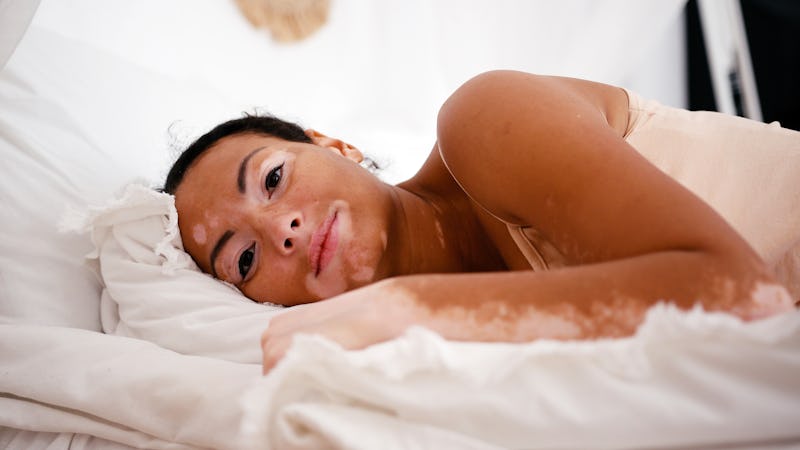 Bohdana Tkachuk/E+/Getty Images
If the internet was the restaurant industry, OnlyFans is the farm-to-table of X-rated content. The subscription-based content sharing site lets creators post their own content and interact directly with their fans. Since its launch in 2016, OnlyFans has paid out over three billion dollars to its over one million creators. While these numbers look good on paper —and more importantly, PayPal — the relationship between OnlyFans and #NSFW content is less straightforward. When it comes to determining whether OnlyFans is ethical porn, performers, directors, and others in the sex economy are divided.
What Is "Ethical Porn"?
While you may prioritize watching legal and consensual porn, many people in the industry say "ethical porn" is more of a buzzword than a movement — even on OnlyFans.
"'Ethical porn' has become a new marketing term," Lola Jean, sex educator and founder of Velvet Tip, a custom audio porn studio. "Any porn company can say they are ethical, but it doesn't mean that all of their practices are."
According to Jean, even if porn is shot by women or queer people, prioritizes consent, and pays performers fair wages, there can still be issues or boundary violations when filming. Further, establishing some porn as "ethical" creates a moral hierarchy within the industry.
"There shouldn't be a category called 'ethical porn,' because all porn should be ethical," Cindy Gallop, the founder, and CEO of MakeLoveNotPorn, a social sex video-sharing platform, tells Bustle. "That perceived divide is entirely arbitrary. The idea that there's 'good porn' and 'bad porn' should not exist." Gallop suggests looking more into platforms that directly pay performers rather than market themselves as "ethical porn."
Does OnlyFans Support Sex Workers?
According to Jean, OnlyFans is putting control (and money) back into performers' hands. "OnlyFans is as direct to the source as you can get," Jean says. "You are purchasing content directly from that performer."
On OnlyFans, performers are not just the talent. They're also the director, casting agent, stylist, publicist, and accountant. Performers decide what they want to film, who they want to film with, and how they want to interact with their fans. And they decide the price of admission (up to $49.99 a month).
OnlyFans performer Fit Sid agrees that content coming straight from the creator means less risk for exploitation or violation and considers it an ethical site. "OnlyFans increases high-quality quality, consensual porn being consumed rather than illegal porn like revenge porn or leaked content," Sid tells Bustle. "The site allows me to post the things that I'm excited to create."
Danielle Blunt, New York City-based professional Dominatrix and co-founder of Hacking//Hustling, says that while OnlyFans gives performers a platform to make their own content (and more money), she feels the site doesn't prioritize performers wellbeing. According to a representative from OnlyFans, the site takes a 20% fee.
"Creators receive 80% of the revenue on their earnings including subscriptions, paid messages, and tips," the representative tells Bustle. "The remaining 20% covers referral payments, payment processing, hosting, support, and all other services." But Blunt says that this 20% can be "predatory" — especially for those in the sex economy. "Sex workers have fewer platforms to sell their content on, which leads to companies cornering the market," Blunt tells Bustle. "Financial technologies code sex workers as 'high-risk.'"
In addition to taking 20% of all creators' earnings, Blunt says that giant tech sites like OnlyFans can be exploitative to sex workers with different censorship rules and intentionally confusing worded policies. "OnlyFans updated their terms of service, and it includes language about ownership rights to use models' content even after the model has stopped using OnlyFans," Dominic Ford, sex worker and director of the Dominic Ford porn studio, tells Bustle.
Ford refers to stipulations in OnlyFans' terms of service agreement, stating that if you delete your account, but your content is still circulating, OnlyFans is not responsible. They're also not responsible for pirated content or if performers' identities are leaked. It also has restrictions on how performers can post about their pages on other social media sites and says OnlyFans can terminate an account "for any reason" with a 30-day notice. If your account is terminated, you can lose access to all your content.
Is OnlyFans Porn?
OnlyFans' lack of policy about "adult content" indicates another aspect of the ethical porn debate — is OnlyFans porn at all? According to a representative, no — OnlyFans is a "social platform" for creators and fan connections.
Per Gallop, OnlyFans' reluctance to call itself a porn website and build protections specially geared for digital sex media put adult creators at risk. "When you design to keep sex workers safe, you design to keep everybody safe," Gallop says. "Building protections for sex workers builds protections for everyone."
How To Be A Conscious Porn Consumer
Jean, Sid, and Blunt believe that being a conscious porn consumer means paying for your porn, tipping your favorite creators, and engaging with the content you enjoy most to let performers know what content does well. Jean advocates for supporting smaller porn platforms, like ForPlay Films or AORTA Films, and directly following and engaging with specific performers across social media. Sid suggests subscribing to your favorite creator's OnlyFans, treating creators to things off of their Amazon or other wishlists, and being sure to watch original content, not leaked videos or revenge porn. Blunt encourages porn watchers to help support sex workers and porn performers off-screen as well.
"Part of being a more conscientious porn consumer is advocating for the decriminalization of sex work and the decarceration of incarcerated sex workers," Blunt says. "Support sex worker community organizing efforts, like SWOP, BAWS, and Red Canary Song."
Sources:
Lola Jean, sex educator and founder of Velvet Tip
Cindy Gallop, the founder, and CEO of MakeLoveNotPorn
Fit Sid, OnlyFans performer
Danielle Blunt, New York City-based professional Dominatrix and co-founder of Hacking//Hustling
Dominic Ford, founder of of the Dominic Ford porn studio and JustForFans