10 Physical Signs You're In The Honeymoon Phase Of A Relationship
Soak it in while it lasts.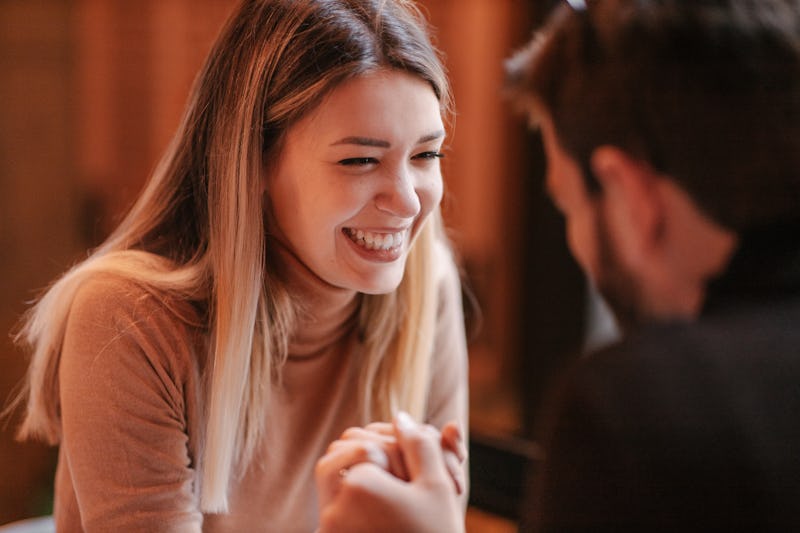 Vuk Saric/E+/Getty Images
One of the best parts about a new relationship is being in the honeymoon phase. Everything is new and exciting — you can stay up for hours just talking and never get tired and, literally, everything this new partner says is the most fascinating thing you've ever heard. And those quirks? The ones that are likely to drive you nuts later on? Well, those are the most adorable things you've witnessed.
Studies have found that this part of the relationship, where you're falling in love, is on par with the same feeling cocaine gives you. Yes, love and cocaine affect your brain in similar ways.
But while the honeymoon phase is indeed fantastic, it can't last — and that's OK. Not just because everything in life is fleeting, but because relationships have to evolve. "Sometimes people expect the honeymoon phase to last forever and that's unrealistic," NYC-based therapist Kimberly Hershenson, LMSW tells Bustle. "People interpret getting comfortable with getting bored."
Although the stability that comes as a partnership progresses is great, there's no debating that there's something incredibly special about that can't-get-enough feeling at the beginning of a relationship. Here are physical signs of the honeymoon phase, according to experts.
While there's no denying that the honeymoon phase is essential in relationships, it's ultimately fleeting. So soak it all in while you have it, because that cozy, comfortable, I-can-pee-in-front-of-you stage is coming. But don't worry, it has its perks too.
Sources:
Kimberly Hershenson, LMSW, NYC-based therapist
Dr. Susan Edelman, board-certified psychiatrist
Amy Levine, sex coach and founder of Ignite Your Pleasure
Laura Silverstein, LCSW, certified couples therapist and author of Love Is an Action Verb
This article was originally published on