7 Signs Your Partner Is Annoyed With You & Isn't Saying It
Plus, what experts say you can do about it.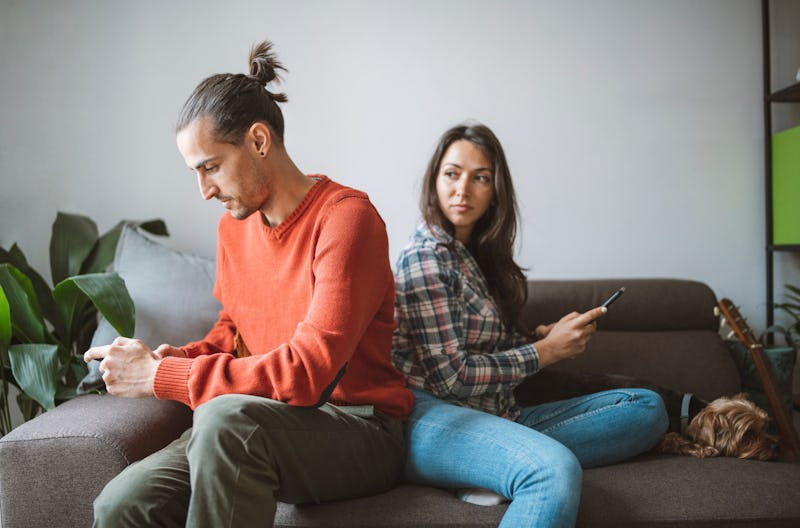 ArtistGNDphotography/E+/Getty Images
No one wants to be seen as annoying, especially by the person they love the most. But when you're with someone for a long time, you're guaranteed to find little things here and there that might bug you. Despite this being totally natural, some people would rather shut down and keep their feelings to themselves rather than let their partner know what's really going on. If you suspect that your partner finds you annoying but they're not saying anything, there are ways to tell for sure. Experts say knowing the signs can help you get to the bottom of what's causing the disconnect, so you can turn it around and have a much closer relationship.
When you feel like your partner's annoyed with you, it may cause some concern. But as licensed marriage and family therapist, Heidi McBain, MA tells Bustle, there's no need to jump to conclusions right away. In fact, if a few small habits are bothering one partner, that's OK. If one partner is consistently annoyed at the other, that is something to note, she says. While the former is something that can be discussed and worked on, the latter she says may be a sign of a bigger issue in your relationship.
So here are some signs that your partner may be annoyed with you and what relationship experts say you can do about it.
My Partner Seems Annoyed With Me All The Time — What Do I Do?
When you realize that your partner may be annoyed with you but isn't sharing it, it's natural to take it personally. But try not to assume anything right away and then act out based on those assumptions. Instead, take a step back and assess the situation before you do something that may make the issue worse. Does your partner seem more tired then usual? Has a project at work been consuming their time and energy? Is there anything going on in their family? If so, these are things that may affect their behavior towards you. If you're unsure, it's OK to ask. Let your partner know that you're always there for them if they need to talk, and then leave it at that.
"If the partner's 'annoyed' behavior persists, set aside a specific time to chat," Manly says. "Let your partner know what you've noticed and be as specific as possible." For example, "I feel unsettled. It seems like you're irritated with me" or " I noticed that you now tend to leave the kitchen when I'm making dinner instead of hanging out with me." According to Manly, "I" statements will help you approach the issue with a "non-blaming attitude."
The most important thing to do in this situation is to have a conversation with your partner. After all, you can't change or make adjustments if you don't know what wrong. Plus, when someone doesn't air out their feelings, it can cause resentment.
"Chronically unresolved 'little annoyances' can lead to feeling annoyed by the partner as whole, rather than a few of the partner's behaviors," Manly says. It's also good to establish the kind of relationship where you can be open with each other about your annoyances, fears, and insecurities.
"Annoyances are a natural, inevitable part of relationships," she says. "It's important to learn to talk about them to keep the atmosphere in a relationship heathy and clean."
Experts & sources
Heidi McBain, MA, licensed marriage and family therapist
Jeannie Assimos, eharmony's Chief of Advice
Dr. Fran Walfish, relationship psychotherapist and author
Dr. Danielle Forshee, clinical psychologist and relationship expert
Dr. Tari Mack, clinical psychologist
Dr. Carla Marie Manly, clinical psychologist, speaker, and author of Date Smart
This article was originally published on