12 Signs Something Is Missing In Your Relationship
Plus, how to talk to your partner about it.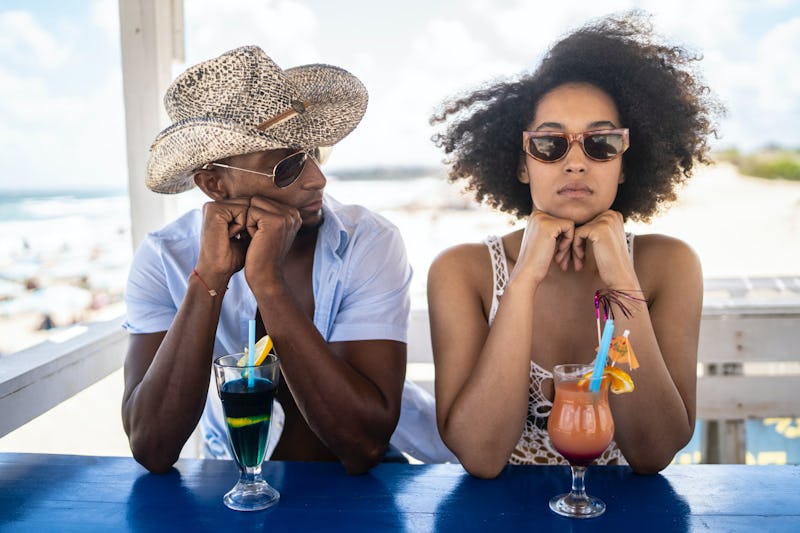 Vladimir Vladimirov/E+/Getty Images
Is love ever enough to sustain a happy, healthy, and long-term relationship? In an ideal world, it would be. But the reality is, you can love someone deeply and still feel like they're just not enough for you. If your partner does not make an effort to make you feel like your relationship is worth fighting for, at what point is it time to call it quits?.
According to psychotherapist and relationship coach, Toni Coleman, LCSW, CMC, there are three elements that make up chemistry in your relationship: physical attraction, friendship, and intellectual stimulation. For instance, if you are physically attracted to a person, but find the conversation lacking or awkward, you're always going to feel like there's a piece missing. Maybe they're just too serious all the time, while you like a little more laughter. Or maybe you miss the close friendship aspect to a relationship. While you may get along just fine, you may not be totally in sync.
"It's not necessary to have the same amount of all of these elements," Coleman says. "But if one part is missing, it will feel like 'something' is missing, and you will find yourself wishing you could relate to [your partner] like you did with [an ex], or couple you know."
According to relationship experts, these are signs that your partner might not be enough for you, even if you love them.
Sources
Toni Coleman, LCSW, CMC, psychotherapist and relationship coach
Rhonda Milrad, LCSW, relationship therapist, founder of Relationup
Meredith Prescott, LCSW, psychotherapist
Stef Safran, matchmaker and dating coach
Erin K. Tierno, LCSW-R, psychotherapist
Elizabeth Cobb, LCSW, lead therapist of Cobb Psychotherapy
Gabrielle Applebury, LMFT, a licensed marriage and family therapist, tells Bustle.
Susan Trombetti, matchmaker, CEO of Exclusive Matchmaking
Emily Holmes Hahn, matchmaker and founder of LastFirst
Skylar Ibarra, LCSW, psychotherapist
Haifa Barbari, love coach and author
Tarquez Bishop, dating and relationship coach
This article was originally published on