9 Genius Hacks For More Productive Arguments With Your Partner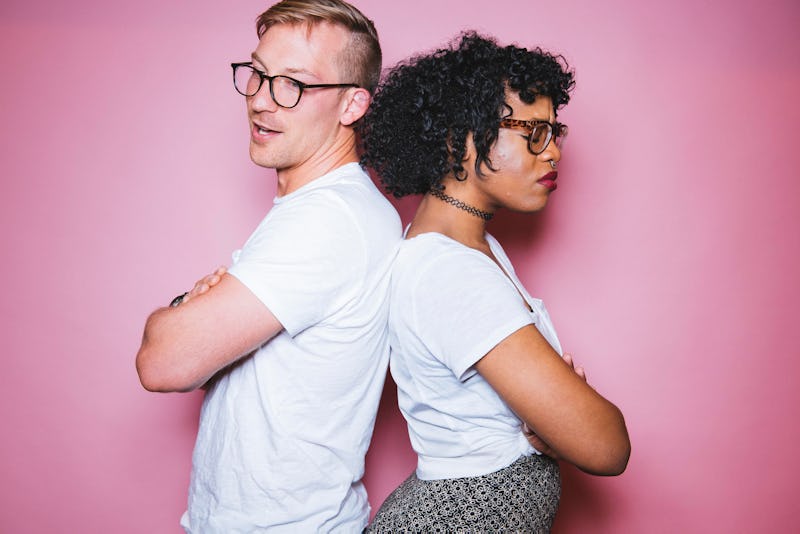 BDG Media, Inc.
No two relationships are exactly the same, but there's one universal truth that applies to all couples: it's inevitable that, every now and then, you and your partner will have disagreements — both big and small ones. Of course, it's never fun to have a fight with your partner, but it's a lot less fun if you're unable to communicate and compromise effectively — which is why it's so important to learn how to make your arguments more productive. But what exactly does it mean to have a "productive" argument with your partner?
"A productive argument is one where each of you sticks to the topic, don't lose your tempers or raise your voices, can actually listen to each other's perspective, don't engage in name calling, don't 'agree' when you don't mean it, and don't storm off or shut down," Lesli Doares, Couples Consultant and Coach, tells Bustle. "An unproductive argument is when any of those things don't occur. It doesn't have anything to do with whether the issue under discussion is resolved, but how you each conduct yourself."
Learning how to argue more productively in your relationship is certainly not an easy task, and it doesn't happen overnight. But if you want your relationship to last, it's worth your while to actively work on improving your communication and conflict resolution skills — because it's a lot harder to make a relationship work when the going gets tough if you and your partner have bad communication habits.
"Unproductive arguments lead to 'agreements' that aren't followed through on, leading to more unpleasantness," Doares says. "They also lead to feelings of resentment, disrespect, and invalidation. None of these feelings are conducive to love and connection. One of the biggest problems with unproductive arguments is that things are said that can never be unheard. You also each can engage in defensive behaviors that make the situation worse. It becomes I'm right/you're wrong instead of how can we resolve this."
If you want to say goodbye to frustrating, unproductive fights, here are nine hacks to make your arguments more productive that are couples-therapist approved.