14 Signs You Might Have A Toxic Sibling
Their behavior goes beyond just playful jokes and teasing.
by Carina Wolff and Kaitlyn Wylde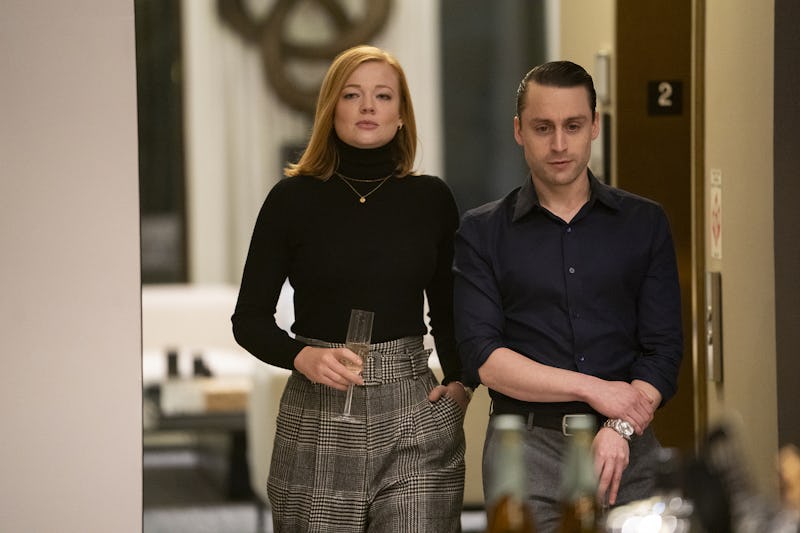 Peter Kramer/HBO
Being tight with a sibling can be a huge blessing — they're like a built-in friend for life. But if you have a toxic relationship with your siblings, you might feel like you're stuck with a frenemy. Just because someone is related to you doesn't automatically make them a positive part of your life. Everyone wants a good relationship with their family, but if you feel like crap after every interaction, you might want to look out for some signs you have toxic siblings. Chances are, if your browser history includes a toxic sibling quiz, or you're often asking yourself, "Are these signs my sister is jealous of me?" or "Is my brother disappointed in me?" the relationship you have with your sibs needs some attention.
"The things that make a sibling toxic are the same things that make a friend toxic — only with a sibling, it's even harder to separate yourself from the drama," says therapist Jill Whitney, LMFT. "Toxic people consistently make you feel worse about yourself in an unhealthy way. Some siblings might give honest, kind feedback that kind of stings or might make you feel bad in comparison because they've made different choices that have worked well​ for them. Those are not toxic situations. They're just uncomfortable information that you might learn from."
According to Liz Higgins, LMFT-S, founder of Millennial Life Counseling, there are three things that puts a behavior in the realm of toxic: It's consistent, ongoing, and intrusive. "Identifying toxicity in sibling relationships may feel difficult, especially if there is a historical nature to the unhealthy or abusive dynamics," she tells Bustle. "People can sometimes grow up in abusive or less than ideal family dynamics but go their whole life feeling it was 'normal' and living in acceptance of it because, as children, you don't know any differently." It's worth noting that toxic behavior isn't necessarily abusive, but it is manipulative and can be draining to be around.
Brothers and sisters can cause as much strife in your life as friends or coworkers, and sometimes it can be hard to take a step back because of your familial obligations. Everyone has to find the right way to deal with their unhealthy family relationships, but the first step is identifying that your sibling is causing harm to your life. Here are 14 signs that your sibling is toxic.
Whether you want to address the relationship together in family therapy or alone with a personal therapist, there are ways to heal and move forward.
Studies:
Rogers, C. R., Lee, T. H., Fry, C. M., & Telzer, E. H. (2021). Where You Lead, I Will Follow: Exploring Sibling Similarity in Brain and Behavior During Risky Decision Making. Journal of research on adolescence : the official journal of the Society for Research on Adolescence, 31(1), 34–51. https://doi.org/10.1111/jora.12581
Rogers, C. R., McCormick, E. M., van Hoorn, J., Ivory, S. L., & Telzer, E. H. (2018). Neural correlates of sibling closeness and association with externalizing behavior in adolescence. Social cognitive and affective neuroscience, 13(9), 977–988. https://doi.org/10.1093/scan/nsy063
Iturralde, E., Margolin, G., & Spies Shapiro, L. A. (2013). Positive and Negative Interactions Observed Between Siblings: Moderating Effects for Children Exposed to Parents' Conflict. Journal of research on adolescence : the official journal of the Society for Research on Adolescence, 23(4), 10.1111/jora.12020. https://doi.org/10.1111/jora.12020
Song, J. H., Volling, B. L., Lane, J. D., & Wellman, H. M. (2016). Aggression, Sibling Antagonism, and Theory of Mind During the First Year of Siblinghood: A Developmental Cascade Model. Child development, 87(4), 1250–1263. https://doi.org/10.1111/cdev.12530
Morgan, J. K., Shaw, D. S., & Olino, T. M. (2012). Differential susceptibility effects: the interaction of negative emotionality and sibling relationship quality on childhood internalizing problems and social skills. Journal of abnormal child psychology, 40(6), 885–899. https://doi.org/10.1007/s10802-012-9618-7
Jensen, A. C., Whiteman, S. D., & Fingerman, K. L. (2018). "Can't live with or without them:" Transitions and young adults' perceptions of sibling relationships. Journal of family psychology : JFP : journal of the Division of Family Psychology of the American Psychological Association (Division 43), 32(3), 385–395. https://doi.org/10.1037/fam0000361
Kramer, K. L., Veile, A., & Otárola-Castillo, E. (2016). Sibling Competition & Growth Tradeoffs. Biological vs. Statistical Significance. PloS one, 11(3), e0150126. https://doi.org/10.1371/journal.pone.0150126
Tucker, C. J., & Finkelhor, D. (2015). The state of interventions for sibling conflict and aggression: A systematic review. Trauma, Violence, & Abuse, 18(4), 396–406. https://doi.org/10.1177/1524838015622438
Stocker, C. M., Gilligan, M., Klopack, E. T., Conger, K. J., Lanthier, R. P., Neppl, T. K., O'Neal, C. W., & Wickrama, K. (2020). Sibling relationships in older adulthood: Links with loneliness and well-being. Journal of family psychology : JFP : journal of the Division of Family Psychology of the American Psychological Association (Division 43), 34(2), 175–185. https://doi.org/10.1037/fam0000586
Buist, K. L., Deković, M., & Prinzie, P. (2013). Sibling relationship quality and psychopathology of children and adolescents: a meta-analysis. Clinical psychology review, 33(1), 97–106. https://doi.org/10.1016/j.cpr.2012.10.007
Experts:
Jill Whitney, LMFT
Christene Lozano, LMFT
Dawn Friedman, LCSW
Liz Higgins, LMFT-S and founder of Millennial Life Counseling
Anita Chlipala, LMFT, author of First Comes Us: The Busy Couple's Guide to Lasting Love
This article was originally published on