Simone Biles Has Partnered With Athleta To Empower Young Girls In Sports
The all-star gymnast will also be co-designing a line of sportswear for the brand.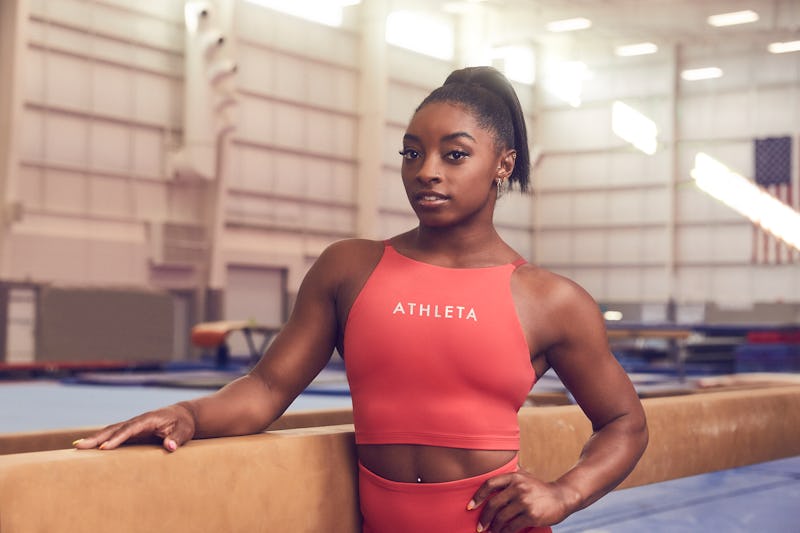 Athleta
The world's top athletes are scooping up sponsorships as the (delayed) 2020 Olympics in Tokyo finally approach this July. Among them is Simone Biles, who's partnered with Athleta, the popular sportswear brand. The gold medal-winning gymnast is bringing her energy to the collab, where she'll co-create a line of activewear staples.
Biles, whose gymnastic routines at the 2016 Summer Olympics in Rio de Janeiro made her the most decorated American gymnast in history, will be working with Athleta with a particular focus on Athleta Girl, the brand's sportswear collection for young women. The goal of the partnership? To inspire the next generation of young athletes. "Using my voice has been very empowering for me and I am grateful to embark on this new journey with Athleta to inspire young girls and women to do the same," Biles said in a press release. "The opportunity to encourage young girls to reach their full potential and be a force for change is incredibly powerful."
Athleta will be Biles' exclusive active and athleisure apparel sponsorship. Through it, the star gymnast will connect with the brand's community to have honest conversations and help develop programming focused on supporting and lifting up young women and girls in athletics. With the new designs, fans will get to bring a piece of Biles' style and winning vibe everywhere they go.
The partnership comes after Biles spent six years with Nike. Athleta, a brand that's for women and by women, says it is "committed to diversity, inclusion, and representation for all." They have also supported Olympic medalist Allyson Felix, who is the most decorated woman in US track and field history, as well as her advocacy efforts. (Felix recently gave some really great tips on how to exercise while wearing a mask, FYI!)
In her official Instagram announcement, Biles said, "I can still remember my very first pair of Athleta tights when I was a young teenager. They were red and I felt like I stood out from all the other girls in my gym. Little did I realize at the time, but being different helped build my confidence and I just felt really comfortable wearing Athleta." She went on to note that the brand represents women and girls of all ages, sizes, abilities, races, and backgrounds — and that they align with the change she hopes to create.