11 Texts To Send Someone You Just Met
Awkwardness need not apply.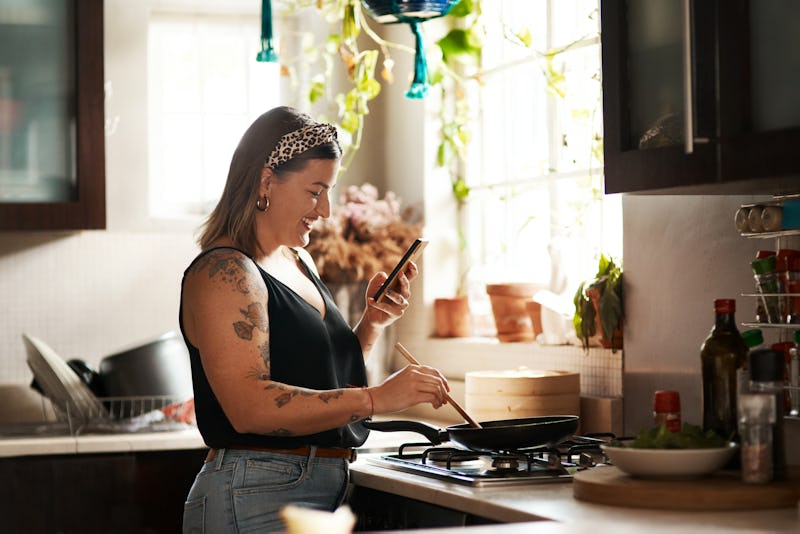 PeopleImages/E+/Getty Images
You like someone, they like you back, and you even have their number. Cool! It should feel like the hard part is over. And yet there you are puzzling over what to text someone you just met like some sort of Julia Roberts meme, with equations floating in front of your face.
Do you go funny? Or keep it serious? You don't want to sound too casual, but you don't want to seem overly-anxious, either. All the so-called rules swim through your head as you try to craft the perfect message. And all the while, you worry about "screwing it up."
Read more: 50 Example Sexting Ideas You Can Use Right Now
"You don't know how [the other person] will react to what you say, how you say it, or even when you say it," Fiana Andrews, a psychologist and approachability strategist, tells Bustle. And yet, while it may seem like a lot to consider, Andrews says it's important not to put too much pressure on yourself over one little text. In many instances, the first thing you say is just meant to break the ice, and will soon be forgotten anyway.
Not to mention, "the person on the other side of the phone has the same insecurities," Andrews says. They're probably also wondering what to text and when, and will feel immense relief if you do it first. You could always go with the classic "hey" and roll from there. But if you'd like to spice things up, here are a few sample texts to send someone you just met, to get a conversation going.
Sources:
Fiana Andrews, EdS, CPsych, psychologist
Janell O'Leary, dating coach
Dalesa Martinez, PhD, LMFT, licensed marriage and family therapist
Beth Ribarsky, PhD, communications and relationships expert
Susan Trombetti, matchmaker