30 Non-Awkward Ways To Text Someone You Haven't Talked To In A While
"An alien abducted me, but now I'm back. How are you?"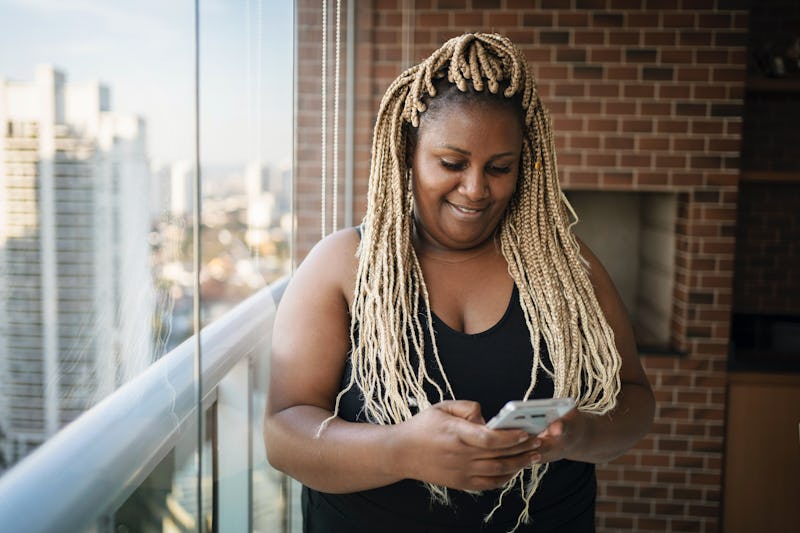 Renata Angerami/E+/Getty Images
Did you move away from a childhood bestie? Lose track of a favorite coworker? Or forget to text your college roommate back, and now it's been ten years? Whatever the case, there may come a time when you want to reach out to someone from your past and catch up. Whether the goal is exchanging a few quick stories, or rekindling the entire friendship, the first step is sending an opening text.
But what on earth do you say to someone after a long period of not talking to them? According to licensed clinical psychologist Dr. Holly Schiff, it's not uncommon to feel awkward or at a loss for words when texting someone you haven't talked to in a while. "We naturally drift away from others over time," Schiff says, so you might worry that they've changed, that they won't want to talk, or that they're mad at you for ghosting them.
It's nerve-racking, but therapist Jennifer Vandegriff, LCSW says you shouldn't let awkwardness, pride, nerves, or even guilt stop you from texting an old friend and seeing what's up. Chances are they'll be happy to hear from you, or at the very least will be flattered that you reached out. If you miss someone who used to be in your life, then scan through these 30 sample texts to send to old friends, choose the one that feels right, and fire that thing off.
Experts:
Jennifer Vandegriff, LCSW, therapist
Lisha Davidovits, ACC, CPCC, CPQC , success coach
Dr. Rebecca Leslie, licensed psychologist
Nicole Arzt, LMFT, licensed marriage and family therapist
Jennifer Vandegriff, LCSW, therapist
Candice Conroy, MA, LMHC, licensed mental health counselor
Jennifer L. FitzPatrick, MSW, LCSW-C, CSP, certified speaking professional
Dr. Kimberly M. Martin, clinical psychologist
Sulonda Smith, LMFT, CLC, licensed marriage family therapist and certified life coach
Keith J. Myers, PhD, LPC, NCC, ACS, licensed professional counselor
Dr. Markesha Miller, licensed psychotherapist
Lisa Andresen, ASW, therapist
Christine Scott-Hudson, MA, MFT, ATR, licensed marriage and family therapist
Dorlee Michaeli, MBA, LCSW, licensed clinical social worker
Dr. Carla Marie Manly, clinical psychologist
Chelsea Austin, life coach
Tiffany Roe, MA, CMHC, therapist
Jenna Watson, life coach